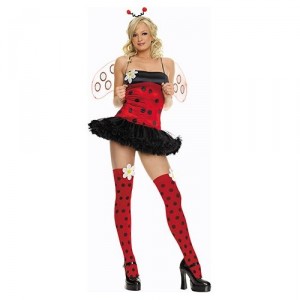 In order to aid you with your selection of a sexy ladybug costume, we have prepared this page explaining the different adult lady bug costume options. We know that everyone's definition of a sexy outfit differs – especially on Halloween. With a wide selection of ladybug costumes, there are sufficient options for everyone to find something that they are comfortable with wearing on Halloween.
On the left, you will find a sample photo of the sexy ladybug costume that we recommend. There are a few different versions of this outfit, but it is common enough that you should be able to find it at any Halloween store. It is safe, sexy, and has been worn by thousands of women on Halloween.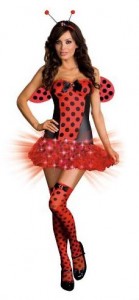 Since choosing a Halloween costume is in many ways an expression of your own style and uniqueness, feel free to ignore what we believe to be the most popular ladybug costume. Express your individuality on Halloween and you'll feel the most comfortable with the choice of your sexy Halloween costume.
While we were updating this webpage for Halloween 2010, we came across the following ladybug costume (pictured to the right) which we think is interesting and has potential to be a great costume. It lights up with red fiber optic lights that are controlled by a hidden on/off switch. If you are headed outside for Halloween at a dark club/bar or for an evening of trick or treating, this light up ladybug costume could be a lot of fun !! If you would like to see the rest of the newer adult halloween costumes that we found, you can follow this link to see the photos of them.
The two photos of ladybug Halloween costumes immediately below offer basic examples to show the sort of styles that are available. The halter dress on the left is cute and safe. I have also seen the dress come in a similar version that has a black petticoat or tutu skirt. The photo of the black corset top on the right is not one of my favorite ladybug costumes but it is worn frequently enough to be worthy of a photo here. This type of skirt and stockings is frequently found included with ladybug costumes.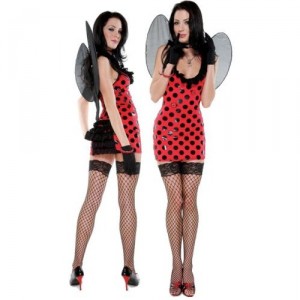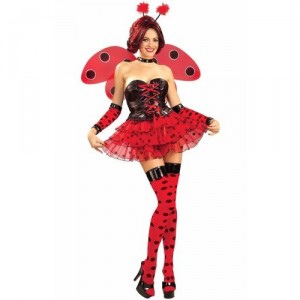 While many adult female halloween costumes include some form of a short skirt, we'll start by showing a couple of the less revealing outfits. You will find ladybug costumes in this group which start from a base of a mini dress, tube dress, halter top dress, petticoat dress, or corset style one piece dress.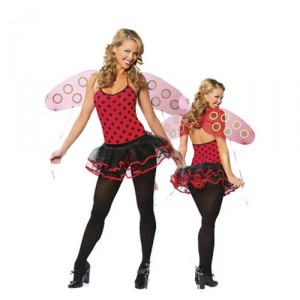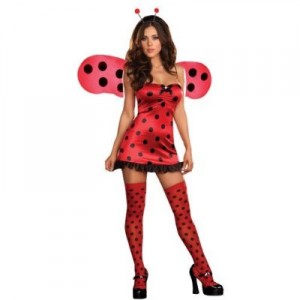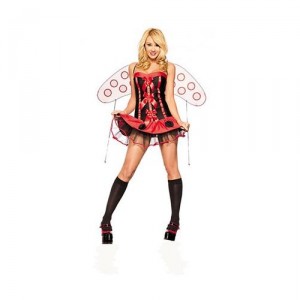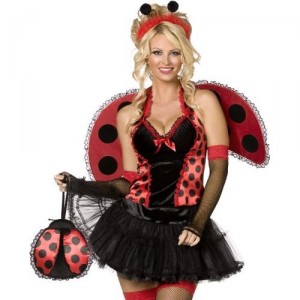 The more revealing options below might be frowned upon outdoors any other day of the year – but would be perfectly acceptable at most non-work locations on October 31st. These sexy costumes start from a base of a corset top, bustier dress reminiscent of a baby doll, a wired bra top with petticoat skirt, or a gartered bustier with ruffled panties.