Best 80s Couples Costumes Ideas for Halloween 2018
Are you looking for the best 1980s couples Halloween costume ideas? Look no further. Funtober brings you 17 couples costumes from the 80's to wear to your 80s costume party this year.
Here are our three best 80s couples costumes ideas plus 14 more options for you and your significant other to wear. Whether you are husband and wife, boyfriend and girlfriend, or a completely different version of a couple, you will find many Halloween costume options available to you below for your Halloween party.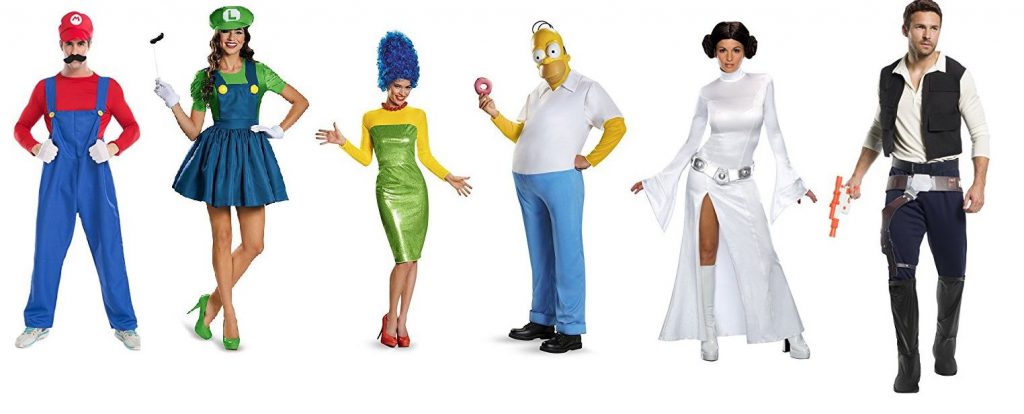 Super Mario Brothers: This 1985 video game featuring Brothers Mario and Luigi was developed and published by Nintendo as the sequel to the hit 1983 game Mario Bros. Since its release, millions grew up playing the game and hundreds of thousands have made the decision at Halloween to wear a Mario or Luigi costume. Although Mario and Luigi are both men, there are great sexy costumes for women to become either video game character. There are dozens of options for both men and women out there from this game, making the Super Mario Brothers couples costume one of the best ideas. It is also an instantly recognizable brand by everyone that you encounter.
Simpsons: Homer, Marge and the Simpson family made their debut as shorts on The Tracey Ullman Show in 1987 and their half-hour debut happened on Fox on December 17, 1989. It is the longest running American sitcom and the longest-running American animated program. It is now also the longest-running American scripted primetime tv series both in terms of seasons and episodes. Why choose a Simpsons couples costume? Homer and Marge Simpson are both instantly recognizable and fun characters to play. Doing character research via a marathon watch party of the TV show will be a lot of fun too. So get ready to become the parents of Bart, Lisa and Maggie with a Homer Simpson costume and a Marge Simpson costume.
Star Wars: There are lots of great Star Wars couples costumes, but Millenium Falcon pilot Han Solo will likely be a leading men's costume in couples costume ideas during Halloween 2018. He is the star character in the Star Wars spinoff movie Solo this year. Female costume ideas to pair with a Han Solo costume for the woman include a sexy Chewbacca costume or a Princess Leia costume. As you pick costumes, don't forget to go for something from the Empire Strikes Back or Return of the Jedi, which were both released in the early 1980s, rather than the original Star Wars: A New Hope, which was released in 1977 (just a bit before the 1980s).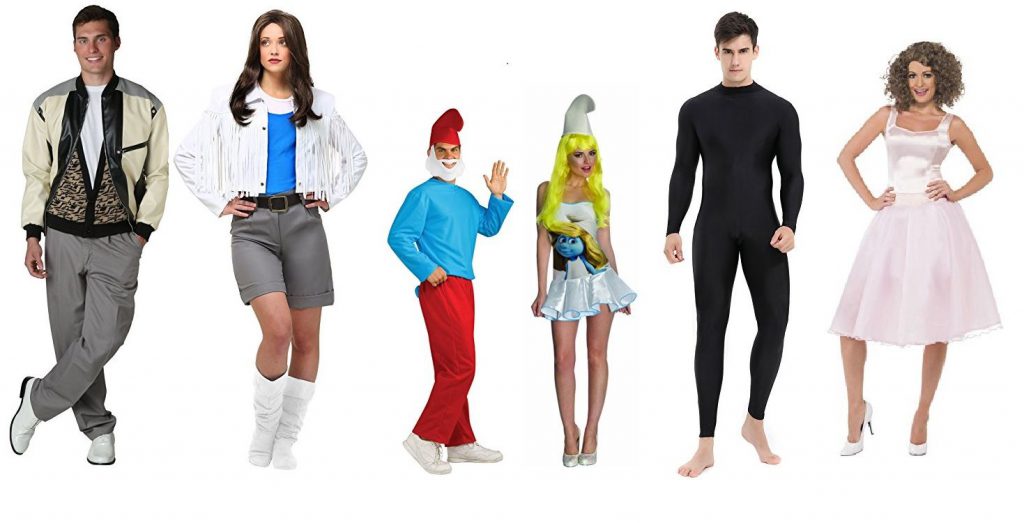 Ferris Bueller: Skip school for a day this Halloween and transform yourself into the lead characters from this cult classic movie via a Ferris Bueller costume and Sloane Peterson costume.
Smurfs: The Smurfs was a popular kids TV series running on NBC from 1981 to 1990. If you are looking for instantly recognizable 1980s costumes for a man and woman, try Papa Smurf and Smurfette.
Dirty Dancing: Become resort dance instructer Johnny and Baby from the 1987 American romantic drama dance film. Mens and womens Dirty Dancing costumes make for a classic 1980s couples costume idea. If you are looking for romantic idea that will be a great excuse to dance your way around the Halloween Party, choose Johnny and Baby costumes to become the characters played by Patrick Swayze and Jennifer Grey.

Saved by the Bell: Become Zack Morris and Kelly Kapowski for your 1980s costumes. This popular teen TV series starring the kids of Bayside High School first aired in 1989. It is a classic kid's show that was popular among this generation and has plenty of male and female characters to choose from for your Saved by the Bell couples costume.
Ghostbusters: The first and second films in this popular movie series were released in 1984 and 1989, with an animated television series running in 1986. There are plenty of men's and women's costumes for the famous ghost hunting season. Besides, when you need an ideas for a couples costume, Who you gonna call other than the Ghostbusters?
Transformers: The battle between the Autobots and the Decepticons was on TV from 1984 to 1987. It has since been made into a massively popular movie series. In December, there will be a movie focused on the popular character Bumblebee. It could be the last Transformers movie, since Transformers 7 was just cancelled. It makes for a good couples costume because there are both male and female costume ideas for Optimus Prime and Bumblebee.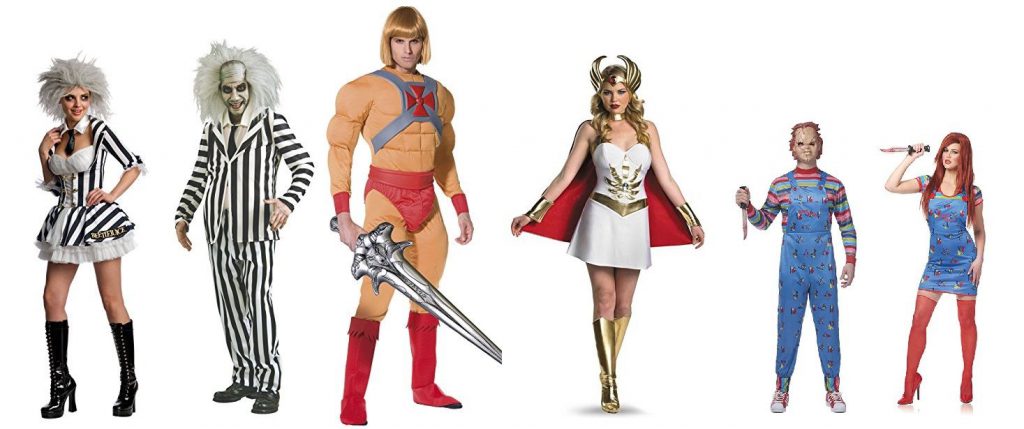 Beetlejuice: The Tim Burton comedy fantasy film for Beetlejuice following the life of Goth girl Lydia Deetz and her undead friend Beetlejuice was released in 1988. The movie later spawned an animated television show from 1989 to 1991 on ABC during 1991. Among the generations that lived through the 1980s, a Beetlejuice costume will be instantly recognized and there are several women's costume options to pair with it for those in a relationship that want Beetlejuice couples costumes ideas.
Masters of the Universe: He-Man and the Masters of the Universe fought against the evil forces of Skeletor on TV from 1983 to 1985. The characters were made into a movie in 1987. She-Ra: Princess of Power, was a spinoff from the series with its own annimated tv series running 2 seasons and 93 episodes starting in 1985. He-Man and She-Ra make for a great 1980s couple costume for those who love superheroes.
Child's Play: The world first met Chucky in the 1988 American supernatural psychological slasher film during the 80's as the first in the Child's Play series to be released in 1988. Bride of Chucky was the fourth movie in the Child's Play series (released in 1998), but there are women's costume ideas as a result for your Chucky couples costume.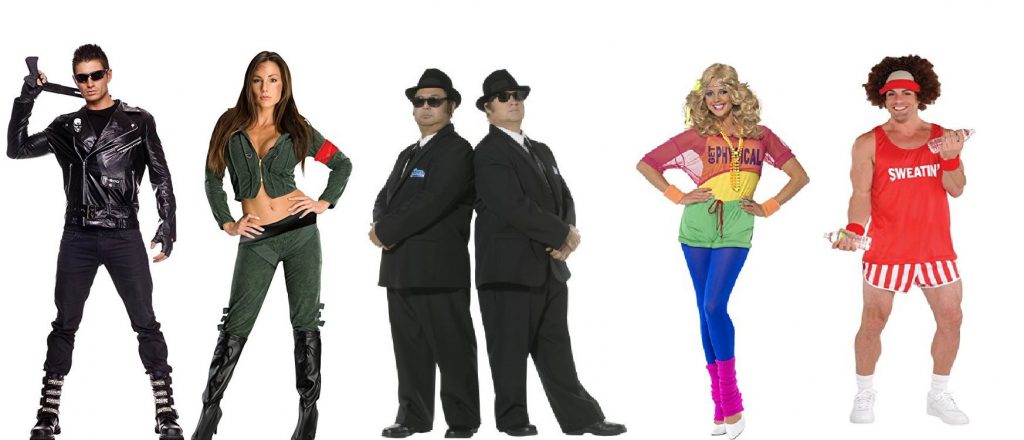 Terminator: You obviously remember the many sayings from this science fiction action adventure, like: "I'll be back." This hit 1984 movie featured Arnold Schwarzenegger as a cyborg assassin that traveled back in time to kill Sarah Connor. There are several Terminator costumes on the market, though we haven't seen a Sarah Connor costume to buy. You can definitely transform yourself into her with a leather jacket or military equipment to complete the Terminator couples costume.
Blues Brothers: The cult classic film starring John Belushi and Dan Aykroyd as Jake and Elwood was initially released in 1980 and later spawned a (failed) sequel, Blues Brothers 2000. Although these two characters are both men, they are often played as a couples costume by a man and a woman together.
Exercise: The 1980s was a popular time for exercise shows and often featured women in dance or exercise leotards. For men's costume ideas, try a Richard Simmons costume. Fitness instructer Richard Simmons held his talk show on personal health and fitness during the 80's, from 1980 to 1984. Given the debates over the last several years about his "disappearance", there is a modern spin to this classic 1980's costume idea.
Which 1980s couples costume ideas did we miss from our list?
GI Joe: The real American heroes ran as two five-part mini-series in 1983 and 1984 with a regular run in syndication on TV from 1985 to 1986. There are a few different female costumes from this series of GI Joe and Cobra characters, with men able to play most of the characters. Why did we initially leave this off the list? We weren't thinking that there were any strong female characters worth making into a GI Joe couples costume. But now we have changed our mind and think that some of the women's Cobra Commander costumes make it a legitimate alternative. Plus, it was a mainstay of the 1980s that has been made into movies subsequently.
TMNT: The Teenage Mutant Ninja Turtles (Leonardo, Donatello, Rafael and Michelangelo) made their first appearance under the streets of manhattan in May 1984 as they are raised by Master Splinter and fight the evil Shredder and his Foot Clan. The Ninja Turtles are instantly recognizable, well liked among the generations that grew up around the 1980s, and have many old sayings that you can recreate during the Halloween Party. They also make for a great couples costume because they can be paired with another couple (since there are four) and there are lots of different mens and womens Ninja Turtles costumes available.