Nintendo Switch Black Friday 2020 & Cyber Monday Deals
Find the best deals for Nintendo Switch bundles, Nintendo Switch Lite and video games during Black Friday 2019 from Thanksgiving to Cyber Monday 2019.We will search the all of the ads of retailers including Amazon, Best Buy, Walmart, Kohls and Game Stop to discover the best discounts and biggest savings on this amazing video game console made by Nintendo.Whether you are considering buying it as a Christmas gift or a gift for yourself, Black Friday and Cyber Monday will offer a great chance to get the lowest price on the Nintendo Switch this holiday season.
Black Friday may be winding down this year, but Cyber Week is heating up with major retailers announcing their savings. We expect big online sales for Cyber Monday 2019 across a wide range of products. Cyber Monday is expected to result in more than $9 billion in sales in a 24 hour period on Monday, December 2nd. Yes – your eyes read that correctly. It is actually in December this year and it is going to be huge! We will be posting the Nintendo Switch Cyber Monday deals here as they are announced.
The best deals on the Nintendo Switch console are at GameStop and Kohls. The GameStop Nintendo Switch Deal has the same free game deal as everyone else (Mario Kart 8 Digital Game pre-installed) but is throwing in a $25 gift coupon. The Kohls Black Friday sale will offer the new Nintendo Switch console with carrying case and controller charging dock for $30 off and throwing in $90 in Kohl's cash. That makes the final price of this video game console more like $229.99. However, it does not appear to include the free game and have not seen the console available online on the Kohls website (checked 11/22) yet.
Get your console with the gift card at GameStop NOW as the deal is LIVE (11/28/19)!
Amazon is currently offering a $25 gift card with the purchase of a Nintendo Switch console – use the coupon code on the listing at checkout
Check for other deals at: Best Buy Walmart
It is looking like the best deal on the portable Switch Lite will essentially be around $175. The GameStop Black Friday ad is out for 2019 and it will offer a $25 gift coupon on purchases of any new Nintendo Switch Lite. Click here on Saturday and Sunday to get the deal. Their deal before Thanksgiving is 20% off 2+ Pre-Owned Games with any console purchase. Google Shopping is also going to offer the new device for $175.
It is already clear that the Nintendo Switch is going to be the hit video game console of Black Friday again this year. It isn't even November and we have already seen one online retailer offer a free Nintendo Switch Lite with the purchase of a new smartphone. Price discounts on popular games such as Legend of Zelda: Breath of the Wild, Mario Kart 8 Deluxe, New Super Mario Bros U Deluxe, Mario & Sonic at the Olympic Games: Tokyo 2020, Super Mario Party, and Pokemon: Let's Go, Eevee! For those who haven't purchased it yet, Walmart is also offering (as part of its early Black Friday deals), the console bundle for $329 paired with your choice of a game (out of 5 choices, including Breath of the Wild). You also get a free accessory, which includes choice of a PowerA carrying case or a Paw Patrol carrying case and screen protector.
There are two weeks until Thanksgiving so we thought we would check in with a mid-month update. The Best Buy Black Friday sale will offer the original Nintendo Switch with a digital game download of Mario Kart 8 Deluxe at the console's regular price of $299.99. We are still waiting to see what is offered in the Gamestop Black Friday ad – it has not been released yet.
The Walmart Black Friday ad has been released and the previous leak of the Black Friday ad (described below) was a hoax. There is no advertised deal on the Nintendo Switch Lite and the sale on the Nintendo Switch Bundle (with Mario Kart 8 digital download) is basically the same price as at Best Buy – $299. Alas, it was too good to be true!
Walmart Ad Shows Black Friday Nintendo Switch, Xbox One and PS4 Deals in 2019 (LEAK)
A screenshot of the Walmart Black Friday ad for 2019 purports to show huge deals on the Nintendo Switch Lite, Nintendo Switch, PS4 Slim, PS4 Pro and Xbox One S Digital bundle. The leak has not been confirmed and the source is not necessarily credible, but it will be a huge Black Friday deal if it is true. Here is what the screenshot indicates the savings that will be available at Walmart: Nintendo Switch (Neon Blue or Gray) – $199 (save $100) and Nintendo Switch Lite – $149 (save $50). The Nintendo Switch has rarely been discounted. In October 2019, a big discount on the console was $24 ahead of the release of the Switch Lite. Last year, the best deal was for $299 but included a $50 Gamestop gift card. At Walmart, the best Nintendo Switch deal was labeled as a "special buy" for the regularly priced console bundled with Mario Kart 8 Deluxe for $299. In other words, the Walmart Nintendo Switch Black Friday deal would be at least $50 better than any deal last year and $65 better than the Prime Day 2019 deal – which on Amazon provided just a $35 eShop gift card along with the original Switch console for $299.99. Learn more.
October 23, 2019 Switch Deals:
Nintendo Switch 32 GB Console (2019 Version V2 Red Box) – $262.95 at Rakuten (Member Pricing) (save $47)
Nintendo Switch Lite – $191.24 (member price after coupon code) (save $33.75)
BEST DEAL WE SAW ADVERTISED DURING BLACK FRIDAY 2018– This was the link during Black Friday to get a $50 gift card with purchase of any Nintendo Switch, Xbox One or Playstation 4 system at GameStop. This is on top of their deals, like the $299 Nintendo Switch. Terms and Conditions: Starts Wednesday at 9 PM. Excludes Playstation 4 Spider-Man Bundle and Xbox One S 1TB Minecraft Bundle. Limit One per Customer.
BEST DEALS SO FAR IN 2019 – Over Prime Day 2019, Amazon offered the best deal on the Nintendo Switch console alone. It sold at its base price of $299 but kicked in a free $35 eShop card. That was the same deal that Amazon and Nintendo offered last year during Black Friday 2018.
The best deal during Prime Day was actually a bundle offered by Walmart. For only $30 more than the regularly priced Nintendo Switch, you got your choice of one of five games as well as your choice of either a portable power bank or a Paw Patrol carrying case / screen protector kit. The game choices were Mario Kart 8 Deluxe, Super Mario Party, Super Mario Odyssey, Breath of the Wild, or Splatoon 2. This Nintendo Switch bundle is regularly priced at $374, so it was a savings of $45.
The newer version of the Nintendo Switch with Gray Joy‑Cons has been offered at Amazon and Target with a $25 gift card in October 2019. This upgraded version of the regular Switch features better battery life and a few other updates.
These are actually pretty great deals on the Switch because Nintendo rarely discounts it. It is its youngest, most popular video game system right now. However, that is changing and this may create an opportunity to see some bigger Black Friday deals on it in the future.
In mid-July 2019, Nintendo announced the Nintendo Switch Lite, a device for handheld game play of Nintendo Switch games. It will be released on September 20th with a suggested retail price of $199.99. The Lite is smaller than the original Switch and does not have a kickstand or video output. The new device can play the entire library of Switch games that support handheld mode. If you want to play in either tabletop mode or TV mode, then you will need to buy the regular Switch rather than the Lite – as it does not support it.
The Nintendo Switch Lite also received its first price drop of 20% off in October 2019 for a short time on an eBay store. It remains to be seen whether the newer version of this popular console will see the major retailers attempt to match it over Black Friday.
If the Switch Lite proves popular, retailers may decide to offer additional discounts on their original consoles in order to move them off the shelf and give them more space to put the hot new item this year.
Also, Sony's PS5 and Microsoft's Xbox Project Scarlett appear to be right around the corner, so this could be the last year of the dominance of the Nintendo Switch before the next generation of gaming consoles hit the market. If you can wait around another year, you might get an even better deal. But who really wants to do that? We will be looking for deals on the Playstation 5 and Xbox 2 next year. So come on Nintendo – help us out this year!
So what is our prediction for the best price on the Nintendo Switch this year? We think you could see up to a $75 free gift card with purchase of the console as businesses try to beat the GameStop deal from last year or a $329 Switch bundle with free game as companies match Amazon's Prime Day special.
We don't think that there will be much discounting of the Nintendo Switch Lite during Black Friday 2019 or Cyber Monday. The best you will probably find will be a $15-$25 gift card free with purchase. At the already low starting price point of $199, it is unlikely that they offer the same sort of big discounts that you will see on older gaming consoles. We will check around, but if you see a deal that involves Kohl's cash or something for $179 – you should probably grab it straight away!
Current Sales on Amazon:
Should you wait until Cyber Monday 2019?
This is a classic dilemma and after watching the video game market for a few years we highly recommend that you grab online deals that are offered on Thanksgiving Day or during Black Friday morning. It is unlikely that retailers offer better prices on their consoles during Cyber Monday. Instead, the biggest sales are almost always over the Thursday – Friday period. Some stores will re-rollout their savings online, but you never know. Better to grab it and play with it all weekend then wait and miss out.
Switch 2 Black Friday
We have begun to hear rumors that the Switch 2 is in development at Nintendo and that will be exclusively for home gaming and be compatible with all of the original console's peripherals and games. The initial leak says Nintendo is targeting an early 2021 release date, which will be around the fourth anniversary of the original console's launch. So it looks like the first Black Friday for the Nintendo Switch 2 will probably be Black Friday 2021.
Why does the Nintendo Switch make a great gift?The Nintendo Switch is the hottest video game system on the market since 2017.It is a video game console that is designed for use primarily as a home console with the unit inserted into a docking station and connected to the TV.The unit can also be removed and used as a tablet computer game console or in a tabletop mode with multiple players.This gives it the versatility to operate as a portable game system as well.The Switch supports online gaming through the internet or wireless connectivity with other Switch systems.
The Nintendo Switch was unveiled in October 2016 and released worldwide on March 3, 2017.It was known in development by its codename NX.
Black Friday 2018 Deals:
Nintendo Switch Prices
The suggested retail price of the Nintendo Switch is currently $299.99.In a bundle with a video game title, the price is higher.We will list prices here from Amazon, Target, Walmart, Gamestop and others advertising the Nintendo Switch.
Nintendo Switch Bundles
The Nintendo Switch game console is also available bundled with Joy-Con controller and a video game title.We expect that many Black Friday deals will involve a discounted bundle with one or more video games.
Nintendo Switch Games
We will also be looking for any deals and discounts on games for the Nintendo Switch.More than 70 developers were making more than 100 video games prior to the release of the Switch, so there are plenty of games out there to discount in addition to Nintendo's own games. We will be looking for discounts on some of the top video games, including The Legend of Zelda: Breath of the Wild, Splatoon 2, Snipperclips, Thumper, Mario + Rabbids Kingdom Battle, Mario Kart 8 Deluxe, Pokken Tournament DX, Sonic Mania, Shovel Knight and more.
Best Buy Deals:
Nintendo Switch Console – $299

Walmart Deals:
Nintendo Switch Console – $299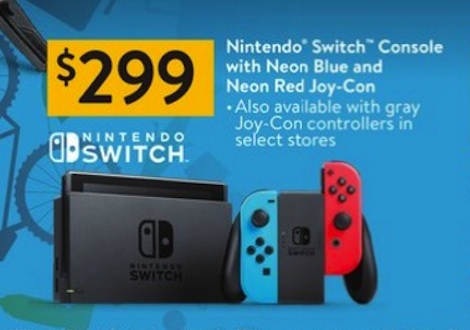 Meijer (Thursday only):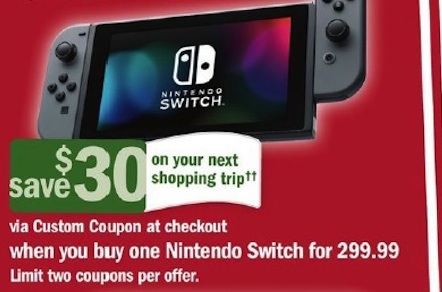 Price Predictions for Black Friday 2017
New video game consoles were heavily discounted last year.So we anticipate that the Switch, which will have been out on the market for nearly nine months, will follow a similar path.
The biggest discount on the Nintendo Switch (standard package, no games) will likely be a $50 discount from the retail price of $299.99 to a Black Friday price of $249.99.This is a fairly standard discount on consoles during the Thanksgiving weekend sales.Because the Switch has been out for a number of months, you also may see discounts on used/pre-owned systems from GameStop.Some retailers may opt to charge the regular price but provide a store gift card instead.
Return Soon
It will be a few more weeks until we start seeing the first Black Friday ads.We will be adding Switch prices here once they are leaked or released.We encourage you to stop back soon to check out updates to this page.
Current Sales on Amazon: