Yuneec Drones (Mantis Q, Breeze 4K, Typhoon H) Black Friday Deals 2023
Find the best deals on Yuneec drones during Black Friday 2023. Funtober will be searching for in-store and online price discounts from Thanksgiving Day to Cyber Monday for the Mantis Q and Breeze 4K, among others.
Yuneec started as a manufacturer of remote controlled aircraft for model making enthusiasts. They are now pushing electric aviation with next generation aerial video quadcopters.
Here are a few of the Yuneec drones that we will be following prices on over Thanksgiving weekend:
Mantis Q: A new portable folding drone with voice control. Cutting edge technology and advanced features such as facial detection and energy efficient design. Can stay in the air for 33 minutes. It weighs just one pound and can tuck in a bag when folded.
Breeze 4K: Effortlesly capture aerial photos and videos with this quadcopter. 4K Ultra High Definition Video or 720p HD Streaming. Automated flight modes decrease the learning curve of more expensive drones. Flight time is limited to about 10 minutes. Launched in 2017.
Typhoon H: A hexacopter drone with flight times of up to 25 minutes and a 4K UHD camera. It is used for advanced aerial photography and videography in a compact drone. It was the winner of the 2016 Consumer Electronics Show 'Best of Class'. The gimbal camera mount rotates 360 degress to capture all of the action from the air. Navigation aid maps the environment in 3D to help avoid obstacles and provide positional data when GPS is limited or unavailable.
H520: A Hexacopter airframe regularly priced at $1999. Used for commercial purposes due to its long flight times and robust technology. Six rotor platform, enterprise-grade cameras and mission planning software.Get it with the E90 camera for a wide-angle, high resolution, gimbal stabilized imaging system. The E90 utilizes a 20 MP 1-inch sensor and the latest H2 high speed image processing chip. Yuneec also offers users and software developers an SDK that enables the creation of applications harnessing the power of the H520.
Yuneec Black Friday Deals
Find all of the Thanksgiving weekend deals here on Funtober for Yuneec drones. We expect to see great deals as they seek to compete against DJI and other drone manufacturers.
Yuneec Cyber Monday Deals
We will post all of the price discounts on the Mantis Q, Breeze 4K, Typhoon H and H520 available online on the MOnday after Thanksgiving.
2018 Deals: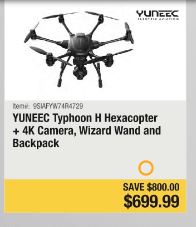 Last Major Update:
Drone Black Friday 2020 Deals: