Fujifilm Instax Black Friday Deals 2023 – Square, Mini, X-T3 and X-H1 Camera Deals
Find the best deals on Fujifilm cameras this Black Friday 2023. Funtober will search for online price discounts and sales in print ads for the Instax Square, Instax Mini, X-T3 mirrorless and X-H1 mirrorless cameras from Thanksgiving Day to Cyber Monday 2023.
Fujifilm is a pioneering multinational photography and imaging company that started in Japan in 1934 as Fuji Photo Film. It now employs more than 75,000 people and is headquartered in Tokyo, Japan.
2022 Deals:
Find more Black Friday deals right now at Amazon.com.
Past Deals:
Here are the Fujifilm cameras we will be tracking sales on over Thanksgiving weekend:
Instax Cameras: Compact instant cameras that can print your photos immediately to allow you and your friends to enjoy photography. Choose from the Square, mini, or Wide 300 cameras. The Square camera series prints square photos at 1.3 times the size of instax mini prints, availabe with the SQ20, SQ10 and SQ6. The mini is available in the 90, 70, 25, 9 and 8. The WIDE camera and film is great for parties and family gatherings.
Fujifilm X-T3: A versatile high performance mirrorless camera designed for videographers and action phtographers. It brings a new sensor and hybrid autofocus system which Digital Photography Review called a "quantum leap" ahead of the X-T2. Includes 26 MP sensor, 426 point hybrid autofocus system, 20 frames per second with AF, and more! Fuji Rumors called it "one of the best cameras of the year".
Fujifilm X-H1: A compact, feature-packed, easy to use mirrorless APS-C camera. The Fuji X-H1 mirrorless camera has been given the billing as the flagship X series camera and offers a lot of the functionality and quality of the Nikon D500. Includes improved video mode and excellent image stabilization over the X-T2. It was announced in early 2018 with a release date of March 2018.
Black Friday Deals
We will post here all of the Fujifilm camera Black Friday sales and ads here when they are available.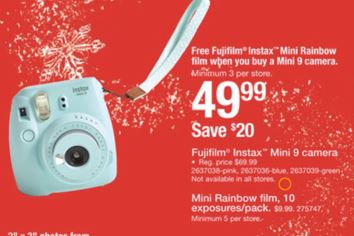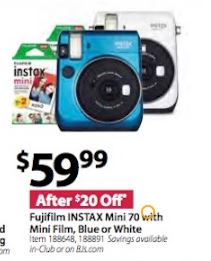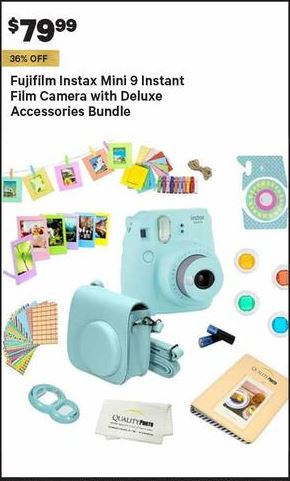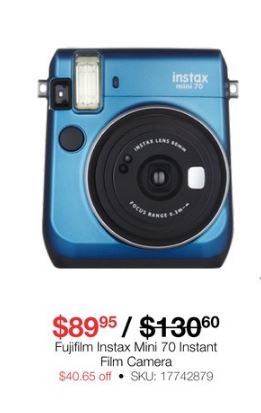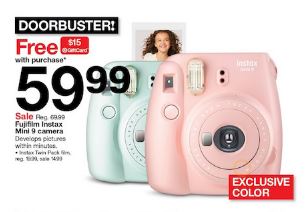 Cyber Monday Deals
We will post all of the online price discounts and sales on the Fujifilm instant and mirrorless cameras during the Monday after Thanksgiving.
Last Major Update: