Samsung Note 9 Black Friday 2019 & Cyber Monday Deals
Find the best deals on the Samsung Galaxy Note 9 phone during Black Friday 2019. Funtober is tracking all the best deals, sales and offers on the Note 9 from Thanksgiving Day to Cyber Monday 2019.
The Samsung Note 9 is going was one of the hottest selling phones during Black Friday 2018 because cell phone companies and Samsung offered great deals and discounts. Samsung itself is offering the Note 9 for $600 directly from Samsung.com. That's a whopping 40% discount off of the $1000 list price. T-Mobile is offering up to $750 off the Galaxy Note 9 with and eligible trade in and addition of a new line. The T-Mobile discount comes in 12 monthly bill credits. Verizon is offering up to $800 is monthly bill credits on purchases of the Note 9.
The Samsung Galaxy Note 9 is the crown jewel of Samsung's current phone offering. With extra-long batter life, dual rear cameras and the S Pen Stylus. This phone rightfully wears the crown and will be a big seller for Samsung from launch through Black Friday 2018.
The Galaxy Note 9 features some bigger and better everything. Some of the most hyped features are the 4,000-mAh battery, a 6.4 inch screen and tons of storage. It has a Qualcomm Snapdragon 845 processor, so it's fast. The battery is the largest available in almost any flagship models and is designed to last all day under heavy usage Even with all that extra battery life it charges in about the same time as the S9 plus model. The internal storage starts, yes I wrote starts at 128GB and 512 GB. There is also a micro sd slot for even more storage.
The S Pen Stylus has a built in Bluetooth antenna and be used as a remote in certain apps. It can be used as a presentation remote and to skip over songs. It can be used a remote control to take photo. You can also use the pen to unlock the screen. The pen can also help you take those hard to get screen shots.
The Note ( features dual 12 megapixel rear cameras both have optical image stabilization. The aperture of F/1.5 and f/2.4. The front facing camera is 8 megapixels. There is a lot of hi-tech software packed into the Note 9 camera to make sure you always get the best shots. The Scene Optimizer can determine up to 20 different types of photos and adjust the camera setting accordingly.
It hasn't gotten a lot of press because it's a behind the scenes feature, but the cutting edge Water Carbon Cooling system. With the upgraded graphics card, more ram and a faster processor they had to do something to manage all the heat. Samsung claims that the new cooling system is 3 times as efficient as the cooling system in the Note 8. So under very heavy usage the phone is not going to get bogged down or overheat.
2018 Deals:
Click Here to Get Up to $200 off and a FREE Echo bundle (Choose Amazon Echo Show OR Echo / Spot bundle at purchase) on Amazon for CYBER MONDAY.
S9 Unlocked – $519.99 (save 28%)
Note 9 Unlocked – $799.99 (save 20%)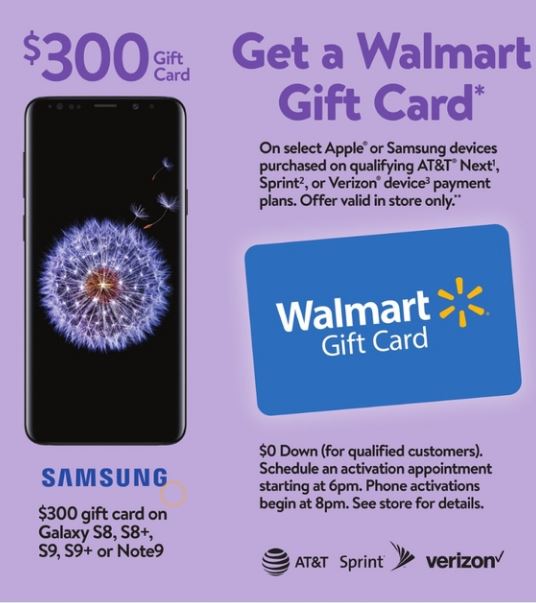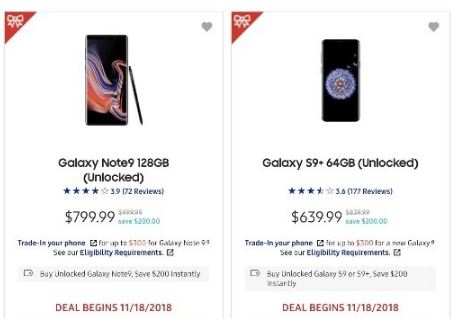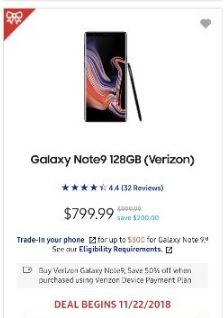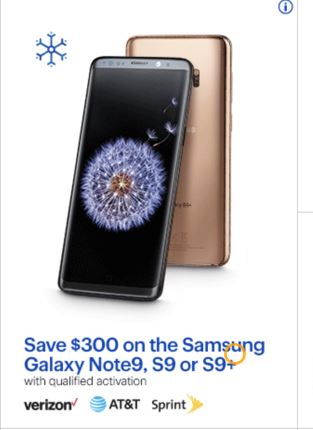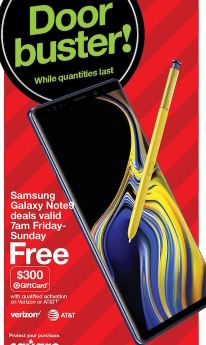 Here is what they are currently price at:
Note 9 – 128GB & 6 RAM – $999
Note 9 – 512GB & 8 RAM – $1249
We are digging up all the best online and in store deals, sales and offers on the Samsung Galaxy Note 9 for Black Friday 2019. No matter which Note 9 you are interesting in we will find you the best prices. Phones are always a big Black Friday seller, but with the launch of so many new models there is lots of competition. The best part about all of the choices for consumers is that it will drive prices down. Check back as Black Friday 2019 approaches to get the latest deals and best process on the Galaxy Note 9.
Last Major Update: