Tempurpedic Black Friday Deals 2023 – Mattress, Topper and Pillow Deals
Find the best deals on Tempurpedic mattresses and pillows for Black Friday 2023. Funtober is tracking all of the online sales and price discounts in print ads for mattresses from Thanksgiving Day to Cyber Monday 2023.
2022 Deals:
Find more Black Friday deals right now at Amazon.com.
2020 Deals
Tempur-Pedic is a manufacturer and distributor of mattresses and pillows made of viscoelastic foarm. The first mattress was made by a Swedish technical foarm firm, but the brand was brought to the United States in 1992. The company is headquartered in Lexington, Kentucky and has manufacturing plants in Virginia and New Mexico.
Tempurpedic mattresses are considered unlike any other mattress because it precisely adapts to your body, minimizing pressure points that keep you awake.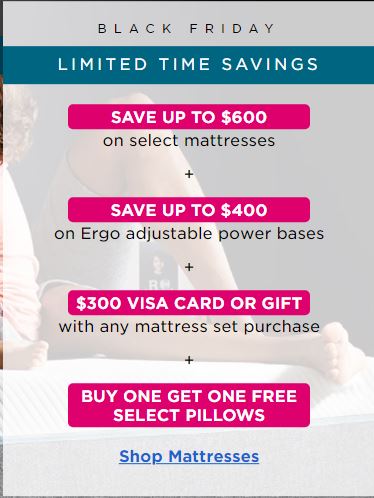 Cooling mattresses: Enjoy a variety of mattress options with the cooling technology that will give you relief in the summer.
Standard Mattresses: Choose from the Adapt with the original Tempur material, the ProAdapt, and LuxeAdapt.
Firm Mattresses: Also includes the Contour Elite and Contour Rhapsody Luxe.
Adjustable bases: Choose from three personalization options to give you the comfort that you desire. Head raises up to 55-70 degrees while the foot in ergo models raises up to 40 degrees. The current limited time sale is on either the TEMPUR-Ergo or TEMPUR-Ergo Extend.
Tempurpedic Black Friday Deals:
We are excited to see hundreds of dollars of savings offered on these mattresses over the Thanksgiving holiday weekend.
Tempurpedic Cyber Monday Deals:
Find all of the online sales on Tempur-Pedic mattresses here at Funtober once they are announced for the Monday after Thanksgiving.
Last Major Update: