Wine Cooler Black Friday Deals 2023 Cellar & Countertop Refrigerator & Cyber Monday Deals
Find the best deals on a wine cooler fridge during Black Friday 2023. Funtober tracks down all of the online savings and discounts shown in print ads from Thanksgiving Day to Cyber Monday 2023 on Frigidaire, NutriChef, Magic Chef, Koldfront, Wine Enthusiasts and EuroCave wine cellars and chillers.
2019 Deals
Here are a few of the wine cooler manufacturers that we will be monitoring prices on over the Thanksgiving holiday weekend:
Frigidaire: 38, 42, and 52 wine cooler options plus a 138 12 oz. can capacity beverage center.
NutriChef: Chilled Mind called the 12 bottle wine cooler from Nutrichef number one on their list. Also offers 8 and 18 bottle options.
Magic Chef: Keep your favorite wines at the ideal temperature with a wine or beverage cooler. Options hold up to 50 bottles at a time.
Wine Enthusiast: A manufacturer of wine refrigerators as part of the company that started in 1979 to bring the best wine products to the general public through a catalog.
Koldfront: They make 18, 24 and 32 bottle dual zone wine coolers as a brand of the online retail company Living Direct. Other products from this company emphasizing portable and innovative products include air conditioners, beverage coolers and ice makers.
EuroCave Wine Cellar: Get flawless temperature and humidity control with one of these premium wine cellars from EuroCave. It is considered the ultimate in protection for your wine collection, so consider housing your investment in the Classic, Revelation, or Premiere.
Wine Cooler Black Friday Deals: Find the biggest price discounts available over the Thanksgiving holiday weekend here at Funtober – stop back soon to see all the sales as it is only a few days away!
Wine Cooler Cyber Monday Deals: We will post all of the online sales on the Monday after Thanksgiving here when they are available.
Last Year: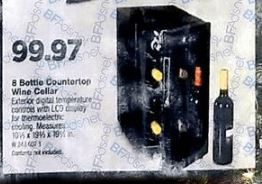 Last Major Update: