Tile (Mate, Pro, Slim) Trackers Black Friday 2019 & Cyber Monday Deals
Find the best deals on Tile Trackers like the Mate or Pro for Black Friday 2019. Funtober searches all of the online sales and print ads for low prices on smart home technology like the Tile from Thanksgiving Day to Cyber Monday 2019.
The Tile bluetooth trackers help you find your keys, wallet, phone and everything else that matters to you. It can also be a remote control finder or luggage tracker. If it is lost, use your phone app to ring your device and see if it is nearby. Double tap the tile button on your device to make your phone ring even when it is on silent.
Here are the Tile devices that we will be following prices on over the Thanksgiving weekend:
Tile Mate – Their best selling tracker has been made better. It has a 50% louder ring and a range up to 150 feet. One year batter life. Works with Siri, Alexa or Google Assistant to help you find your stuff.
Tile Slim – Slender design works well in tight spaces or to keep a low profile. Tuck it into wallets and passports or keep with your laptop or notebooks.
Tile Pro – 300 foot range and loud enough for you to find it. Industrial strength after rigorous testing. One year battery power.
Tile is the world's best-selling Bluetooth tracker with an 80% market share and over 15 million units sold. It helps people find more than 3 million unique items every day.
Black Friday 2019 Deals
Find all of the Tile Black Friday deals on the Mate, Slim and Pro here at Funtober during the Thanksgiving sales.
Cyber Monday 2019 Deals
We will post the online discounts available for the Monday after Thanksgiving on these bluetooth trackers.
Last Year:
POPULAR NOW (CLICK HERE): Tile Mate and Slim Combo Pack – Key Finder. Phone Finder. Anything Finder (2 Tile Mate and 2 Tile Slim) – 4 Pack on Amazon – $38.30 (save $21.69)
Or save 40% on select Tile products on Amazon – click here.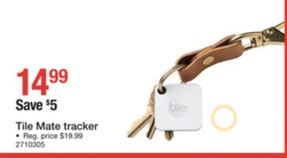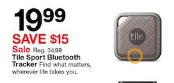 Last Major Update: