Sonos Speaker Black Friday 2019 & Cyber Monday Deals
Find Black Friday deals on Sonos Speakers for Thanksgiving weekend 2019. We will gather the biggest discounts on these popular speakers from Amazon, Best Buy and other retailers and publish them here on Funtober. We will bring you info about the biggest and best deals and discounts here when the savings are announced online or in an advertisement for Black Friday 2019. We are committed to helping you find the best shopping deals of the year from Amazon Prime Day to Thanksgiving Weekend. So get ready to save in 2019, 2020 and beyond!
Here are the items that Sonos currently has on the market:
Sonos Connect: This wireless receiver allows you to update your existing stereo by connecting it to this smart home system receiver to stream music from online.
Sonos One: This is the first Sonos smart speaker. It is nearly identical to the Play:1 except it has microphones and Alexa. Everything that can be done on the Amazon Echo can also be done on the Sonos One. It also works with Google Assistant. Design-wise, it is a 16 cm tall speaker perfect for a bookshelf or nightstand.
Sonos PLAY:1 – A compact wireless speaker for streaming music. It works with Amazon's Alexa by connecting to Amazon Echo or another Alexa-enabled device..
Sonos PLAY:3 – Offering richer, deeper streaming-audio at a price-point between its entry level and premium market options.
Sonos PLAY:5 – Sonos' premium offering and one of the best-sounding wireless speaker systems on the market.
Sonos PLAYBAR: An all-in-one wireless TV soundbar for music lovers. It adds full-theater sound for your TV, streams music, and works with your existing TV remote.
2018 Deals:
Sonos is holding a sale on its speakers that will run from Thanksgiving through Cyber Monday:
Sonos Sub – $599 (save $100)
Sonos Beam (soundbar) – $349 (save $50)
Sonos One – $175 (save $25)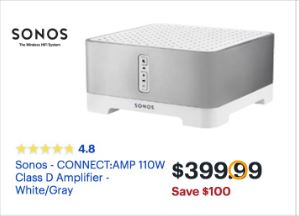 When Sonos speakers went on sale earlier this year, BGR called it "one of the rarest occurrences in consumer technology." So if you are looking for a deal on these hot speakers, better take advantage of the discount offered on Black Friday.
Best Buy Deals:
Sonos Play:3 – $249.98
Sonos Play:1 – $149.99
Sonos Playbar – $599.98
Sonos Playbase – $599.99

Target Deals:
Sonos Play:1 – $149.99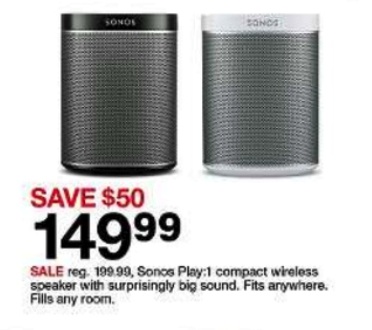 Expected Discounts:
Last year, Sonos offered its entry-level gateway speaker Play:1 for $50 off the regular price: $149 for the entire Thanksgiving weekend.
Earlier this year in June, Sonos offered four discounts on speakers and bundles. They offered $150 off the standard price of the Sonos 5.1 Surround Sound Package with PLAYBASE or PLAYBAR. There was also $100 off a Sonos SUB and savings of $50 off the Sonos PLAY:1 Two Room Music System with two speakers.
After the Sonos One was released, there was a $60 discount on the Play:1.
About Sonos
Sonos is an American consumer electronics company based in Santa Barbara, California that was founded in 2002. It's first product was a Digital Music System bundle of Smart Speakers. The company now makes a number of powered speakers including smart speakers. Multiple devices in a single household connect to each other wirelessly or through a wired ethernet network.
Black Friday 2019
There are still a few months before the biggest discounts hit stores and a few days before Black Friday ads start being leaked in significant numbers. Stop back soon to find all of the best deals on Sonos streaming wireless speakers.
Last Major Update: