Sharp TV, Aquos Black Friday Deals 2023 & Cyber Monday Deals
Find the best deals on a Sharp TV in a range of sizes including 50, 55 and 65 inch televisions for Black Friday 2023. We will gather the best sales, ads and price discounts on the Sharp Aquos, 8K, 4K. LED, HD and Smart TVs from Thanksgiving Day to Cyber Monday 2023.
Sharp Corp. is a Japanese multinational company that designs and manufactures electronics products. It employs more than 50,000 people worldwide and is now a part of the Taiwan Foxconn Group.
The Sharp AQUOS has a 8K UHD that will overwhelm you with its high resolution and ability to turn images into reality. Sharp calls it resolution "so high, it looks like the real thing." It provides a resolution that is 16 times that of full HD. It also comes in 4K to capture real beauty. The technology brings you a larger color palette, a color optimiser to adjust displayed colors to those naturally detected by the human eye, and a tone optimiser to improve color levels compared to regular displays.
2018 Deals: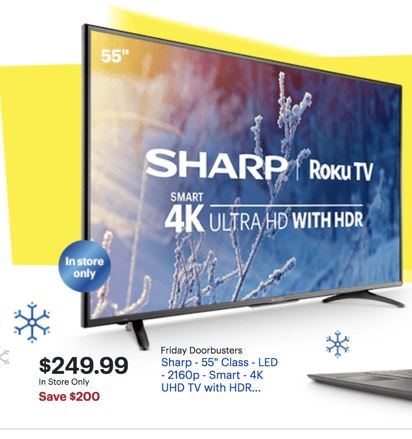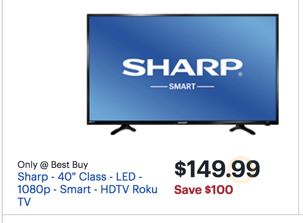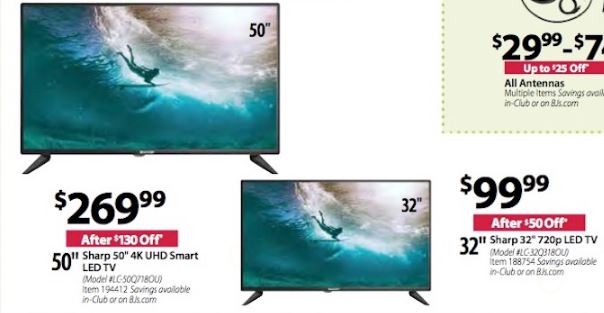 2017 Deals
Here are some of the retail stores and online websites that offered deals on Sharp televisions for Black Friday and Cyber Monday in 2017:
Best Buy
Sharp 60″ 4K TV – $549.99 (save $250)
Sharp 50″ Smart Ultra HD 4K TV – $179.99 (save $320)
Sharp 32″ 720p Smart TV – $149.99 (save $50)
Walmart
Sharp 55″ Class 4K Smart TV – $298
Black Friday 2023:
We expect that some businesses will offer savings of between 25 and 50 percent on Sharp 4K TVs this year. We will be closely following the online and print ads that are leaked and released between October and November in order to post the biggest price drops here.
Cyber Monday 2023:
There are usually a great deal of Cyber Monday deals on televisions so we expect that online retailers will include Sharp among the brands that they discount. Unfortunately, it is hard to tell during the Thanksgiving Day and doorbuster sales whether there will be better price discounts later in the weekend. If you see a great price over Thanksgiving, take it! If you don't, wait until Cyber Monday and check on the tv deals here!
Stop back soon!
We hope you will be back in a few months when the Thanksgiving shopping season is in full swing!
Last Major Update: