Hisense 100 inch Laser TV Black Friday Deals 2023
Find the best deal on a Hisense 100 inch TV for Black Friday 2023. We will search Amazon, Best Buy, Walmart and other major electronics to help you find big savings on the 80 inch and 100 inch Hisense Laser TVs this Thanksgiving.
Hisense is a consumer electronics manufacturer that calls itself the biggest company you've never heard of on its about page. It is the third largest TV manufacturer globally and the largest in China from 2001 to at least 2015.
Other 2018 Amazon Deals on Hisense TVs:
Hisense 65-inch 4K Ultra HD Smart LED TV – $699.99 (save $300)
In 2017, Hisense released its 100 inch 4K Laser TV last year for $9,999. The device uses a short-throw projector to display eight million or so pixels on a 100 inch projection screen. It includes a built-in TV tuner, smart TV interface, and speaker system from Harman Kardon with wireless subwoofer and two projection box based speakers.
In May 2018, Hisense released a smaller version of its monstrous laser TV. This version is an 80 inch and is much more affordable than its larger sibling. The base price before discounts is roughly $3,100.
If you are looking to stop going out to the movie theater and instead bring one into your home, this massive projector will help you experience the excitement of theaters right at home. Or impress all of your friends by owning the biggest TV they have ever seen.
We will also be watching to see if any of its competitors goes on sale. Sony's 100 inch short throw 4K projector, the VPL-VZ1000ES, that hit the market in early 2017 and was priced at $25,000. Samsung will also be starting production on its 146 inch The Wall in September, although that is probably too soon to expect to see any price savings over Black Friday.
Other 2018 Hisense TV Deals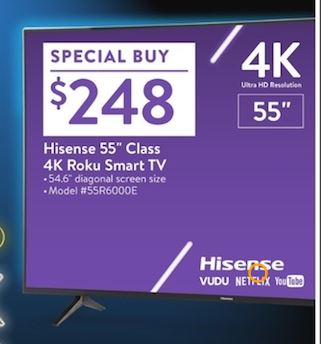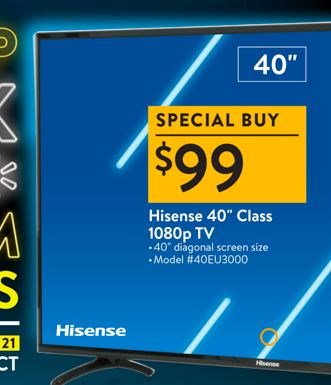 Black Friday and Cyber Monday 2023
We're excited to see what happens on pricing to this massive 100 inch laser TV projector in the next few years. We have no idea if its second year in production and the prospect of even larger competitors in the future will cause Hisense to kickstart a discount price or not but we will be eagerly watching and dreaming here at Funtober. When we find stores starting to discount it, we will post them here.
There are still a few more months until you can expect electronics retailers to begin releasing their online ads and print advertisements. Enjoy summer for a few more weeks, and then come back to see what we have found!
Last Major Update: