Gaming Chairs and Gaming Desk Deals for Black Friday 2022
Save on a gaming chair or desk with a Black Friday or Cyber Monday deal in 2022. We have searched dozens of leaked and released Black Friday ads for the best deals on gaming chairs and gaming desks. If you already have a great gaming system, take advantage of these discounts and buy yourself an early Christmas gift this year!  
2022 Deals:
Find more Black Friday deals right now at Amazon.com.
2020 Deals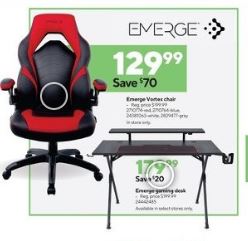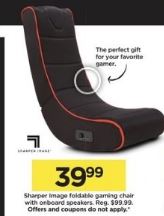 2019 Gaming Chair Deals:
When I started working from home this year, I went ahead and bought myself a gaming chair for my office as i have been known to exceed the appropriate amount of time to be seated in an office chair. And no one wants to have back problems while working at a computer. My Respawn Gaming Chair was purchased on sale at Office Depot and has functioned brilliantly for the purchase.
Although I am not the classic gamer – I have found the chair to be very comfortable and perfect for sitting in front of a desktop or laptop for a long period of time. If you are looking for a chair for either gaming or work, I would highly recommend one. Thanksgiving is the perfect time to get one at a discount – so start shopping today!
2018 Deals
Click here for more Amazon Cyber Monday Deals.
Amazon Deals on Black Friday (click below for more information):
Ace Bayou X Rocker 5143601 II Video Gaming Chair – $127.97 (save $71.03)
Furmax Gaming Chair – $118.99 (save $71)
Essentials Racing Style Leather Gaming Chair – $88 (save $32)
BestMassage Office Desk Gaming Chair – $69.88 (save $30.11)
Homall Gaming Chair – $93.99 (save $26)
We will bring you info about the biggest and best deals and discounts here when the savings are announced online or in an advertisement for Black Friday 2018. We are committed to helping you find the best shopping deals of the year from Amazon Prime Day to Thanksgiving Weekend. So get ready to save in 2018, 2019, 2020 and beyond!
If you are going to play your best, you will need a gaming chair that allows you to sit comfortably for hours at a time. Thanks to great deals on gaming chairs during Black Friday 2018, you can get one that fits your body and needs perfectly. If you already have a system, you know this. Buy yourself an early Christmas present and upgrade your gaming chair this Thanksgiving. While you are shopping for something grand, don't forget to look for a gaming chair with speakers!
Are your multiple monitors perched precariously on an inadequate desk? Or are you building a new system and now looking for the right gaming desk to hold everything? Consider these gaming desk Black Friday deals that have been announced in November 2017 for Black Friday and Cyber Monday.
More Black Friday and Cyber Monday Gaming Deals
We have compiled an extensive list of Black Friday and Cyber Monday deals on gaming computers, gaming laptops, gaming monitors and other electronics. We will be adding more as they are announced. We hope you have found a great deal on the item you are looking for, but if you didn't, please stop back soon to find the other discounts and specials that we have found and added.
Last Major Update:
Current Sales on Amazon: