Car Seat Black Friday Deals, 2022 Store Ads & Cyber Monday Deals
Find the best deal on a new car seat over Black Friday and Cyber Monday 2022 this year. Funtober will gather all of the online and print ads here for car seats during Black Friday 2022. If you are a current or expecting parent that is looking to buy a car seat for a baby or young child, or a grandparent working with a limited budget, Thanksgiving weekend can be a great time to go shopping.
We will bring you info about the biggest and best deals and discounts here when the savings are announced online or in an advertisement for Black Friday 2022. We are committed to helping you find the best shopping deals of the year from Amazon Prime Day to Thanksgiving Weekend. So get ready to save in 2022, 2023 and beyond!
2022 Deals:
Find more Black Friday deals right now at Amazon.com.
Past Deals
Car seats have advanced a significant amount since I was a child. Now, they have rear-facing seats for newborns and young toddlers, front-facing seats for older toddlers, and booster seats for older children to comfortably fasten the seat belt properly. For our son, born in September 2020, we chose an infant seat, the Chicco Keyfit 30, which has great safety features (included a leveling foot on the base to make it easy to install correctly) while maintaining an affordable pricetag and a light weight (9 lb empty, without the base). So far, it's been a great car seat and we feel confident driving around with our precious little one securely in it.
2020 Black Friday Deals on Car Seats
Check out the types of car seats below to determine which one will fit your needs, and check out the deals we found at:
buybuyBABY – They offer a 20% off any one item coupon that we've combined with their Black Friday deals (on our new stroller), and free shipping on orders over $19. They also offer Afterpay and PayPal for installment payments on most items.
Maxi-Cosi Magellan XP All-in-1 Convertible Car Seat for $262.49

Maxi-Cosi Magellan XP Max Convertible Car Seat from $299.99

Cybex Aton M Infant Car Seat for $262.49

Cybex Sirona M Sensorsafe 2.0 Convertible Car Seat for $247.49

Safety 1st Grow and Go 3-in-1 Convertible Car Seat for $139.99
Safety 1st Disney Apt 50 Mouseketeer Minnie Convertible Car Seat for $67.49
Safety 1st Disney Grow and Go 3-in-1 Convertible Car Seat for $149.99
Britax Pathway and B-Safe Ultra Travel System for $300.99
Peg Perego Convertible Kinetic Carseat from $303.99
Peg Perego Primo Viaggio SIP Convertible Car Seat from $279.99
Peg Perego Viaggio HBB 120 Booster Seat for $159.99
Peg Perego Viaggio Flex 120 Booster Seat from $223.99
Peg Perego Viaggio Shuttle Plus Booster Seat from $223.99
Peg Perego Viaggio Shuttle Backless Booster Seat from $95.99
Amazon – The online retailer has early Black Friday deals on car seats including:
Diono Rainier 2AXT All-in-One Convertible Car Seat for $297
All-in-One Car Seats: These seats are made to work for children from newborn/infant all they way through age 8 or until they are at the height/weight limit and are ready for a seatbelt only. They typically flip between rear-facing (recommended as the safest way through age two+, based on weight and height) and front-facing depending on the height/weight of the child.
Infant Car Seats: Rear facing-only seats for babies weighing between 4 and 40 pounds (depending on brand). These car seats are great because they are easily removed from the base in your car to carry baby around, and are compatible with various stroller brands. While it isn't advised to let baby sleep in the seat outside the car (due to the threat of positional asphyxia) it can be very useful to leave baby tucked into the car seat, covered up with blankets in the cold to be carried into your home or destination, instead of buckling your little one into their seat in the car. They are also great for city dwellers who use taxis or ride shares with their little ones, as infant seats can be buckled into cars without the base. Families with two or more cars, or who have childcare transporting their child, can also get a second base and have them both installed so that the car seat is easily transferred between vehicles. The only downside of the infant seat is that by nine-twelve months, most infants have reached either the weight or height limits of the infant seats, and the seats will need to be replaced with one of the other options for the remainder of your child's time in rear-facing and booster seats.
Convertible Car Seats: These seats flip between rear facing (newborn and young toddler) and front facing and are good until the child is ready for a booster seat. The weight limits are about 65lb, so follow these up with either a high-back or backless booster (below) until your child is 8 years old and 80lb, or maxes our the weight/height of their booster.
Booster Seats: The last seat after a child has outgrown a forward-facing harnessed car seat but before using only a seat belt. This helps better position them at the height needed for the seatbelt to safely and securely fasten them in, particularly the chestbelt. They come in high-back and backless options.
Travel Booster Seats: When traveling with an older child who still uses a booster seat at home, you may not want to lug the full, hard-plastic booster with you, or skip the safety of a booster while on a family trip. Luckily, companies have creatively developed some very handy travel boosters in the last few years, with options so small they fold up into your purse or the pocket of your carry-on! While they may not quite measure up to the comfort needs of everyday travels, they are great for taxi-cabs, rental cars, having your child's friend over to play, or other short-term rides where you want your child or grandchild at the proper height for the seatbelt.
Car Seat Stroller Combos: Make the car seat to stroller transition easy without waking your child in a 2-in-1 baby travel system via the integrated car seat and stroller. There are a lot of different options on the market for a car seat stroller combo, which means that you should have an opportunity to get a great deal on one of them over Thanksgiving weekend. We will list the best sales on them here.
Here are a few of the car seat manufacturers and brands that we will be tracking over Black Friday and Cyber Monday. We expect that major online retailers and stores selling baby items will offer a few of them at a great discount.
Graco: A baby products company originally founded in Philadelphia in 1942 is now based in Atlanta, Georgia that is owned/operated by Newell Brands.
Safety 1st: A brand leader in child safety products from Dorel Industries, a Canadian company based in Montreal, Quebec.
Cosco: A brand of juvenile products owned and manufactured by Dorel Industries, a Canadian company based in Montreal, Quebec.
Evenflo: They design and manufacture a line of car seats and strollers as well as other home gear such as high chairs, safety gates and playards. It traces its roots back to 1920, when they started manufacturing baby feeding products and incorporated as Pyramid Rubber Company in Ravenna, Ohio.
Britax: A global manufacturer or childcare products with its headquarters in the United Kingdom that makes car seats, strollers and high chairs. They make a full line of infant, convertible and booster seats.
Baby Trend: A worldwide manufacturer of juvenile products during its nearly thirty year history. They make car seats, strollers, joggers, travel systems and other baby products.
Chicco: A brand of Italian company Artsana that has been manufacturing children's products for over 50 years. They make the fit2, which is an infant and toddler car seat that lasts from Day 1 to Year 2.
Diono: An American company started in 1999 that makes car seats, strollers, and carriers. They have several car seats that fit three-across in minivans, making them a popular choice for parents with multiple littles, from rear-facing to high-backed boosters.
We are eager to post the best Black Friday and Cyber Monday car seat deals for babies and young children here on Funtober. We hope you will return later in November to discover the best savings Black Friday deals on car seats.
2018 Deals
Click here for more Amazon Cyber Monday Deals.
Britax Boulevard ClickTight Convertible Car Seat, Westin. $299.99. Save $80 on this Cyber Monday Special.
Safety 1st Riva 6-in-1 Flex Modular Travel System with Onboard 35 FLX Infant Car Seat and Base, Grey Canyon. $224.99. Save $75 on Cyber Monday.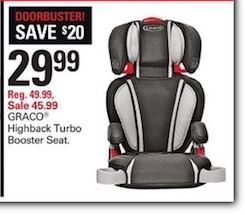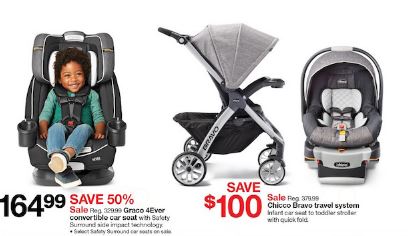 Last Major Update:
Current Sales on Amazon: