GoPro Hero 6 and Hero 5 Black Friday 2018 Deals
Ready for a deal on a GoPro Hero this Black Friday 2018? We will bring you info about the biggest and best deals and discounts here when the savings are announced online or in an advertisement for Black Friday 2018. We are committed to helping you find the best shopping deals of the year from Amazon Prime Day to Thanksgiving Weekend. So get ready to save in 2018, 2019, 2020 and beyond!
We will find the lowest prices on the Hero 6, Hero 5 Black, and Hero 5 Session, regardless of whether it is for Black Friday or Cyber Monday. Whether you are looking to buy an action camera for Christmas this year or as a gift to yourself, these deals and discounts will help capture the excitement of the outdoor adventures.
New products available for 2018: GoPro Hero – The new $199.99 model called the Hero is a budget friendly, entry-level camera with many of the same capabilities of the more expensive, advanced models. Highly affordable but you make some quality sacrifices (only 1080p video vs 4K on the Hero 6).
Until then, we hope you enjoy learning about what was available over Thanksgiving weekend in 2017:
The best deal on the Hero 6 for most people is currently at Amazon. They are offering it for $499 and you get a $50 Amazon gift card with your purchase. This deal is available online. CLICK HERE TO BUY IT RIGHT NOW. If you are near a Cabelas, you can get it for slightly better – They are offering it at the same price but with a $75 Cabelas gift card.
There are two stores with the GoPro Hero 5 at $349.99 plus you get a $50 Gift Card.
Click Here to get the deal at Amazon.
Best Buy also has the GoPro Hero 5 with a $50 Best Buy gift card.
GoPro deals on these action cameras may be announced by either GoPro or retail stores, so we will be checking both locations to bring you the best price. As the latest model to be released on the shelves for Thanksgiving Weekend 2017, the GoPro Hero 6 will probably see retailers bundling gift cards to entice sales rather than offering huge discounts. If you are looking for the biggest deals, you are probably looking at buying either the Hero 5 Black or the Hero 5 Session.
Here are the other deals that we have found so far:
Hero 6 Deals (so far):
The current Amazon deal is $499 plus you get a $50 Amazon gift card!.
Cabela's is also offering $75 in Cabela's Bucks with purchase of the GoPro Hero 6 at its regular price of $499.99.
Best Buy had it for $499 with a $75 gift card before Thanksgiving – this deal has expired.
Best Deal on the GoPro Hero 5:
Best Buy – $349.99 (plus $50 Best Buy Gift Card).
Cabela's – $349.99 (plus $50 in Cabela's Bucks).
Sams Club Go Pro Hero 5 Essentials Bundle – $349.99 (save $50)
Amazon – originally $374 plus a $50 gift card but they have no lowered the price to match Best Buy.
Hero 5 Session Bundle Deals – save $90
Best Buy – $249.99
Cabela's – $249.99
Best Deal on Hero Session Bundle
Target is offering the Hero Session bundle up for just $179.99 plus a $20 Target Gift Card. We don't think this is the Hero 5 Session Bundle as that would be an incredible steal at that price. If you don't need the latest and greatest from the GoPro line, you are essentially getting the bundle for the regular price of the Session.
Here are brief descriptions of the GoPro action cameras that we will be following prices on for Black Friday 2017:
GoPro Hero6 – The latest version of the GoPro released into stores in October 2017. This is the flagship model from the Hero series and sold well last year on Black Friday. It will be interesting to see how
GoPro Hero5 Black – A 2-inch touchscreen and 12 megapixel sensor are the highlights of the top of the line GoPro from 2016. It generally has more option and shoots higher maximum frame rates at the same resolution as the Hero5 Session. The Hero5 Session, for example, cannot shoot 4k in the widest SuperView mode. This GoPro also has a GPS system to geotag your photos. The Hero5 Black is also waterproof (to 33 feet) without a case, an improvement over the Hero 4.
Hero5 Session – The Hero 5 Session is a compact, waterproof (to 33 feet) action camera with a 10 MP sensor.
Cabela's Deals

Bass Pro Shops
Best Buy:


Target: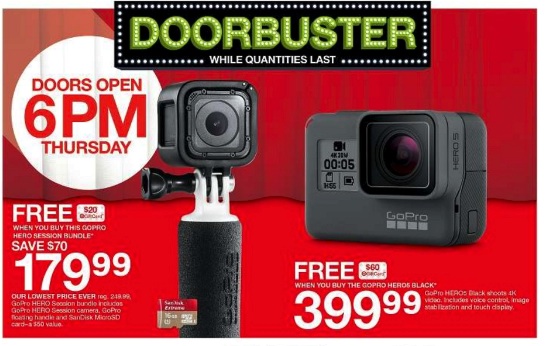 We're excited to be helping you find the best deals on Black Friday action cameras. Stop back soon for updates as we comb the leaked ads and online announcement in 2017 for big savings on the GoPro Hero cameras.
Last Major Update: