Canon EOS R Black Friday 2020 & EOS RP Cyber Monday Camera Deals
Find the best deals on the Canon EOS R camera body and lens kit over Black Friday 2020, as well as the EOS RP. The EOS R is the first mirrorless camera from Canon with an entirely new lens mount for optical excellence, and the Canon EOS RP is the more affordable version! From Thanksgiving Day to Cyber Monday 2019, we expect photography websites, electronics retailers and the Canon website itself will be posting sales with great price savings and/or bundled equipment on these new cameras. We will bring them all to you here at Funtober as we know you are looking for Canon EOS R Black Friday deals!
2019 Black Friday Deals:
Canon EOS RP with RF 24-240mm F4-6.3 IS USM Lens – $1499.99 @ Best Buy (save $700)
Shop the Canon sale and discounts for refurbished cameras.
The EOS R mirrorless camera is Canon's answer to the Nikon Z6 and Z7. With both camera manufacturers looking to convince photography enthusiasts to switch to their new line of non-DSLR cameras (and buy lenses), the major photo retailer websites like Adorama, B&H, Crutchfield and Amazon may actually see big price competition on these full frame cameras despite their new release.
Click the below link to see the current deals on these cameras. The prices posted were available on October 30, 2019.
Canon EOS R – $1799 (save $500) @ Adorama
Canon EOS RP + Mount Adapter – $999 (save $300) @ Adorama
Canon EOS R + 24-105mm Lens – $2699 (save $700) @ Adorama
Canon EOS RP + Mount Adapter + RF 24-105mm F4 L IS Lens – $1899 (save $500) @ Adorama
Canon EOS RP with RF 24-240mm F4-6.3 IS USM Lens – 1499.99 (save $700) at Best Buy

The Canon EOS R is a 30.1 MP full frame camera using the new Canon RF lens mount. Sales begin at the end of October. Regular price will be $2299 for the body. The bundle with the RF 24-105 lens kit is regularly priced at $3399.
Why buy the EOS R? It shows you your pictures before you take them. The electronic viewfinder no longer needs to bounce the image off the mirrors. Instead, its image sensors are powerful enough to show you the picture live with the apliied settings, corrections, shadows and exposure.
Ken Rockwell says this is the "most accurate autofocus of any Canon camera" and "it can focus in almost total darkness".
It has silent shutter mode that is inaudible for wildlife photography, journalism and other discrete picture taking.
RF Lenses:
The three new lenses with the new lens mount are the RF 24-105mm F4 L IS USM, RF 28-70mm, and RF 35mm.
In addition the the new RF camera lenses, an optional adapter allows EF/EF-S mount compatibility. Among the mount adapter options includes a control ring and a drop-in filter. Canon says they are even compatiblewith EF extenders.
Video:
Shoot videos in 4K at 30 frames per second, full HD at 60 frames and HD at 120 frames. With the HDMI output, 4K video can be directly sent to an external drive.
Weight: The camera comes in at just 1.28 pounds, offering a compact, lightweight and comfortable design, including deep grip with convenient shutter position atop the grip.
Battery: It uses LP-E6N batteries, the same that are on the 5D Mark IV. Canon has enabled in-camera charging via USB with an industry standard USB-C connector.
Canon EOS RP
The Canon RP mirrorless camera is the entry level option within the new high end full frame series of Canon. It is made for the new RF lens series but can be compatible with the older EF and EF-S lenses with an optional mount adapter. Canon calls this the lightest and most compact EOS with its body only weighing approximately 440g. It has a 26.2 MP CMOS sensor, DIGIC 8 processor, fast and accurate auto focus, as well as 4K video. The ultra sensitive autofocus system provides excellent low-light performance. The EOS RP also includes Face+ Tracking mode for eye detection and moving objects.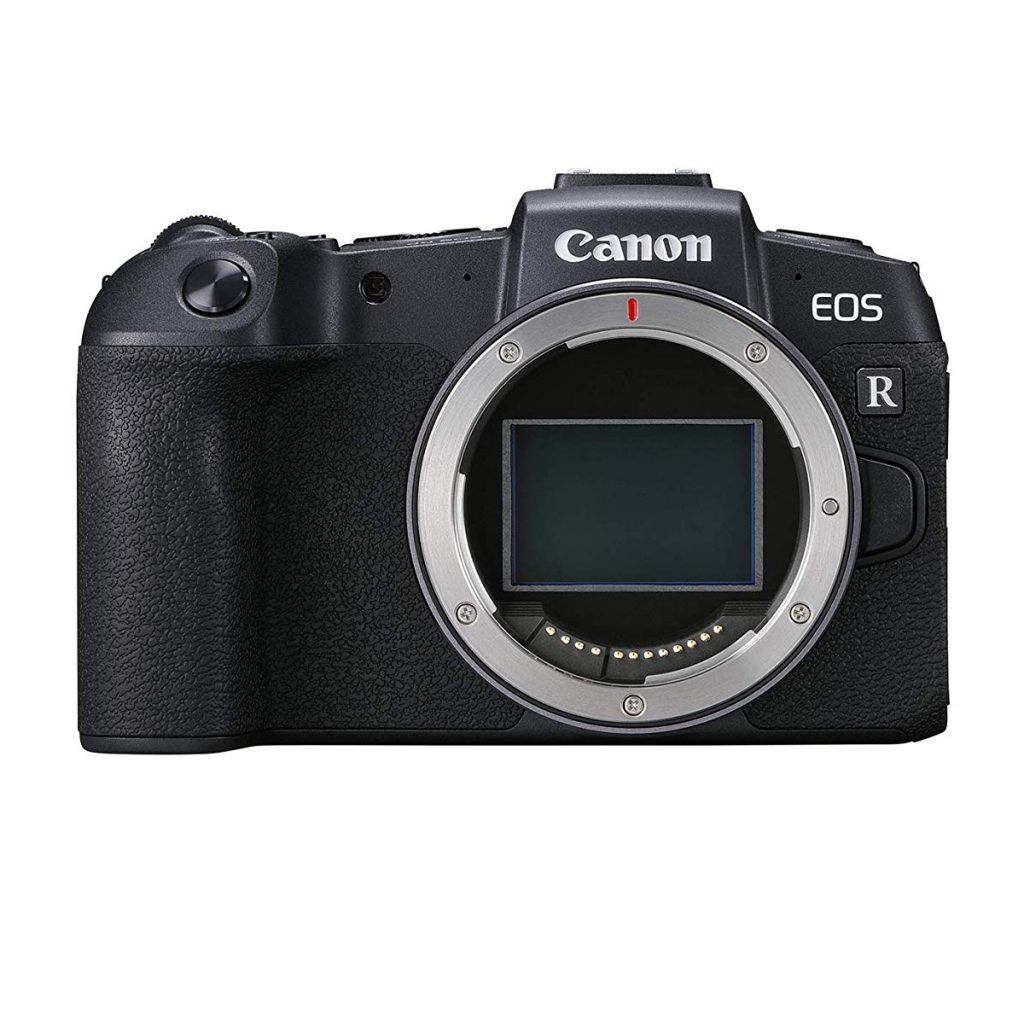 Its low price compared to the Nikon Z6 and Z7 as well as the EOS R has provided a more affordable entry point into the future of mirrorless cameras.
2018 Deals:
Canon Deals on Amazon – Click Here
Canon EOS M50 Body + 15-45mm Lens – $599 (save $300)
Canon EOS M50 Body + 2 Lenses (15-45mm, 55-200mm) – $829 (save $420)
Find Camera Deals at:
EOS R Black Friday Deals:
We can't wait to see the discounts and bundles that are offered on sale over Thanksgiving weekend. We will post them here when they have been leaked or announced!
EOS R Cyber Monday Deals:
If you miss out on the deals earlier in the weekend, don't fret! There should still be some savings left online on the Monday after Thanksgiving. We will post those Canon cyber monday 2019 discounts here when they are published!
Stop Back Soon!
We expect we will start seeing the sales on these Canon mirrorless cameras in November 2019. Please stop back in a few weeks to see what we have found!
Last Major Update:
Canon Black Friday 2020 Camera Deals
Mirrorless Camera Deals: