Autel Robotics (EVO, X-Star Premium) Drones Black Friday Deals 2022
Find the best deals on the Autel EVO and X-Star Premium drones during Black Friday 2022. Funtober will search the ads for online and in-store sales on the Autel drones from Thanksgiving Day to Cyber Monday 2022.
Autel is a manufacturer of advanced drones and quadcopters. Autel Robotics USA is headquartered in Bothell, Washington. Here are the Autel drones that we will be following prices on over Black Friday:
2022 Deals:
Find more Black Friday deals right now at Amazon.com.
Past Deals:
2018 Deals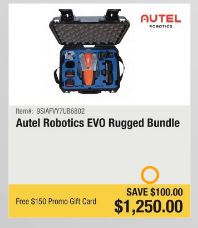 Autel EVO: The EVO is a compact folding drone that can go with you on your next adventure. It was announced by Autel Robotics at CES 2018 and will be the new flagship aircraft line of Autel. It is a camera drone with foldable arms and compact form so that it can go out into the wild – wherever you go. There is a front camera on a 3-axis stabilize gimbal recording 4K video up to 60 frames per second to capture steady and sharp aerial videos and photos.
Autel X-Star Premium Drone: A sophisticated and easy to fly device with 4K camera and video camera on 3-axis gimbal that can take Ultra HD videos and 12 megapixel photos. The industry leading camera produces superb aerial imagery. Wide angle perspective with 108 degree field-of-view. Dual GPS/GLONASS satellite positioning. Remote controller with LCD display and one-touch action button that can control drone just over a mile away. Autonomous flight and HD live view modes via mobile devices. Intelligent battery with 25 minutes of flight time and 1 hour fast charging. New pilots can put the drone in beginner mode.
Autel Black Friday Deals
Find the best sales on the EVO and Autel X-Star Premium over the Thanksgiving Weekend here at Funtober. We will be following all of the biggest electronics stores and online retailers including Amazon, Best Buy and Newegg.
Autel Cyber Monday Deals
We will post all of the Autel Robotics EVO and X-Star Premium drone deals for the Monday after Thanksgiving here.
Last Major Update:
Drone Black Friday 2020 Deals: