Apple Watch Black Friday 2019 (Series 5, 4 & 3) + Cyber Monday Deals
Find a great deal on an Apple Watch during Black Friday 2019 here at Funtober. We will review print and online ads for Black Friday and Cyber Monday 2019 and post the best discounts on the new Series 5, Apple Watch 4, and Series 3, as well as older versions of the popular Apple product.
We will bring you info about the biggest and best deals and discounts here when the savings are announced online or in an advertisement for Black Friday 2019.We are committed to helping you find the best shopping deals of the year from Amazon Prime Day to Thanksgiving Weekend.So get ready to save in 2019, 2020 and beyond!
New for 2019: The first Apple Watch 5 Black Friday Deals
The Apple Watch Series 5 was released on September 20th and is sure to be found in some of the Thanksgiving deals this year.
The improvements that will come to the Apple Watch Series 5 in 2019 are the always-on display, a built-in compass, and material options in ceramic and titanium. What does this mean in practice? The always-on display allows you to see the time on the watch face without having to tap on it with your finger. The new Compass application shows your latitude, longitude, incline and elvation, which helps make your navigation on Apple Maps more useful when walking. The one drawback to the Series 5 is that there are reports which the battery does not achieve the same results as the Series 4 due to the always on display.
What is currently unknown? No one knows how big the sales will be on the Series 5. Our expectation is that the Apple Watch 5 will be similar to the discount on the Series 4 last year, which were limited. If there has been demand for it, then retailers may decide instead to just over a small gift card for your purchase.
We also do not know how big the Apple Watch 4 will be on Black Friday. We often see bigger sales on older products once retailers need to move merchandise to make room for the new version. There could be discounts on the Apple Watch 4 this year as high as $100 or so.
Serious Apple Watch 3 Black Friday Deals Expected in 2019
The media is beginning to expect "epic price cuts" on the Apple Watch Series 3 over the black friday deal season. The device (which is two generations out) has been dropped to an official price of $199 by Apple and the Amazon Prime Day price hit a low of $169. In October, Walmart and Amazon are both already offering the Apple Watch 3 at a near all-time low of $189. Stay tuned!
Here is what we saw last year in Black Friday 2018:
Click Here for the Amazon Deals on Apple Watches:
38mm Series 3 with GPS + Cellular – $299 (save $80)
42mm Series 3 with GPS + Cellular – $329 (save $80)
Click Here for the Series 4 on Amazon for $499 (GPS + Cellular)
Click Here for the Series 4 on Macy's for $399 (GPS only)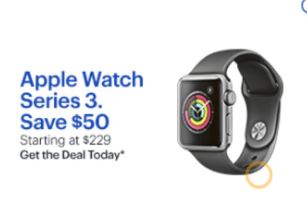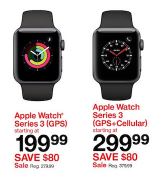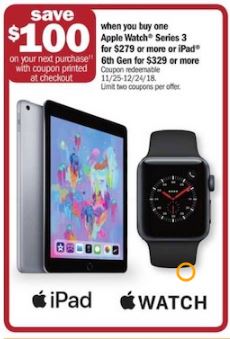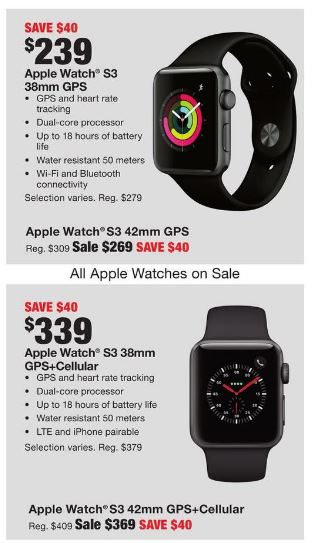 The Apple Watch has historically been one of the hottest Christmas gifts and 2019 should be no exception.When the Apple Watch launched in 2015, it was an in demand item.The Series 2 was nearly impossible to find before Christmas 2016.And we expect that this trend will continue.So if you have your heart set on giving out the Series 4, better secure it early!
March 2019 Update: They are just beginning to talk about the features that the next generation Apple Watch might have. It isn't clear yet whether the Apple Watch 5 will be ready for Black Friday 2019 or not. Even if it is released, We don't know yet whether there will be any big deals on it. We will be following the ads closely to see what they are doing for the kickoff to the Christmas shopping season with this hot product series though. Hopefully there will be some great Black Friday deals on the Apple Watch 4 since it will have been out for an entire year by this Thanksgiving.
The Series 3 was a top performer in Consumer Reports testing.It retails for $499 for the 42mm stainless steel case with GPS and Cellular.It earned high marks for step counting and heart-rate tracking.It also scored well on scratch resistance.The big difference between the Series 3 and the Series 2 is that some versions allow users to receive calls and text messages without having to carry your cell phone. It also contains a few other upgrades, including a faster processor.
The Series 3 38mm Aluminum Case with GPS and Cellular retails for $399.Without cellular, it retails for $329.The LTE connection currently costs $10 a month on major carriers in addition to your iPhone plan.If you are within range of your iPhone, the Watch connects via Bluetooth.If you are not, then it uses the LTE communication.
The battery life is approximately one hour of talk time via LTE, three hours via the bluetooth connection, and around 18 hours with moderate use.
Apple Watch Black Friday 2019 Deals
We will post them here when Black Friday and Cyber Monday deals are available.We still have a few weeks before stores start releasing their ads.So we hope that you will return in November 2019 after we have posted the best savings here.
Price Predictions
It's still too early to say right now!
History of the Apple Watch
The original Apple Watch was announced in September 2014 and released in April 2015.The second generation of Apple Watch including the Series 2 and the Series 1 (identical to the original with a S1P chip) were released in September 2016.The Apple Watch Series 3 was released in September 2017.
Deals at Kohls

Best Buy Deals:

Macys: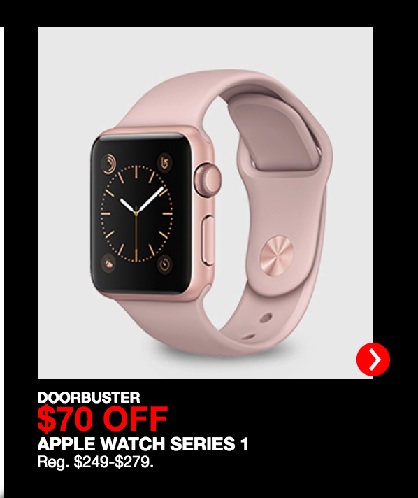 Target Deals: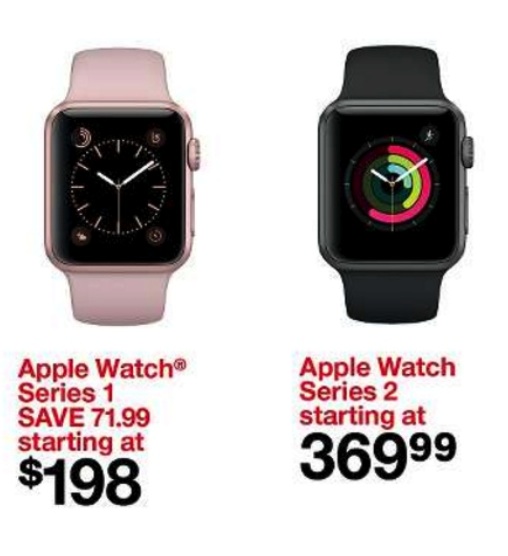 Meijer (Thursday only):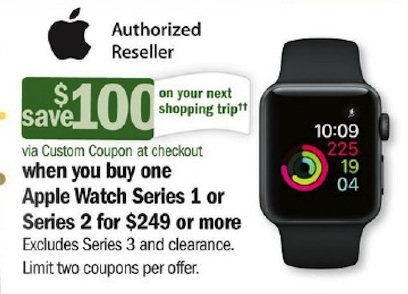 Last Major Update:
AirPods Deals
Apple Computer Deals
iPhone Deals
Apple Watch Deals
Apple Pencil 2 Deals
Apple TV 4K Deals
iMac Deals
iPad Deals
iPhone X
MacBook Deals
HomePod Deals