Fitbit Versa & Lite Black Friday 2020 & Cyber Monday Deals
Find the best deals on the Fitbit Versa, Fitbit Versa Lite and Versa 2 during Black Friday 2020. From Thanksgiving Day to Cyber Monday 2019, we will be searching the ads and sale announcements for the biggest price discounts on health and fitness smart watches.
Black Friday may be winding down this year, but Cyber Week is heating up with major retailers announcing their savings. We expect big online sales for Cyber Monday 2019 across a wide range of products. Cyber Monday is expected to result in more than $9 billion in sales in a 24 hour period on Monday, December 2nd. Yes – your eyes read that correctly. It is actually in December this year and it is going to be huge! We will be posting the Fitbit Versa Cyber Monday deals here as they are announced.
2019 Black Friday Deals:
Fitbit Versa Lite – $99.95 @ Target (save $60)
Fitbit Versa Lite – $99.99 @ Kohls (save $50 + $30 Kohl's Cash)
Fitbit Versa Lite – $99 @ Walmart (save $60)
Fitbit Versa Lite – Save $60 @ Best Buy
Fitbit Versa Special Edition – $119.95 @ Best Buy (save $80)
Fitbit Versa 2 Special Edition – $179.99 @ Kohls (save $50 + $45 Kohl's Cash)
Fitbit Versa 2 – $149.99 @ Kohls (save $50 + $45 Kohl's Cash)
Fitbit Versa 2 – Save $50 @ Best Buy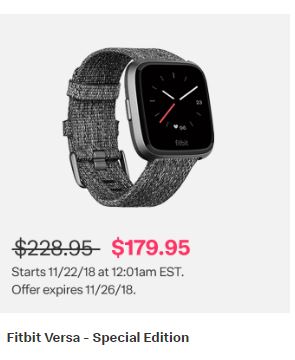 Here is a description of the Fitbit watch:
The Versa is a lightweight, water-resistant smart watch with battery. It was released on to the market on April 16, 2018. It is regularly priced at $199, at which price cnet called it a "lower-cost Apple Watch alternative". TechRadar calls it "brimming with fitness features." There is also an NFC tap-to-pay option available for $30 more (regular price) on the Special Edition. Battery life is estimated at 4 days. Also includes 24/7 heart rate monitor, coaching, phone-free music and more.
Here are a few of the Fitbit Versa family that we will be tracking the online and in-store prices on during the kickoff to the holiday season:
Fitbit Versa 2 – The rumor is that the Versa 2 will be released this fall. It is expected to have a 4+ day battery life, Alexa voice command capabilities, music storage, 24/7 heart rate monitor, and microphone.
Fitbit Versa (first generation) – This device was released in April 2018 and was initially priced at $199. It is now regularly priced at $170. The battery life is estimated at 3-4 days (or 7 hours when playing music). It can also connect to your phone's GPS to see the pace and distance of runs and hikes, as well as to Bluetooth headphones to listen to your music without wires. It has been called a lower-cost Apple Watch alternative by CNET. it works with both Android and iOS and is water resistant to 50 meters. Tom's Guide called it the best smart watch under $200. Popsugar called the Fitbit Versa a design treasure.
Fitbit Versa Lite – This is the budget-friendly version from the Versa family which was released in early 2019 and initially priced at $160. It is now regularly priced at $130.
Fitbit Versa Black Friday 2018:
Several stores are already advertising the popular fitness tracker at $149 (a $50 savings off the regular price). Kohls also has it available as a doorbuster at this price but they will give you $45 in Kohl's cash at purchase (making the effective price of the smart watch a low $104.
Fitbit Versa Cyber Monday Deals:
Find great online savings on it here when they are available at major retailers or eCommerce websites. We will post all of the big discounts that we find here.
About Fitbit: They are an American manufacturer of activity trackers and wearables. The consumer electronics company has its headquarters in San Francisco, California.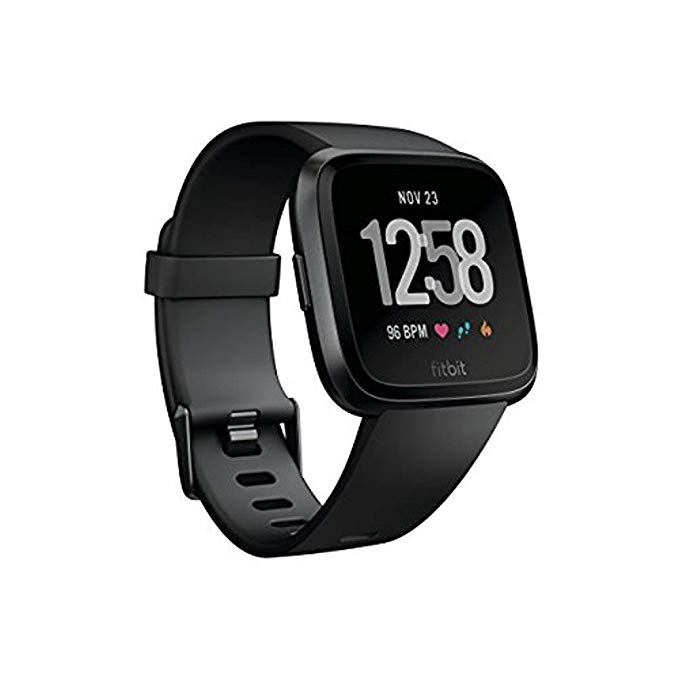 Last Major Update: