KidKraft Black Friday 2020 & Cyber Monday – Hampton Playset, Coastal Cottage Playhouse & More Deals
Find the best deals on KidKraft playsets and play houses during Black Friday 2020. Funtober collects all of the online sales and price discounts in print ads between Thanksgiving Day and Cyber Monday 2020. From the Hampton Playset to the Coastal Cottage Playhouse, you will find a deal on the toy of your child's dreams.
2020 Deals
Here are a few of the Black Friday deals that we found in 2018:
KidKraft Deals on Amazon
KidKraft Farm to Table Play Kitchen Set – $164.99 (save $35)
KidKraft Majestic Mansion Dollhouse – $143.99 (save $59)
KidKraft Waterfall Mountain Train Set – $139.97 (save $35)
KidKraft Vintage Kitchen – $99.99 (save $46)
Click Here to See More KidKraft Deals on Amazon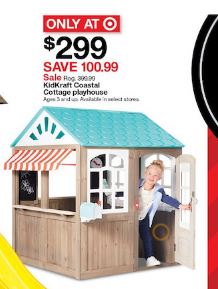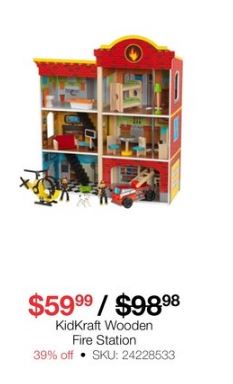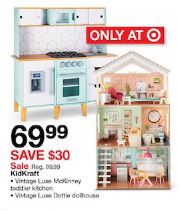 KidKraft Hampton Playset – $649 (save $200.99) at Target
KidKraft Coastal Cottage Playhouse – $299 (save $100.99) at Target
Here are a few other products that we will be monitoring prices on:
Outdoor:
Sandy Cove Wooden Playset
Cedarbrook Wooden Playset
Twin Mountain Lodge
Hazelwood Wooden Playset
Cloverdale Wooden Playset
Doll Houses:
So Stylish Mansion Dollhouse
Lola Mansion Dollhouse
Teeny House Dollhouse
Disney Frozen Arendelle Palace Dollhouse
Disney Princess Ariel Land to Sea Castle Dollhouse
Play Kitchens:
Farm to Table Play Kitchen
Uptown Elite Espresso Play Kitchen
Homestyle 2 Piece Kitchen
Boho Bungalo Wooden Play Kitchen
Play Sets:
Pirate's Cove Play Set
Wooden Fire Station
Everyday Heroes Wooden Play Set
Wash n Go Wooden Car Garage
Deluxe Workbench with Tools
Mega Ramp Racing Set
Deluxe Garage Set
About KidKraft: They are a maker of toys and children's furniture for 50 years now that has products sold in more than 90 countries by 28,000+ sellers worldwide. They are known for their playhouses, dollhouses, play kitchens, train sets and more.
KidKraft Black Friday Deals: We have already posted a few of the deals that you will find on Thanksgiving weekend above. Check them out!
KidKraft Cyber Monday Deals: Find all of the online discounts that are available for the Monday after Thanksgiving here at Funtober – once they are available!
Last Major Update:
Last Major Update: