ecobee Black Friday Deals 2023 – ecobee4, ecobee3 & Cyber Monday Deals
Find the best deals on the ecobee smart thermostat and light switch during Black Friday 2023. Funtober will bring you all of the online sales and print ads for the ecobee4, ecobee4, Switch+ and Room Sensors from Thanksgiving Day to Cyber Monday 2023.
2022 Deals:
Find more Black Friday deals right now at Amazon.com.
Here are the ecobee smart home products that we will be following sales on over Thanksgiving weekend:
ecobee4: The ecobee smart thermostat with built-in Amazon Alexa and far field voice technology. Includes 1 Room Sensor in the box. Set different schedules for the different modes (home, sleep, away). Also set reminders for maintenance. Integrates with Apple HomeKit, SmartThings, IFTTT and Alexa. Occupancy deetection via thermostat and room sensors. 3 year warranty.
ecobee3 lite Smarter Bundle: It includes an ecobee 3 lite thermostat and 2 Room Sensor. Save an average 23% on your heating and cooling. Easily adjust temperature via the ecobee app. Works with room sensors.
ecobee Room Sensors: Deliver comfort to the rooms that matter to you the most by pairing a 2 pack of room sensors with your smart thermostat. Provide your family with whole home comfort by eliminating hot or cold spots that aren't detected when the temperature is only detected in one place. They make your smart thermostat even smarter. Built to last with a 2 year battery life and communicates with your thermostat via low-power radio frequency. You can pair up to 32 room sensors with your ecobee. Regular price is $79.
ecobee switch+: A smart light switch with built-in Amazon Alexa. Allows you to ask for the lights on or for music to play. It will turn the lights off when you are way from the house or turn the lights on when you get home. Only the closest Amazon Alexa device will respond when you issue a command. Or control it with the ecobee app. Designed to be up and running in about 45 minutes. Complements the ambiance of a room with its simple and majestic look. Regular price is $99 although it is discounted to $79 on the manufacturer website in October 2019
ecobee Black Friday Deals
We expect that smart home products from ecobee and other companies will be popular and offered at major retailers (such as Amazon and Walmart), electronics stores (like Best Buy) and home improvement stores (like Home Depot and Lowes). The first ads featuring an ecobee discount will probably be introduced in early to mid-November. We will have them here in a few weeks!
ecobee Cyber Monday Deals
Find all of the best online price discounts during sales on the Monday after Thanksgiving. We expect that the first Cyber Monday specials will be posted online on Sunday evening of the holiday weekend.
About ecobee
This home automation company was founded in 2007 and has its headquarters in Toronto, Canada.
Last Year:
Save up to 20% on Ecobee Thermostats on Amazon – click here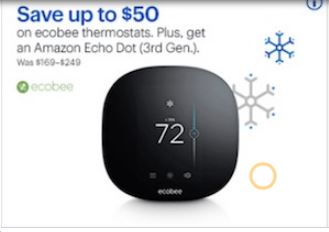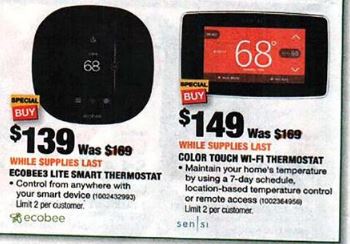 Last Major Update: