Bissell Crosswave Black Friday 2020 & Cyber Monday Deals
Find the best deals on a Bissell Crosswave during Black Friday 2020. Funtober will track down all of the online sales and print ads for Bissell vacuums and carpet cleaners available between Thanksgiving Day and Cyber Monday 2020, including the Pet Pro and All-in-One.
2019 Bissell Cyber Monday Deals:
Bissell EV675 Robot Vacuum Cleaner, $169.99 @ Amazon
Bissell Cleanview Rewind Pet Deluxe Upright Vacuum Cleaner, $119.99 @ Amazon
2019 Bissell Crosswave Black Friday Deals:
The two products that we expect you are searching for are either the Bissell Crosswave Pet Pro or the Bissell Crosswave All-In-One Wet Dry Vacuum. The Bissell Crosswave is a powerful wet mop but it is also able to remove larger dry items that you would normally sweep up with a broom or vacuum. We have seen them on sale in the Black Friday ads at Best Buy (Pet Pro), Target (All-in-One), Kohl's (All-in-One) and BJ's Wholesale (All-in-One Exclusive Bundle) this year. You can also find them at Amazon and we expect you will get similar prices there on Thursday and Friday:
Here are the Bissell products that we will be tracking the price savings on this year:
Crosswave: A 2-in-1 vacuum and washer for clean floors. Operates as a revolutionary wet dry vac for multi-surface cleaning.
Spinwave: A spin mop for cleaning and scrubbing hardwood floors.
Proheat: The line of Bissell carpet cleaners.
Powerforce Helix: A bagless, upright vacuum for the removal of embedded dirt and hair.
Pet Pro: Handles tough pet messes with the professional clean up system: CleanShot® pretreat spots and stains with the Cleanshot; use the 2-in-1 Pet Upholstery Tool to remove pet hair, stains, and odors; or use the trial of the Pet Urine Eliminator + Oxy.
Black Friday Deals: We will post all of the online and in-store price discounts available over the Thanksgiving holiday weekend here.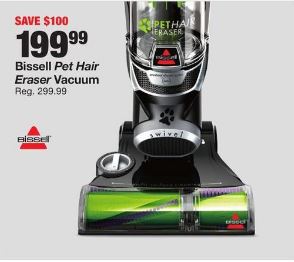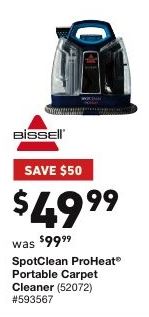 Click Here to Save on BISSELL Vacuum Cleaners on Amazon
Pet Hair Eraser Turbo Plus – $179 (save 22%)
Garage Pro Wall Mount Wet Dry Vac – $129.99 (save 35%)
Bissell PowerGlide – $119.99 (save 20%)
Bissell Air Ram Cordless Vacuum – $159 (save 20%)
Cyber Monday Deals: We will track down all of the online sales on Bissell products for the Monday after Thanksgiving.
About Bissell
Bissell is a vacuum cleaner and floor care manufacturer headquartered in Greater Grand Rapids, Michigan that was founded nearly 150 years ago. The company has been the top manufacturer of floor care products since 2009 and is a recommended choice for pet owners.
Last Major Update: