Baby Monitor Black Friday Deals, 2023 Store Ads & Cyber Monday Deals
Find a deal on a new baby monitor this Black Friday 2023 and Cyber Monday. We will be pouring over the online and print ads for Thanksgiving weekend 2021 in order to bring you the best deals to outfit your new baby room. We all know that having a baby can be expensive, but we're hoping to help you save a few dollars in the process by listing the savings offered by stores and websites during the kickoff to the Christmas shopping season.
2022 Deals:
Find more Black Friday deals right now at Amazon.com.
Past Deals
Baby monitors have made tremendous technological advancements over the past few years. They can now connect to the internet through your home WiFi system, send video of your baby's room to your smart phone, and may even include a dedicated wireless video monitor. We are now a far cry from the days where the only option was an audio monitor that let you know when your baby was awake and crying again.
We were in the market for a baby monitor deal this year. We looked at the impressive selection as well as consulting with our friends to decide. Umfortunately, however, we weren't able to wait to get a Black Friday deal on it, as our son was born in September 2020. We chose the Infant Optics DXR-8 Video Baby Monitor, not only because it's a popular choice with a rechargeable lithium ion battery in the monitor and optional interchangeable lens for the perfect view of every room, but because it doesn't use the WiFi in our home, giving us a little security that privacy wouldn't be an issue. It uses a digital signal on the 2.4 GHz FHSS wireless standard, and has two way audio and even a thermometer – which since we only have a single thermostat, is helpful in making sure our little one's room is a comfortable temperature year-round. We also like that we can add additional cameras, so that when we add to our family, we can use one monitor to view both children.
2019 Cyber Monday Deals
Bable Baby Monitor, $79.99 @ Amazon
Vtech VM3261 Digital Baby Monitor, $49.95 @ Amazon
Summer Baby Pixel Cadet Video Baby Monitor, $102.39 @ Amazon
Nannio Connect Video Baby Monitor with Display and Mobile App, $99.99 @ Amazon
HelloBaby Video Baby Monitor, $49.99 @ Amazon
Panasonic Video Baby Monitor, $179.95 @ Amazon
OMMC Wireless Camera, Use mobile app to view input from included camera, $32 @ Amazon
Coccoon Cam Plus Baby Monitor with Breathing Monitoring, $97.98 @ Amazon
Summer Glimpse Plus Video Baby Monitor, $77.72 @ Amazon
Willcare Digital Audio Baby Monitor, $23.79 @ Amazon
hellobaby Video Baby Monitor, $50.15 @ Amazon
Lollipop HD Wifi Video Baby Monitor, $96.85 @ Amazon
VTech VM3252 Digital Video Baby Monitor, $49.95 @ Amazon
LBtech Video Baby Monitor, $93.49 @ Amazon
ANMEATE Video Baby Monitor, $55.99 @ Amazon
Black Friday deals 2019
Owlet Sock (green) – $199 @ Amazon (save $100)
Owlet Camera – $99 @ Amazon (save $50)
Babysense Digital Video Monitor with two Cameras and 5″ Display – $95.99 @ Amazon
Peteme Monitor – $29.99 @ Amazon, uses an app on your phone to display what the camera (included) picks up
Topvision Baby Monitor – $44.98 @ Amazon
Anmeate Digital Video Baby Monitor – $55.99 @ Amazon
Victure Monitor – $23.99 @ Amazon, uses an app on your phone to display what the camera (included) picks up
Panasonic Video Baby Monitor – $119.95 @ Amazon
Homiee Video Baby Monitor – $104.99 @ Amazon
Vtech 5″ Digital Video Monitor – $84.99 @ Target
Cherish C525 Video Baby Monitor – $149.99 @ Macy's
CasaCam Video Baby Monitor with 5″ Display – $164.99 @ Macy's
CasaCam with 2.3″ Display – $82.99 @ Macy's
Snuza Go Wearable Baby Abdominal Monitor – $71.99 @ Kohl's (and earn $15 Kohl's Cash and 72 Yes2You rewards points)
Toddler Door Hanging Motion Sensor – $71.99 @ Kohl's (and earn $15 Kohl's Cash and 72 Yes2You rewards points) – get notified when your toddler is opening their bedroom door!
Motorola Blink1 WiFi Video Baby Monitor – $84.99 @ Kohl's (and earn $15 Kohl's Cash and 85 Yes2You rewards points)
Snuza Pico Wearable Baby Monitor – $119.99 @ Kohl's (and earn $30 Kohl's Cash and 120 Yes2You rewards points)
iBaby M2 Wireless Video Monitor – $44.99 @ Kohl's (save $105)
A baby monitor is basically a specialized version of an indoor security camera system. Two-way audio lets you talk to your baby in a soothing voice from a different room to reassure them. Some have lullaby songs built-in to play to calm your infant. Night vision is standard to allow you to see your child while it is dark and he or she is sleeping. The ability to move the camera is pretty common, since you will need it later when your toddler starts roaming the room instead of sleeping. It's also helpful for panning between two or more siblings sharing a room. High-end monitors provide additional options such as temperature and humidity monitoring, and alerts for failure to detect breathing/movement. Another difference from security cameras is that they typically don't save large quantities of video from previous nights for replay later.
They typically range in price from between $30 for audio monitoring to $300 or more for more complicated video monitoring systems. Black Friday offers the opportunity to get one at a bigger discount than you would normally find. There are a lot of different baby monitors on the market, giving you a wide range of choices. Here are a few that we will be watching for deals on this year:
Motorola: Baby monitor and listening systems sold by Motorola Home, including a portable smart nursery cam, video baby monitors, Wi-Fi connected monitors, and smart nursery alert sensors.
Summer Infant: A baby products company founded in 1985 by William Lockett III when he created the original Bouncy Seat. They have a large line of video baby monitoring systems in addition to their other products.
VTech: Originally a telecommunications product company established in Hong Kong in 1976, their slogan is "innovation beyond technology".In addition to their wireless home monitoring systems, they make audio and video baby monitors that look like a teddy bear and an owl.
Samsung: A multinational conglomerate based in South Korea that makes electronics and smart appliance technology. Their smart home monitoring systems includes the Wisenet BrightVIEW monitor and the Wisenet BabyView monitor.
Levana: A video baby monitor company that made a wireless, full color baby monitor more than a decade ago while running a security camera company.
Angelcare: A baby products company that sells a baby movement monitor as well as audio and video monitors.
Philips AVENT: An English-based manufacturer of baby bottles, breast pumps and other accessories bought by Philips in 2006. They make audio, video and smart baby monitoring devices.
Safety 1st: A brand leader in child safety products from Dorel Industries, a Canadian company based in Montreal, Quebec. They sell a series of audio monitors and receivers.
The First Years: A global juvenile products brand originally founded in 1949 by Mr. and Mrs. Sidman from Roxbury, Massachusetts with an innovative baby diaper pin. Their products include the Crisp and Clear Audio Monitor as well as the Talk and Soothe Video Monitor.
Sony: The 900 MHz BabyCall Nursery Monitor with Receivers provides a clear connection for the slightest baby noise. It includes five sound sensor activity lights, out-of-range indicator and low-battery warning.
iBaby: They make an advanced Wi-Fi based video baby monitor that includes HD video, two-way sound, moon and star projections, temperature and humidity sensors, and more. The latest version, the Care M7, will be available starting in November 2017.
Nokia Health: Originally made by Withings, this Smart Baby Monitor is a combination of a baby monitor and a security camera. Their latest product is the Nokia Home, a comprehensive house monitoring solution, with two-way talk, motion alerts and more for baby monitoring.
WiFi Baby: WiFi Baby 4 is the fourth generation monitor and nanny cam with HD Wireless video to your iPhone, iPad or Android phone.The company is a family-owned American company located in Lake Worth, Florida.Their latest product is MyWiFi Home, a complete home security system.
Best Buy Deals: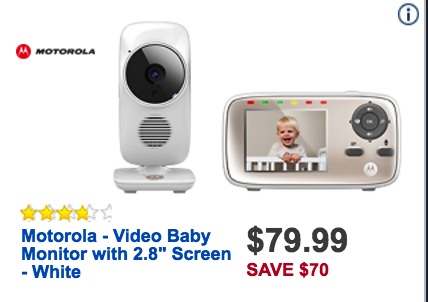 Target Deals: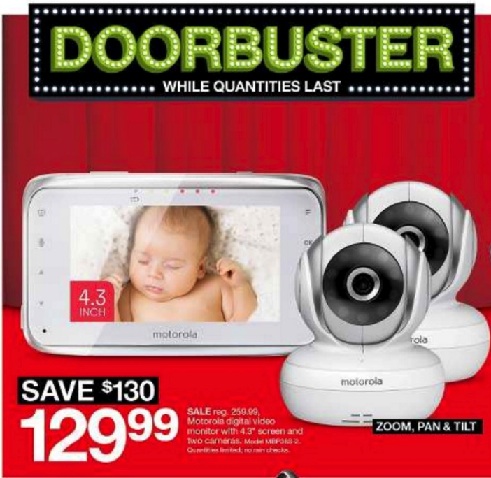 Click Here to Save up to 30% on select baby monitors on Amazon for CYBER MONDAY.
Baby Monitor Deals on Amazon – Click Below for More Information:
HelloBaby 3.2 Inch Video Baby Monitor – $63.99 (save $16)
Safety 1st HD WiFi Baby Monitor Camera with Audio Unit – $149.99 (save $50)
Nanit Smart Baby Monitor and Wall Mount – $194.97 (save $54.03)
iBaby WiFi M7 Baby Monitor – $142.99 (save $106.96)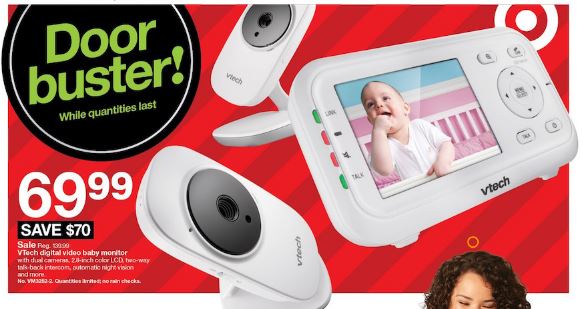 Last Major Update:
Current Sales on Amazon: