Stroller Black Friday 2021 & Cyber Monday Deals
Find the best stroller deals for Black Friday and Cyber Monday to outfit a baby or toddler with a new ride in November 2021. Funtober will search the online and print ads to compile the discounts offered on travel systems, double strollers, jogging strollers and single child strollers during Black Friday 2021. If you are looking to save on a new baby stroller this Christmas, get a big jump on your search over Thanksgiving weekend here.
We will bring you info about the biggest and best deals and discounts here when the savings are announced online or in an advertisement for Black Friday 2021. We are committed to helping you find the best shopping deals of the year from Amazon Prime Day to Thanksgiving Weekend. So get ready to save in 2021, 2022 and beyond!
For our son, born in September 2020, we have the Mockingbird stroller (a direct to consumer company) but have a small stroller for travel – the GBPockit – since it folds up for an overhead compartment, rental car, and to tuck away in a hotel room. The Mockingbird has a number of awesome features (magnetic canopy window, zipper in the footrest, one step footbrake, one handed close, the 25lb basket capacity, and the price tag, to name a few) that we love, and little Max loves his walks around the neighborhood or the awesome parks, wildlife refuges, and zoos we have around us. We chose the single-to-double stroller since we plan on expanding our family in the future.
2021 Black Friday Deals on Strollers
GBPockit+ All Terrain for $200
GBPockit All Terrain Air for $150
Maxi-Cosi Zelia Max 5-in-1 Travel System for $424
Maxi-Cosi Zelia 5-in-1 Travel System for $320
Graco Premier Lux for $252
Baby Jogger City Tour 2 Ultra Compact stroller for $187
Silver Cross Coast for $750
Baby Jogger City Select 2 Single-to Double for $487
BOB Alterrain for $480
Evenflo Pivot Xplore Double Wagon for $279
2020 Black Friday Deals on Strollers
We just picked up a GB Pockit Stroller at buybuyBABY (for traveling with our son, born September 2020) and successfully applied the store's "20% off any one item" coupon to it for even more savings! As the nearest location is about 15 miles away, we also decided to take advantage of their free shipping on all orders over $19! buybuyBABY also accepts Afterpay or Paypal on most items so you can pay in installments. The retailer has a ton of strollers on sale for Black Friday, check them out:
GB Pockit Air All Terrain Compact Stroller for $119.99
GB Pockit+ All City Compact Stroller for $187.49
GB Qbit + All-City FE Single Stroller for $224.99
GB Pockit+ All Terrain Compact Stroller for $172.49
Silver Cross Coast Stroller for $649.99
Maxi-Cosi Lara Ultra Compact Stroller for $149.99
Maxi-Cosi Lila Modular Stroller from $599.99
Stokke Beat Compact Stroller for $449.99
Baby Jogger City Select Single Stroller for $370.99
Bugaboo Ant Complete Single Stroller from $374.99
Bugaboo Ant Compact Stroller for $412.49
Thule Chariot Lite 2 Multi-Sport Single Stroller for $783.99
Thule Urban Glide 2 All-Terrain & Jogging Stroller from $423.99
Thule Spring Stroller from $287.99
Thule Cadence Double Child Bicycle Trailer for $263.99
Safety 1st Disney Amble Travel System for $149.99
buybuyBABY also has a number of stroller accessories available as Blaxk Friday deals, for several of the above brands.
Amazon – The online retailer has early Black Friday deals on strollers including
Ergobaby Stroller for $212.50
Stroller Black Friday Deals
It seems like there is a stroller to fit every purpose these days. From lightweight options to umbrella strollers, ranging up to premium strollers that have space to store almost everything that you need.
Make the car seat to stroller transition easy without waking your child in a 2-in-1 baby travel system via the integrated car seat and stroller. There are a lot of different options on the market for a car seat stroller combo, which means that you should have an opportunity to get a great deal on one of them over Thanksgiving weekend. We will list the best sales on them here.
Whether you have just had twins or your old stroller just isn't cutting it now that you have two small children, the double stroller offers an efficient experience for moms and dads everywhere. We will be on the lookout for Black Friday deals on both side-by-side seats and front-back tandem options. Some double strollers for infants and youths even offer different configurations to make your family outings easier.
If you don't want to get a babysitter every time that you want to go for a run, then you will need to find a good jogger stroller. A standard stroller just won't cut it for your child due to the uneven surfaces and higher speed while you are running. Fortunately, there have been substantial improvements in this area over the past decade and there are a number of strollers available for joggers these days. They are made with three wheels instead of four, padded seats with a safety harness, and larger tires. There are also a number of additional accessories such as weather shields and bug nets.
If you and your little one travel often, you may want a stroller that folds up small enough to toss in the overhead bin, saving you from gate-checking a stroller or hauling the full stroller on vacation. Options range from top of the line (Babyzen) to the more affordable (Summer 3D Lite) and even ultralight (Pockit).
Stroller Accessories
From rain covers, sun covers, hanging hooks, stroller entertainment, organizers and cupholders, clip on fans, and stroller blankets, the perfect accessories can make your adventures with baby a little easier. Lucky for you, stores are discounting these accessories for Black Friday and Cyber Monday, so this a great time to try something new!
Stroller Organizers
There are dozens of options for an organizer that attaches to the stroller to hold your keys, phone, water bottle, etc, so see if these options from Britax (Amazon, buybuy BABY, Walmart), Skip Hop (Amazon, buybuy BABY, Kohl's, Walmart, Macy's), Momcozy (Amazon), Itsy Ritzy (buybuy BABY, Kohl's), Dreambaby (Kohl's), and Uppababy (buybuy BABY) are what you've been looking for! Many parents find stroller clips to be helpful as well, for clipping shopping bags, diaper bags, and other objects to the stroller. Find those here (Amazon, buybuy BABY, Walmart, Kohl's).
Sun and Heat Accessories
Keeping baby cool and protected are so important in summer, and luckily, new tools are constantly being released to keep baby comfortable and shaded! Check out these sun shades (buybuy BABY, Amazon, Walmart, Macy's, Kohl's) clip-on fans (buybuy BABY, Amazon, Walmart, Kohl's), mosquito netting (buybuy BABY, Amazon, Walmart, Kohl's), and even a cooling insert that cools baby from below! (buybuy BABY, Amazon, Walmart).
Cold Weather Accessories
For stand-alone strollers, blanketing options like buntings can stay in the stroller all throughout the chilly winter months. For infant car seats, do make sure you have plenty of warm blankets to cover baby, but remember that the current safety recommendations are that baby not have any after-market parts added to the straps, and that baby is strapped in without puffy coats or blankets between them and the straps. Check out these stroller blankets from various stores (buybuy BABY, Amazon, Macy's, Kohl's, Walmart) from brands like Aden and Anais (buybuyBABY, Amazon, Walmart), JJ Cole (Amazon, Walmart) and Butterscotch Blankees (buybuy BABY). There are also stroller blanket clips to hold it in place and keep the edges of the blanket from dragging on the ground, find them here (buybuy BABY, Amazon, Walmarts, Kohl's).
Toys
Keeping baby occupied can set any trip up for success, since babies spend a lot of time in their strollers awake, and possibly at events that are more fun for you than them. Having toys that clip on to the stroller ensures that they will have things to entertain them that cannot be flung out of the stroller to be lost or dirtied, and having a few allows you to swap toys out to maintain their interest. Find clip-on toys at many major stores (Amazon, buybuy BABY, Kohl's, Walmart, Macy's), including developmental tools like Eric Carle Touch and Feel Stroller Cards (buybuy BABY, Amazon, Walmart).
Organization and Travel
Keeping your stroller organized at home and on the go has never been easier! Grab a storage hook to hang your stroller in the garage or entryway, by hanging it on the door (buybuy BABY, Amazon, Walmart, Kohl's, Bed Bath and Beyond). A travel bag can make it easier to travel with your bag and keep it clean and undamaged while flying etc. Many are for particular strollers/sizes, but to get you started, check out these bags from (buybuy BABY, Amazon, Walmart, Macy's, Kohl's).
There are still a few months before the biggest Black Friday ads are released and some time still before Thanksgiving. Stop back soon to see the biggest Stroller deals offered this year.
2019 Stroller Cyber Monday Deals
UPPAbaby
UPPAbaby Vista Rumble Seat, $159.99 @ Amazon
BOB
BOB Stroller Strides Fitness Jogging Stroller, $357.99 @ Amazon
BOB Stroller Strides Fitness Dualie Jogging Stroller, $527.99 @ Amazon
BOB Blaze Jogging Stroller, $399.99 @ Amazon
BOB Gear Revolution Flex 3.0 Jogging Stroller, $359.99 @ Amazon

BOB Gear Revolution Pro Dualie Jogging Stroller, $551.99 @ Amazon
BOB Revolution Flex 3.0 Dualie Jogging Stroller, $511.99 @ Amazon
BOB Revolution Pro Jogging Stroller, $399.99 @ Amazon
BOB Rambler Jogging Stroller, $287.99 @ Amazon
Graco Strollers and Travel Systems
Graco Aire4 XT Travel System, $234.26 @ Amazon
Graco Aire3 Travel System, $254.15 @ Amazon
Graco Uno2Duo Stroller, $187.60
Graco Modes 3 Essential LX Stroller, $109.94 @ Amazon
Graco FitFold Jogging Stroller, $159.12 @ Amazon
Graco Modes Duo Double Stroller, $203.15 @ Amazon
Peg Perego
Peg Perego Book for Two Stroller, $399.99 @ Amazon
Peg Perego Booklet, $239.99 @ Amazon
Peg Perego Booklet Travel System, $465.35 @ Amazon
Britax
Britax B-Free Stroller, $322.99 @ Amazon
Britex B-Lively Stroller, $203.99 @ Amazon
Evanflo
Evanflo Pivot Xpand Modular Stroller, $152.32 @ Amazon
Maxi-Cosa
Maxi-Cosa Zelia Max 5-in-1 Modular Travel System, $399.99 @ Amazon
2018 Deals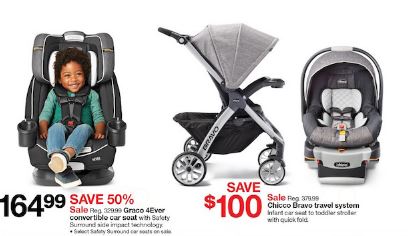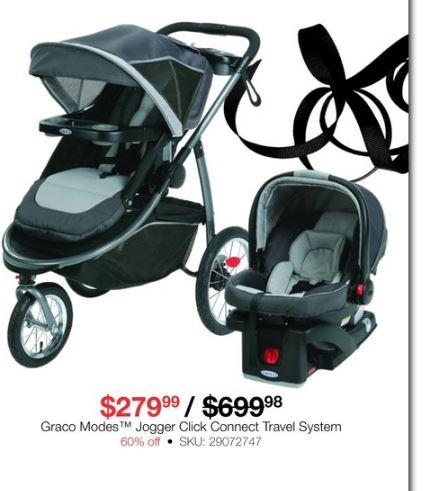 Stroller Cyber Monday Specials
Kolcraft Cloud Plus Lightweight Double Stroller -5-Point Safety System, 3-Tier Extended Canopy for UV Protection, Independently Reclining Seats, Easy Fold, Storage Basket, Drink Holder Tray, Red/Black. $139.99. Save $60 on this Cyber Monday Special.
Jogging Stroller | All Terrain Baby Jogger | Sport Utility | JPMA Safety Certified | J is for Jeep Brand | Grey on Black Frame. $329.99 on Cyber Monday.
Last Major Update:
Current Sales on Amazon: