Washer & Dryer Black Friday Deals 2023 – Kenmore, Samsung, GE & LG Appliance Deals
Find the best deals on a washer and dryer for your laundry during Black Friday 2023. Funtober will be tracking all of the online sales and price discounts in print ads on home appliances at Home Depot, Sears Kenmore, Lowe's, Amazon, Best Buy and more from Thanksgiving Day to Cyber Monday 2023.
Find current deals on washers and dryers at: Best Buy, Home Depot and Lowes.
We will also be keeping an eye on the smart washers and dryers this year. This technology allows you to remotely start your machines with your cell phone, download special cycles, and monitor energy consumption. They usually connect to the internet through WiFi technology. These IoT devices are becoming more popular as almost everyone hates to do laundry and they make it easier!
2022 Deals:
Find more Black Friday deals right now at Amazon.com.
2020 Deals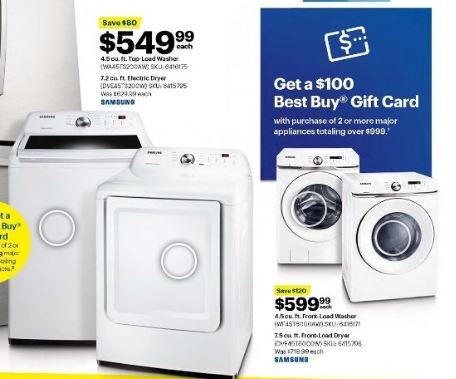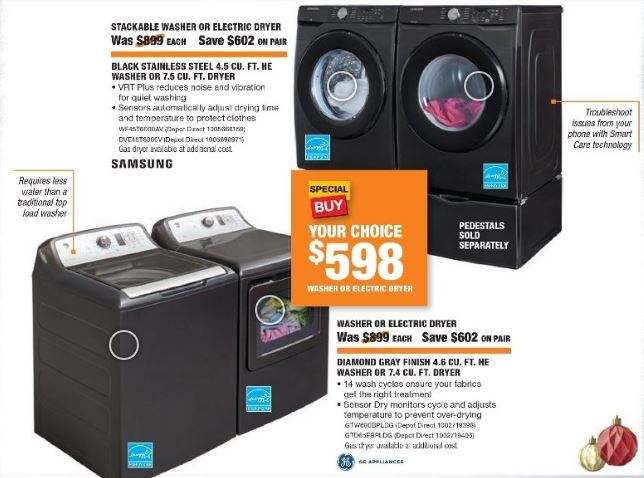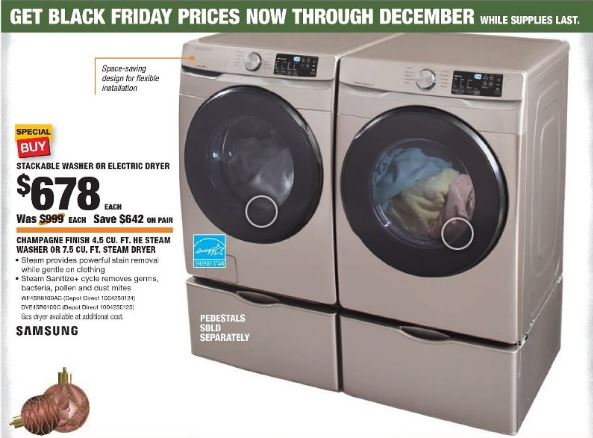 2018 Deals
Kenmore washers & dryers are an Amazon Deal of the Day on Black Friday – click here to save!
Click Here for More Amazon Discounts on Kenmore Smart Washers & Dryers
Last Major Update: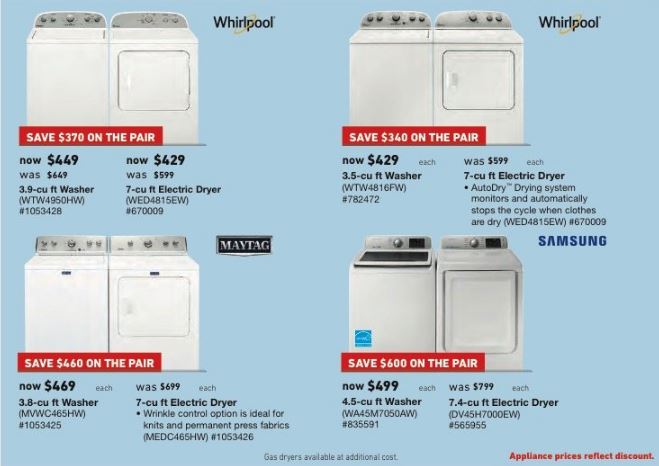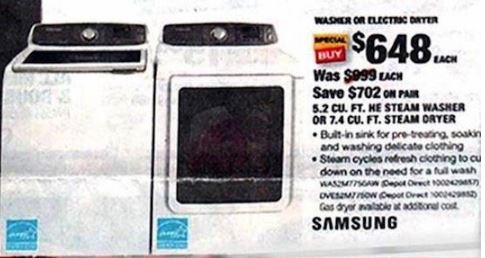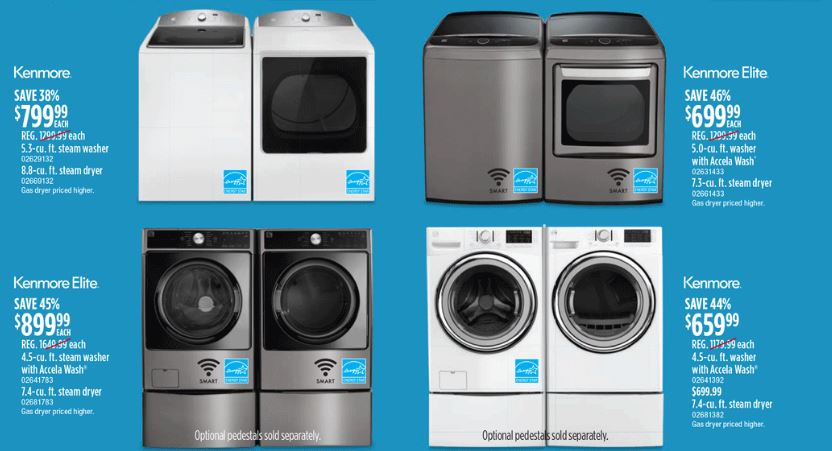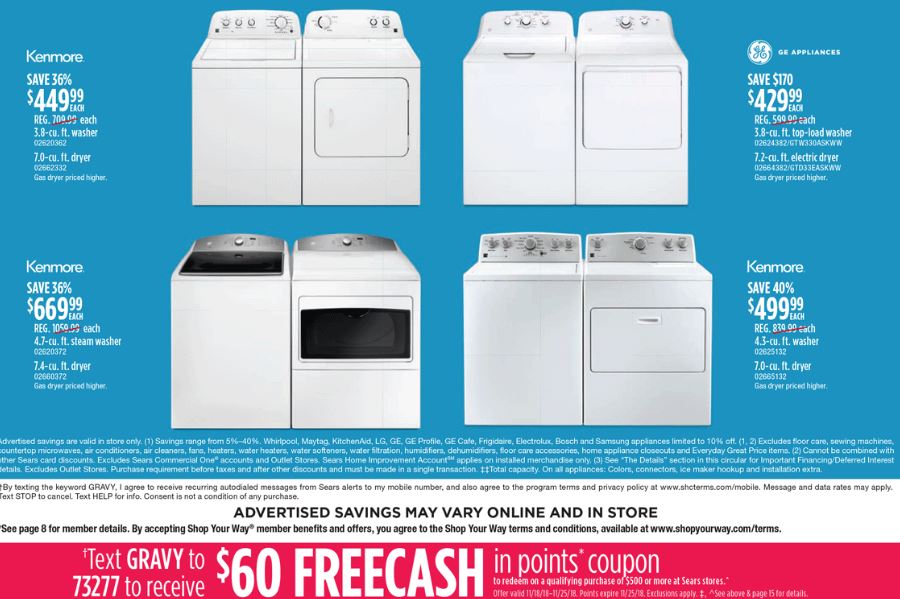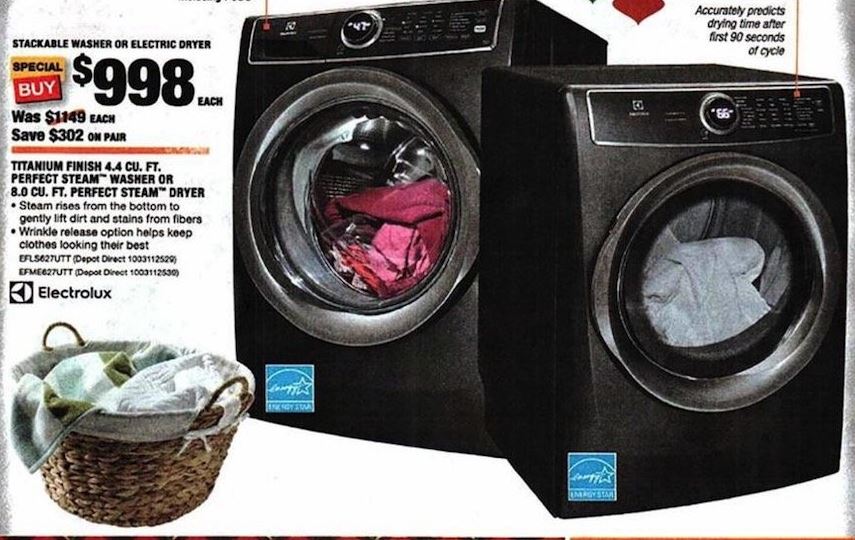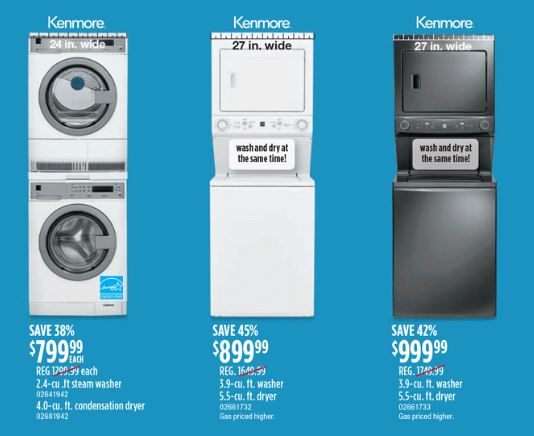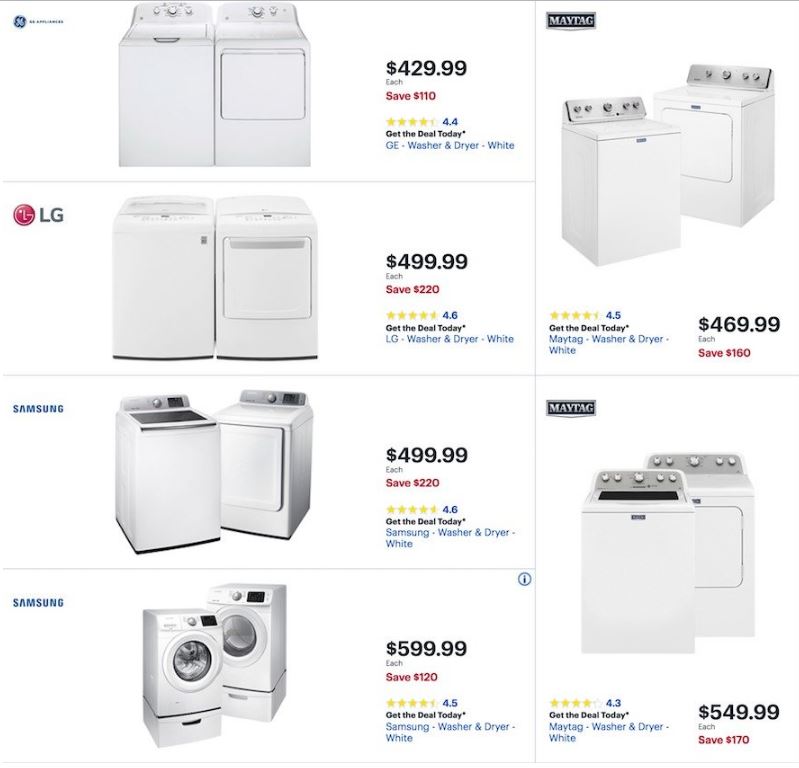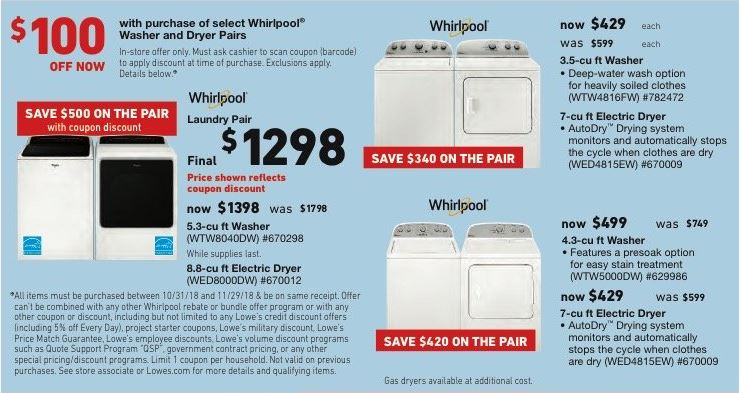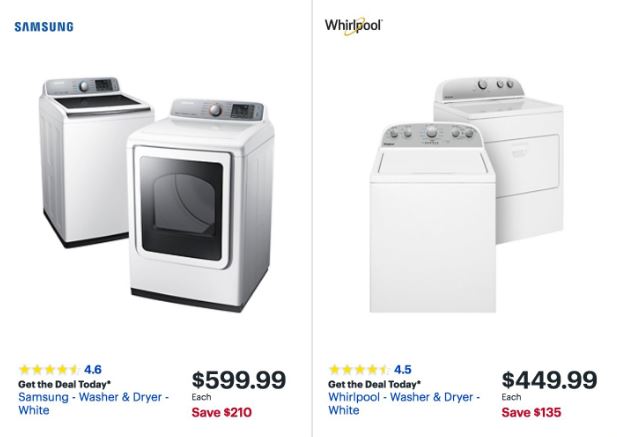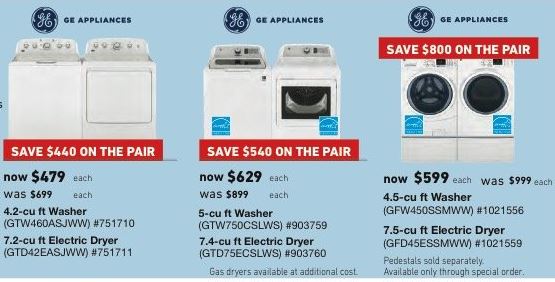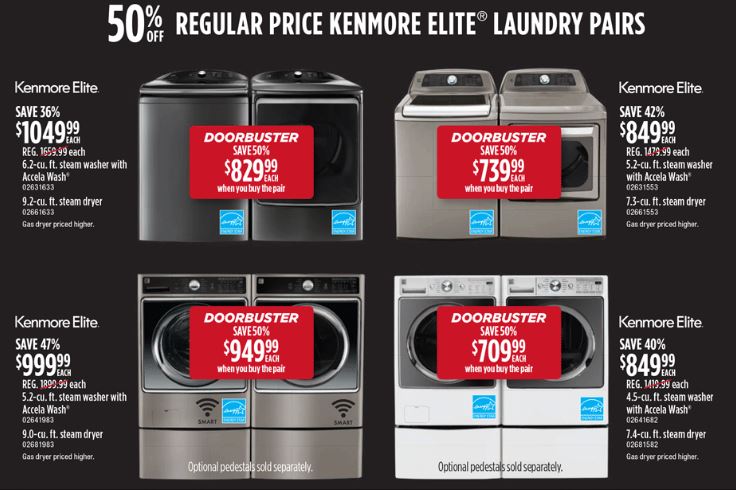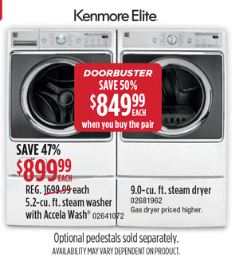 Here are the types of laundry machines that we have seen deals on over the Thanksgiving holiday this year:
Washer & Dryer – Washing machines come in front-loading and top loading, regular and high efficiency, stacking or side by side. Dryers are usually only available in front load although we are always keep our eye out for a top load – they are available in either gas or electric dryers.
Washer & Gas Dryer – Gas Dryers are typically more energy efficient in drying clothes, resulting in a lower cost on your electric bill. Gas dryers also run hotter than the standard electric dryer, potentially leading to a shorter tumble cycle to dry some clothes.
Steam Washer & Steam Dryer – Utilizes a combination of water and steam to do your laundry. Steam boosts the temperature to encourage the fibers relax and more efficiently absorb water and release dirt in the washing machine. A Steam Dryer uses hot air to dry close the same as a regular dryer but includes a steam cycle to soften the fabrics and reduce wrinkles as the moist air penetrates the clothes.
Stackable Washer and Dryer – The Thanksgiving weekend can be a great time to pick up a Laundry Pair because of available discounts on buying both together. Most people choosing stacking machines when they have a small laundry room or are looking to save floor space.
Smart Washer / Smart Dryer – Internet of Things devices that connect to your home's internet and can be started (or provide information about what is happening with your load) to your cell phone through a mobile app that you download and control.
We will also be following these manufacturers during Black Friday:
Kenmore & Kenmore Elite – Kenmore is a brand of household appliances sold by Sears. The first Kenmore product was sold in 1913 – more than 100 years ago! Kenmore products are made by a variety of manufacturers including Whirlpool, LG and ElectroLux. Kenmore Elite is the upscale line of Kenmore appliances. They also have a professional line of appliances called Kenmore Pro.
Samsung – Samsung is a South Korean multinational company headquartered in Seoul. It was founded in 1938 and is now a leader in the worldwide electronics industry. With regard to smart laundry, they let you remotely monitor and control your laundry from anywhere, as well as monitor remaining cycle time, with the Smart Home Laundry Adapter and Samsung Smart Washer App.
GE – GE is one of the largest appliance brands in the United States, with a 14% market share in the US home appliance market. The company is now GE Appliances and has its headquarters in Louisville, Kentucky. The company was owned by General Electric until 2016. The company makes free standing and top load washers, among other things. For smart home technology, they offer built-in WiFi connect or optional connections with the ConnectPlus. then all you have to do is download the GE Appliances Laundry App, connect your washer & dryer to WiFi, and enjoy the benefits of smart home technology!
Whirlpool – An American manufacturer of home appliances with its headquarters in Benton Harbor, Michigan. The company is in the Fortune 500 with nearly 100,000 employees, nine manufacturing facilities in the United States and more than 70 manufacturing or technology research centers worldwide. The company also makes KitchenAid, Maytag and other popular brands
Maytag – An American home and commercial appliance brand that was acquired by Whirlpool in 2006. It was originally founded 125 years ago in Newton Iowa. They make top load and front load washing machines powered by either agitator or impeller washers to clean your clothes. Available technology choices include the Powerwash cycle, steam options, and PowerSpray to better circulate water and laundry detergent. Dryer technology includes a rapid dry cycle, advanced moisture sensing and wrinkle prevent option. They also make both compact and large capacity models.
LG – A multinational company based in Seoul, South Korea that manufacturers electronics and appliances. They make single washers and dryers as well as the stacked LG Twinwash and all-in-one washer/dryer combos. The LG smart washer and smart dryer allow you to start and stop your wash cycle remotely, as well as get notifications when your laundry is done.
Best Stores for Deals:
We will be following the savings available at home improvement stores like Home Depot and Lowes, major retailers like Sears and Amazon, as well as top electronics stores like Best Buy.
Washer and Dryer Black Friday Deals: Whether you are looking for a single washing machine or dryer to replace a nonfunctional or poorly functioning machine, or a pair to improve your laundry experience, you will be able to find a great deal here over the Thanksgiving weekend.
Washer and Dryer Cyber Monday Deals: We will post all of the online savings available for washing machines and dryers as well as combos on the Monday after Thanksgiving.
Home & Furniture Deals