Vitamix Black Friday Deals 2023 Blender & Cyber Monday Deals
Find the best deals on Vitamix blenders during Black Friday 2023. Funtober collects all of the online sales and price discounts in print ads for kitchen small appliances including Vitamix between Thanksgiving Day and Cyber Monday 2023.
2022 Deals:
Find more Black Friday deals right now at Amazon.com.
Past Deals:
The Best Buy Cyber Monday deals (which started on Sunday, 12/1/19) are showing deals on Vitamix blenders of between $50 and $75 off. They have in 64 ounces the Professional Series 750, Ascent 2300, Ascent 2500 and Ascent 3500. They also have the 48 oz. Explorian Series E310. The sale prices range between $289.99 and $549.99.
2019 Black Friday Deals:
Vitamix Blender – Extra $50-75 Off @ Macys
Vitamix Blenders include space saving, classic, and smart system, plus the Aer Disc Container accessories option.
2018 Deals
Click Here to Save 30% off Vitamix Blenders on Amazon
E310 Explorian Blender (save 30%)
5200 Blender – $279.95 (save 36%)
7500 Blender – $334.99 (save 37%)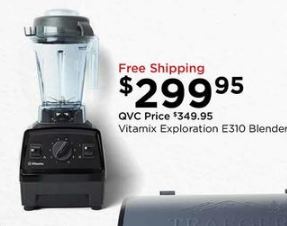 Space Saving: These blenders include the S30 and S50, offering two blending containers (individual and family sizes) for your machine
Classic Blenders: These blenders include the 5200 "Getting Started" blender and the 750 "Professional Series" blender. The classic G series includes the popular Vitamix 7500 blender.
Smart Blenders: The smart system blenders are identified as the A2300, A2500, A3300, and A3500. The machines detect which containers you're using and automatically adjusts settings appropriately. The app for iOS and Android includes 17 programs and 500 recipes. Choose from digital timers or touch programmable timers.
Aer Disc Containers: The Aer Disc is a simple innovation that makes its incredible speed and versatility possible. They are compatible with all full size machines.
Vitamix Black Friday Deals:
We will post all of the blender deals here for this popular manufacturer between Thanksgiving Day and the Sunday after Thanksgiving.
Vitamix Cyber Monday Deals:
We will collect all of the online sales for the Monday after Thanksgiving here!
About Vitamix
vitamix has been owned and operated by the Barnard family since it was founded in 1921. The company started selling modern kitchen products but focused in on the blender in 1937. The company has its headquarters in Olmsted Township, Ohio and employs more than 1000 people, most of which work in its Northeast Ohio locations.
Last Major Update: