Refrigerator Black Friday Deals 2023 & Cyber Monday Smart Fridge Deals
Find the best deals on a smart fridge or new refrigerator for your kitchen during Black Friday 2023. Funtober will be tracking all of the online sales and price discounts in print ads on home appliances at Home Depot, Sears Kenmore, Lowe's, Amazon, Best Buy and more from Thanksgiving Day to Cyber Monday 2023.
2022 Deals:
Find more Black Friday deals right now at Amazon.com.
2020 Deals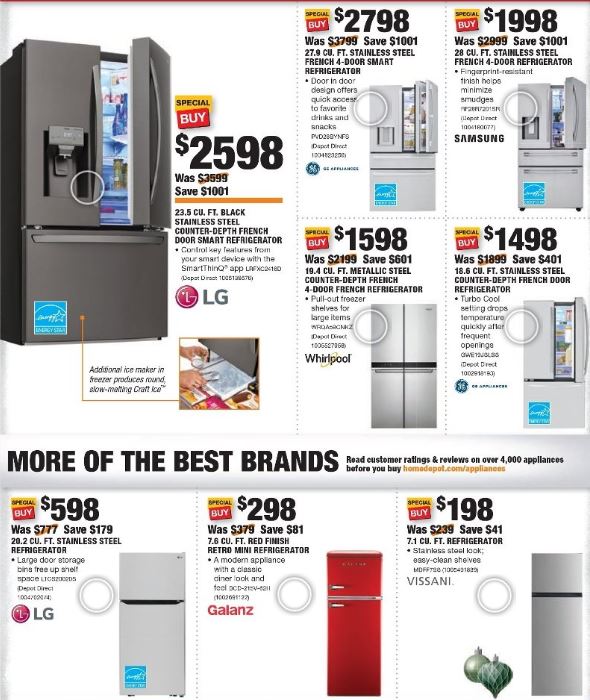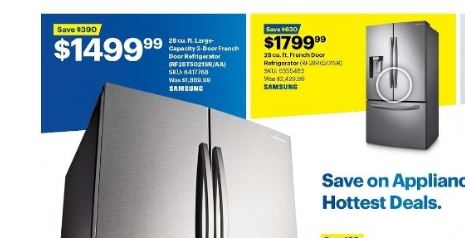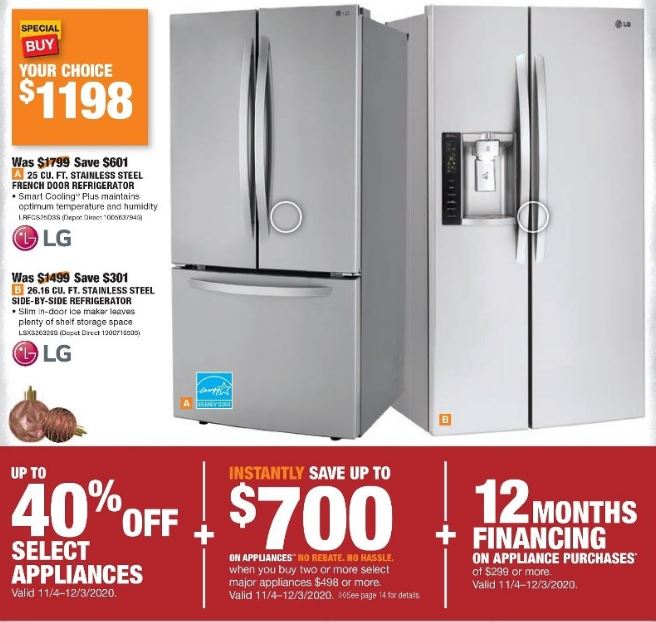 Smart Refrigerator Black Friday 2019 Deals
There have been a number of innovations in refrigerator technology over the years including fingerprint resistant fridges, WiFi connected devices to allow remote monitoring of the device (and what is in it), smaller refrigerators to allow the maximization of space in an appliance under 31 inches wide, a quick access door to allow you to easily access your most-used items without having to open the door, and food freshness technology to keep food lasting longer through dual evaporation technology. We expect these will be in demand over the Thanksgiving holiday as people look to upgrade their kitchen appliances (or just their fridge) into the 21st Century.
Current Sales on Amazon: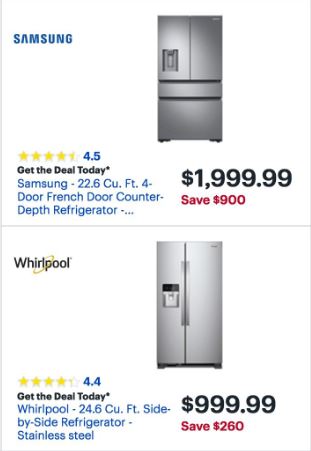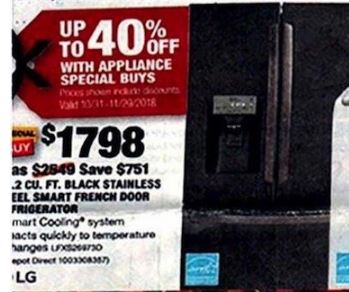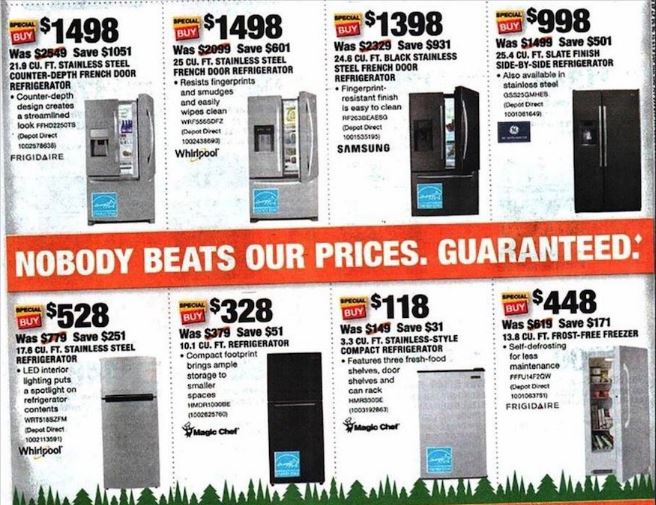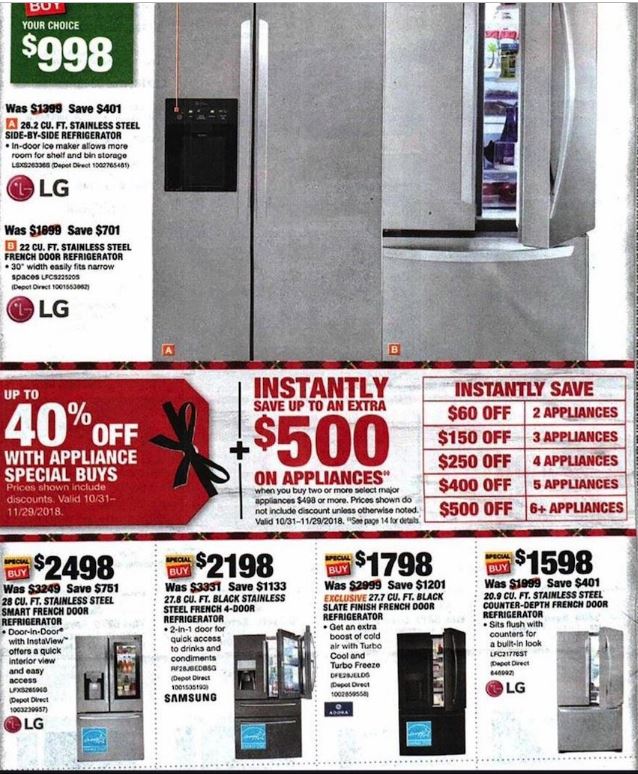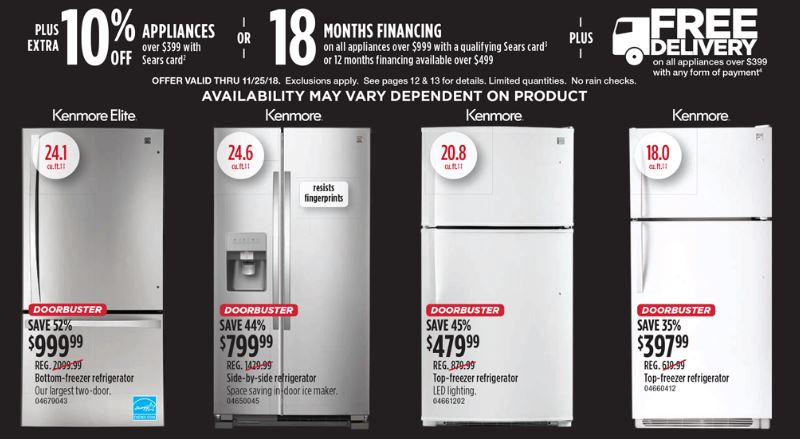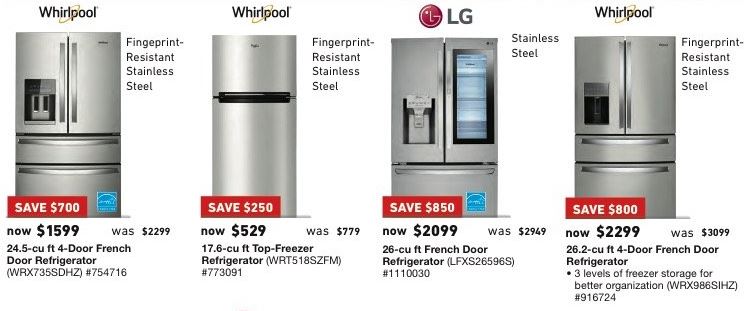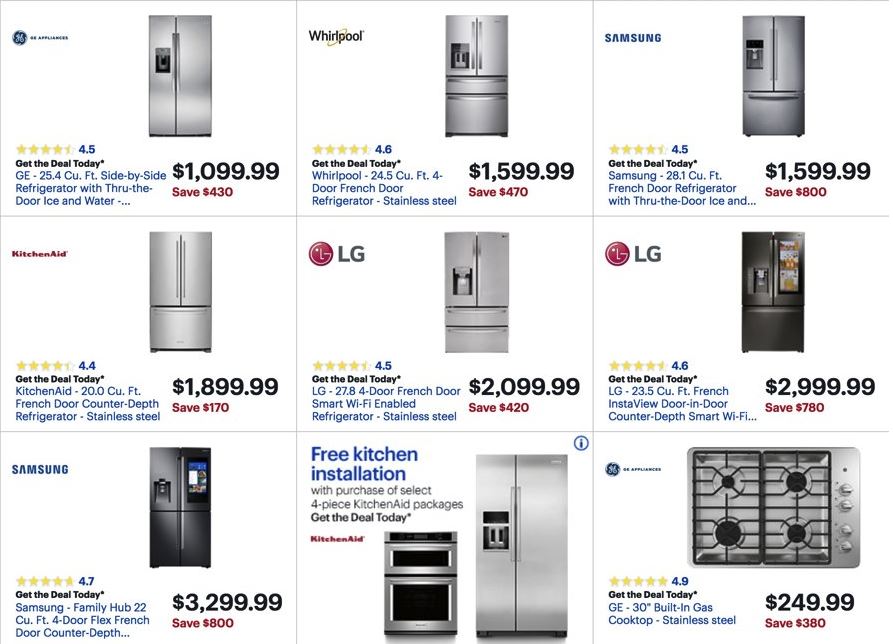 Smart Refrigerator – Manage food shopping lists through voice commands, see inside your fridge with built-in cameras, track family calendars or enjoy other benefits of connected living with a WiFi enabled smart refrigerator. Samsung calls its smart fridge the Family Hub. LG and GE also have smart refrigerator options that may include some or all of these features.
Top Freezer Refrigerator – The classic configuration of refrigerators for years is still an option. They are typically expected to be more energy efficient. They also usually have more space to use in a comparable-size.
Bottom-Freezer Refrigerator – They are usually more expensive and less energy efficient but have the benefits of puttin gthe fridge at eye level (so you don't have to bend over as much) and they typically have better organization with shelves and baskets.
Side-by-Side Refrigerator – Split your fridge and freezer next to each other with a side-by-side and a water & ice dispenser in your new kitchen.
French Door Refrigerator – Improve the overall look of your kitchen with stylish french doors for your new refrigerator over the holidays.
Four Door Refrigerator – Whether you are looking for two separate bottom draws for your refrigerator or a quad door with separated spaces, we can help you find deals on them here.
Space Saving (Compact) Refrigerator – They are doing amazing things with skinny fridges to fit into narrow kitchen spaces with the maximum amount of capacity possible.
Stainless steel vs. Black stainless steel vs. white or slate – Get a big price discount on your favorite look to match the kitchen this holiday season!
We will also be following these manufacturers during Black Friday:
Kenmore & Kenmore Elite – Kenmore is a brand of household appliances sold by Sears. The first Kenmore product was sold in 1913 – more than 100 years ago! Kenmore products are made by a variety of manufacturers including Whirlpool, LG and ElectroLux. Kenmore Elite is the upscale line of Kenmore appliances. They also have a professional line of appliances called Kenmore Pro.
Samsung – Samsung is a South Korean multinational company headquartered in Seoul. It was founded in 1938 and is now a leader in the worldwide electronics industry.
GE – GE is one of the largest appliance brands in the United States, with a 14% market share in te US home appliance market. The company is now GE Appliances and has its headquarters in Louisville, Kentucky. The company was owned by General Electric until 2016.
Whirlpool – An American manufacturer of home appliances with its headquarters in Benton Harbor, Michigan. The company is in the Fortune 500 with nearly 100,000 employees, nine manufacturing facilities in the United States and more than 70 manufacturing or technology research centers worldwide. The company also makes KitchenAid, Maytag and other popular brands
Maytag – An American home and commercial appliance brand that was acquired by Whirlpool in 2006. It was originally founded 125 years ago in Newton Iowa.
LG – A multinational company based in Seoul, South Korea that manufacturers electronics and appliances.
Refrigerator Black Friday Deals: Find all of the price discounts on refrigerators from the major manufacturers and retailers over the Thanksgiving here weekend here.
Refrigerator Cyber Monday Deals: Funtober will post the best online sales on the Monday after Thanksgiving here.
Last Major Update:
Home & Furniture Deals