Smartphone Cell Phone Black Friday Deals 2023 & Cyber Monday Deals – iPhone, Galaxy, etc.
We're putting together a list of deals on iPhone and Android phones for Black Friday 2023. We will search the published and online ads for the best savings on the Apple, Samsung and other smart phones.If you are looking to buy a cell phone between Thanksgiving Day and Cyber Monday 2023, you will find your best options here.
There is no debating that Black Friday is one of the best times to buy a cell phone. All of the major carriers, T-Mobile, Verizon, Sprint and AT&T offer huge incentives and discounts for Black Friday and Cyber Monday. Most of the cell phone manufacturers introduce new models in late summer and early fall, so their devices ride a wave a media hype directly into the holiday shopping season, so we are expecting some great deals for Black Friday and Cyber Monday 2020.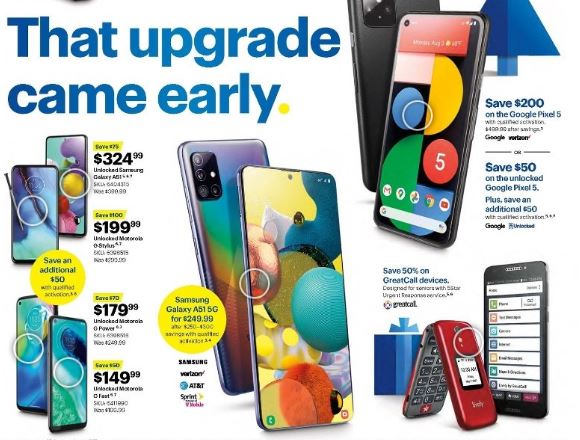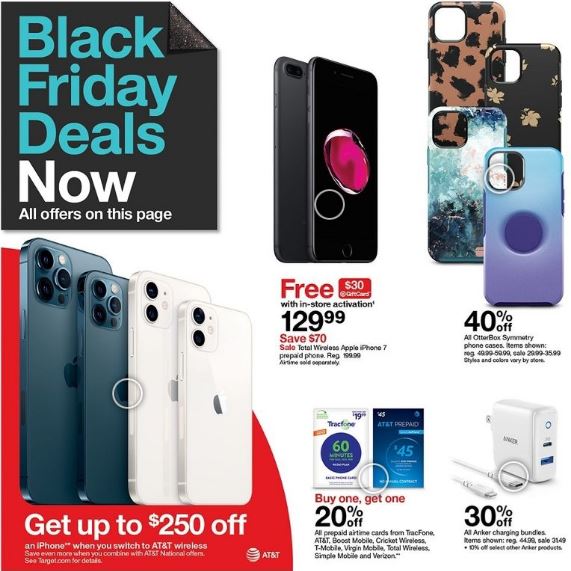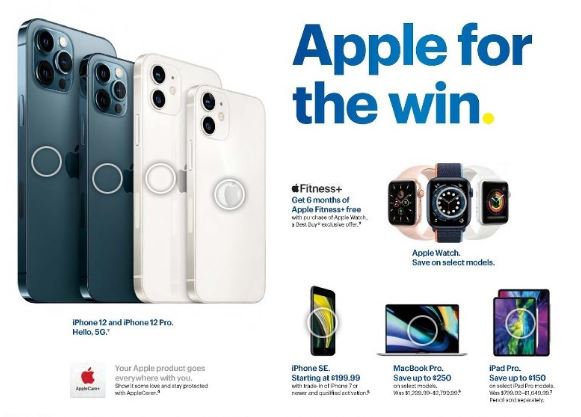 Black Friday 2018 Predictions:
We expect to see many of the same types of deals this for Black Friday 2018, but keep a sharp eye out for flash and short notice sales too. All the major manufactures introduced new models including the Galaxy Note 9, S9, S9 Plus, Note 8, iPhone X, Huawei P20, LG G7 THINQ, just to name a few. There are already a lot of good deals available on these devices those will certainly continue.We except the best saving to be on the top end models like the Note 9 and iPhone X, that should come as no surprise because they carry the heftiest price tags too. As carriers battle it out for market share some of the best saving will be for consumers that are looking to change carriers. Our suggestion for getting the best cell phone deal this Black Friday 2018:
• Decide if your carrier switching? Carrier jumping will likely have the best offers.
• Pick a specific model because it will be easier to track short duration sales and offers
• Don't forget about last year's models, they have already dropped in price and you may be able to score another $50-100 of the already discounted price.
• Check out some of the underrated brands such as LG and Huawei early in November. They offer a lot of the features and functions of the super-premium models at a much lower price point.
• Check back for last minute and short direction sales and offers, historically they are tacked on top of existing holiday season sales.
Here are a few of the hot new cell phones we will be checking ads for discounts:
Samsung Galaxy Note 8: After initiating a voluntary recall on the Note 7 due to risk of fires, Samsung is back with a big screen, more RAM, and dual cameras.
Samsung Galaxy S8: Fast, with a curved screen, long battery life, and ready for VR.
Google Pixel 2 and Pixel 2 XL: A new version of the popular Google Android phone series will be announced in October.
Apple iPhone X: It commemorates the tenth anniversary of the iPhone. According to Apple, it has the most powerful and smartest chip ever in a smartphone.It will also have Face ID, the replacement to a password.The iPhone X won't ship until November 3rd.
Apple iPhone 8: The iPhone gets an all-new design, more advanced cameras, bionic chip, and wireless charging.
Black Friday is usually a good time to buy phones. Prices typically drop substantially in price in the months leading up to Thanksgiving week.Some phones may or may not go slightly lower as Christmas approaches.However, it is impossible to predict whether that will happen with any particular brand.
You may be tempted to wait until Cyber Monday in order to reach the best deals.However, there are usually a higher quantity of deals on Black Friday.We do not recommend waiting.
Buy a cell phone for Black Friday 2018 at an incredible savings.Check back regularly for updates on the best deals from your favorite retailers to kick start your holiday shopping.
Taking a quick look at the 2017 Black Friday deals will give us some insight on what to expect for Black Friday 2018.
2017 Deals by Phone Manufacturer
Samsung: The Galaxy Note 8, S8 and 8 Plus all ended dropping $300 heading into Black Friday 2017. Target offered a $300 gift card and Best buy just chopped $300 off the price. Samsung offered $300 off on trade in, but made a late offer on Black Friday of up to $400.
iPhone: 8, 8 Plus deal was $250 off at Target as of the day before Thanksgiving. The iPhone SE Was $60 and $70 off depending on the retailer.
Motorola: The Moto Z2, that's the model with a bunch of add on gadget, priced out $100 off at the major retailers.Best buy and Verizon ran a late $8 per month special from Thanksgiving Day until Saturday, which totals out to be a savings of $216 off.
LG: Offered a bundle deal of $400 rebate when you buy a V30 or V30 plus and another LG product. This promotion started the week before Black Friday. There was also a $5 per month deal on the G6 phone through certain retails, which is a $360 savings.There was also a $50 off deal on the LG Q6 for Amazon Prime members.
Huawei; The Huawei Mate 9 was $100 off, which is a good deal on an unlocked Android phone.The Honor 6X came down $50 in price for most of Black Friday weekend.
Most midrange and older models phones were $50 to $100 off during the week of Black Friday.
2017 Deals By Carrier
T-Mobile offered a BOGO (buy 1 get 1), one of equal or lesser value deal through a rebate program. This deal included all the new and top end models.
Sprint offered %50 off most phones most Samsung's phone.They offered $350 off the iPhone X, 8 Plus and 8.Some other great deals on the MotoZ2, iPhone SE and iPhone 7. Sprint's deals started the week before Black Friday.
Verizon had a 50% off deal on all the new and hot phones including Pixel 2, Pixel 2 XL, Galaxy S8, S8 Plus, Note 8 and Moto Z2 Force. That deal kicked off on Thanks Giving Day 2017.They launched free phone deal on Thanksgiving day too, which was only valid through Black Friday.
AT&T focused on Galaxy buy two get on free through bill credits. AT&T primary focus was to get people signed up for DirectTV, by offering a free iPhone or Apple TV.AT&T did not have the strongest phone offering on the market. Their deals were mostly $150-200 off and up to $300 at Walmart and some other retail AT&T resellers.
The best deals usually require flexibility as to the phone carrier.There has been a lot of competition between Sprint and Verizon to sign customers to 2-year contracts.In some cases, they have been willing to pay hundreds in switch fees.
No matter what phone or carrier you choose check back for up to date deals, sales and offers on cell phone for Black Friday 2018.We are tracking announcements will bring you the best sales and deals as they are announced from Black Friday to Cyber Monday.
Last Major Update: