Dishwasher Black Friday Deals and 2023 Ads
Find the best deals on a new dishwasher for your kitchen during Black Friday 2023. Funtober will be tracking all of the online sales and price discounts in print ads on home appliances at Home Depot, Sears Kenmore, Lowe's, Amazon, Best Buy and more from Thanksgiving Day to Cyber Monday 2023.
2022 Deals:
Find more Black Friday deals right now at Amazon.com.
Past Deals:
2020 Deals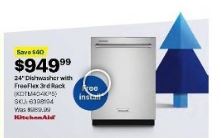 2019 Deals


2018 Deals
Here are some of the dishwashers that found sales on in 2018: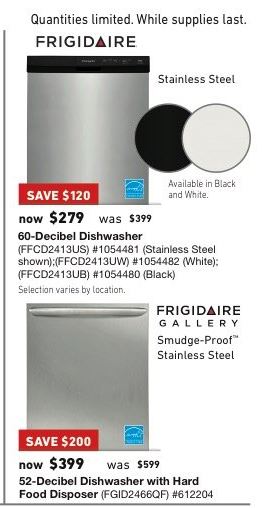 Smart Dishwasher – Choose this connected home appliance to get enhanced features such as smartphone or voice control via WiFi connectivity. Samsung, LG and GE all have smart dishwasher options on the market.
We will also be following these manufacturers during Black Friday:
Bosch – The largest manufacturer of home appliances in Europe offers quiet operation in high performance dishwashers with front or top controls.
Kenmore & Kenmore Elite – Kenmore is a brand of household appliances sold by Sears. The first Kenmore product was sold in 1913 – more than 100 years ago! Kenmore products are made by a variety of manufacturers including Whirlpool, LG and ElectroLux. Kenmore Elite is the upscale line of Kenmore appliances. They also have a professional line of appliances called Kenmore Pro.
Samsung – Samsung is a South Korean multinational company headquartered in Seoul. It was founded in 1938 and is now a leader in the worldwide electronics industry. With regard to smart laundry, they let you remotely monitor and control your laundry from anywhere, as well as monitor remaining cycle time, with the Smart Home Laundry Adapter and Samsung Smart Washer App.
GE – GE is one of the largest appliance brands in the United States, with a 14% market share in the US home appliance market. The company is now GE Appliances and has its headquarters in Louisville, Kentucky. The company was owned by General Electric until 2016.
Whirlpool – An American manufacturer of home appliances with its headquarters in Benton Harbor, Michigan. The company is in the Fortune 500 with nearly 100,000 employees, nine manufacturing facilities in the United States and more than 70 manufacturing or technology research centers worldwide. The company also makes KitchenAid, Maytag and other popular brands
Maytag – An American home and commercial appliance brand that was acquired by Whirlpool in 2006. It was originally founded 125 years ago in Newton Iowa.
LG – A multinational company based in Seoul, South Korea that manufacturers electronics and appliances.
Best Stores for Dishwasher Deals:
We will be following the savings available at home improvement stores like Home Depot and Lowes, major retailers like Sears and Amazon, as well as top electronics stores like Best Buy.
Dishwasher Black Friday Deals: You will be able to find a great deal here over the Thanksgiving weekend as we compile all of the discounts advertised in print and online during the holiday.
Dishwasher Cyber Monday Deals: We will post all of the online savings available for dishwashers on the Monday after Thanksgiving here.
Home & Furniture Deals
Current Sales on Amazon: