LOL Surprise! Black Friday Deals 2023 & Cyber Monday – Big, Bigger & Surprise! House Deals
Find the best deals on the LOL Surprise! Amazing Surprise, Glamper Fashion Camper, Winter Disco Chalet and LOL Dolls during Black Friday 2020. Funtober will go through all of the online sales and price discounts in print ads between Thanksgiving Day and Cyber Monday 2023.
2022 Deals:
Find more Black Friday deals right now at Amazon.com.
Past Deals:
2020 Black Friday Deals:
Target Deals:
Macys Deals: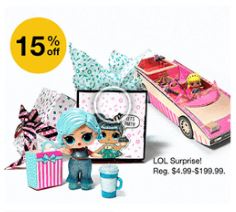 2019 Black Friday Deals:
LOL Surprise Winter Disco Chalet – $229.99 @ Target (save $20)
LOL Surprise! Amazing Surprise – $99.99 @ Target (save $30)
LOL Surprise! Big Surprise – $39.99 @ Target (save $30)
LOL Surprise Hairgoals & Confetti Pop – 50% off @ Fred Meyer
LOL Surprise 2-in-1 Glamper Camper – $79 @ Navy Exchange
LOL Surprise – 50% off select sets @ Best Buy
The LOL Surprise! are a set of collectible dolls with mix and match accessories that were initially released in December 2016 and became the hit of the Christmas 2017 gifts. They are still extremely popular with older children in 2019. Here are the items that we will be tracking deals on:
Glamper Camper – The Glamper Fashion Camper (regular price of $99.99) was put on sale by Amazon as part of its early Black Friday deals and quickly sold out. If they bring it back on Thursday or Friday, we will post about it here as we know many of you are probably still looking for it!
Winter Disco Chalet Doll House – The ultimate destination for a winter vacation. Made from real wood. Unbox 95+ surprises including the exclusive Winter Disco family, Snowing Chimney, and Real Light Up Ice Rink. There is also a Winter Disco Bigger Surprise and Fluffy Pets series
Amazing Surprise – If your child is a fan of the series, this includes 14 exclusive LOL dolls, including 2 LOL Surprise dolls! Overall, there are 70+ Surprises!!
Bigger Surprise – 60+ Surprises from LOL Surprise. It's the perfect Christmas gift for a child.
LOL Surprise! House – The large wooden house feature 85+ built in surprises. It has a working elevator, lights and sound and a helipad. It measures 25" high by 30" wide and 8" deep. The boxes contain 85+ items that are wrapped to keep the fun rolling. Unwrap the included doll, a pet, and lots of other items for the Surprise Dolls and the furnishings. The first floor contains the living room and kitchen.The lamp in the living room works. The kitchen has a table, chairs and a refrigerator. The 2nd floor bedroom is furnished with a bunk bed and bassinet.The 2nd floor bedroom has toilet that features flushing sounds and a bathtub with purple rain. The 3rd floor has a large closet to with a rack and drawers to store clothing and items for the dolls. There is a spiral staircase that accesses the roof top deck and helipad.The roof has a day and night lighting feature. The L.O.L. Surprise! House comes with one doll, so don't forget to add more. This home-run gift is currently available for around $189.
We are searching out the best deals, sales, price cuts and discounts on the LOL Surprise! for Black Friday 2019. These will keep kids busy for a long time, unwrapping the included items, organizing the rooms of the house or chalet, and just having tons of fun. Check back for updated deals, sales, price cuts and offers as Black Friday 2019 gets closer.
2018 Deals
LOL Surprise! Bigger Surprise
This is the other 2018 release and we will be closely following whether it makes an appearance in any of the Black Friday ads or Cyber Monday deals.
L.O.L. Surprise! Big Surprise Ball
The CVS black friday ad for 2018 has the Big Surprise available for only $49.99. This will be a $20 discount over the regular price (if you can find them not sold out!). They are not one of the 2018 releases and have been selling at a premium on Amazon.com. There has been speculation at a deals website that CVS must have found a way to purchase a limited quantity.
L.O.L. Surprise! Eye Spy Pets Scavenger Hunt event
Target is giving guests to its Saturday, November 10 in store event a chance to purchase an exclusive Surprise! Pet Ball. Kids will decode clues to find the missing LOL Surprise! pet. Once they find the pet, guests have the chance to purchase an exclusive LOL Surprise! Pet Ball. Plus there will be a selfie station, giveaways throughout and unboxing moments every 30 minutes. While supplies last.; no rain checks. Occurs from 10 AM to 1 PM.
LOL Surprise! Black Friday Deals: We will post all of the big price discounts here over the holiday weekend.
LOL Surprise! Cyber Monday Deals: We will sort through all of the online sales for the best price discounts on L.O.L. Surprise! dolls and balls on the Monday after Thanksgiving.
Last Major Update:
Where to Look for Black Friday Toy Deals:
Target - As one of the nation's top toy retailers, they role out the savings on the Target Black Friday ad every year. From BOGO deals on top toy manufacturers to 50% off savings on some of the leading toys, this is one of our favorite places to shop for kids gifts. You can get board games and lots more through their Buy Online Pick Up in Store, direct shipping or even by combing the shelves.
Walmart - With their everyday low prices and a huge selection of toys spread across the Walmart Black Friday ad, this is one of the top toy retailers during the holiday shopping season. If you are willing to fight the crowd for low prices on your children's toys, be sure to see what Walmart is offering in November.
Amazon - Amazon is one of the top toy retailers as toy shopping moves online, with dolls, action figures, games and puzzles, trains and more available delivered in two days with Amazon Prime from its warehouses. The Amazon Black Friday deals in November have hundreds (if not thousands) of products for children of all ages on sale ahead of the Christmas gift shopping season.
Kohls - This department store chain might not be known for their toy department, but our search for deals on kitchen appliances once took us here to see a corner of the store stacked with Black Friday toys. In 2020 they had a full page of the Kohls Black Friday ad with toys. With their Kohls Cash rewards and big Thanksgiving weekend savings, there's plenty of reasons to look here for that big christmas gift for your child!
GameStop - This video game meme stock is better known as the largest specialty retailer for video games in the country, with Nintendo Switch, Sony PS5 and Microsoft Xbox consoles and games filling the shelves. With studies indicating more than 150 million people in the United States play video games, it is becoming a more popular pasttime then ever. The GameStop Black Friday ad usually has some of the best deals on that new game console you have been craving, so take a look.
Kid's Clothing: Carters and the Children's Place - They might not have lots of children's toys, but they can be an essential part of Black Friday shopping for kids. Stock the drawers and closets in your kids rooms with clothing from these children's retailers.
Last Major Update: