Black Friday 2023 Toy Deals
On Black Friday 2023, parents around the country will be shopping for deals on the hottest children's toys of the season. If your boy or girl has their heart set on a popular item for Christmas this year, then Thanksgiving Weekend is a great time to get it. If you wait longer, there is a risk that it will sell out and you never know if or when the store will get in a new shipment. Retailers typically roll out some of their biggest savings of the xmas season over the Thanksgiving holiday weekend. They know that consumers are ready to shell out billions of dollars to buy discounted Christmas gifts.
We will bring you info about the biggest and best deals and discounts here when the savings are announced online or in an advertisement for Black Friday 2023. We are committed to helping you find the best shopping deals of the year from Amazon Prime Day to Thanksgiving Weekend.So get ready to save in 2023, 2024 and beyond!
2022 Deals:
Find more Black Friday deals right now at Amazon.com.
Past Deals:
2018 Deals: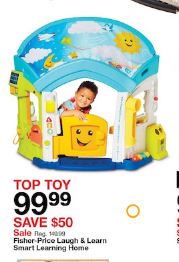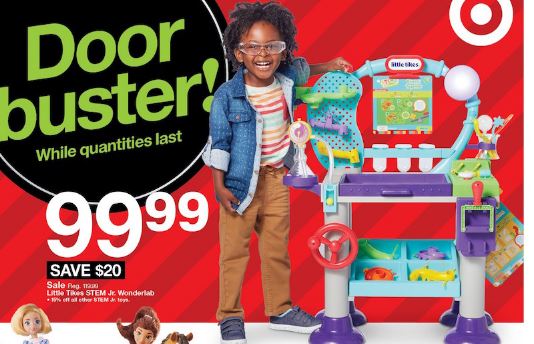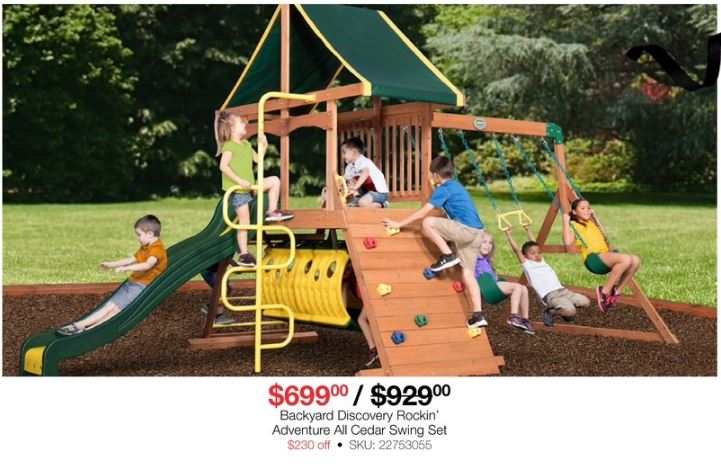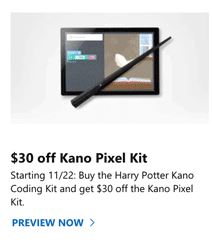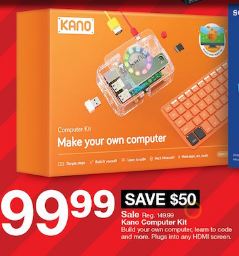 Popular Toys
Hatchimals, LOL Surprise, and other "mystery tins"
Target – Hatchimals Surprise now $34.99 (save $35)
Walmart – HatchiBabies Foxfin for $34.88, LOL Pearl Surprise or Outfit of the Day for $24.88 and Ryan's World Giant Golden Egg for $34.82
Kohls – Hatchimals CollEGGtibale 18 piece for $19.99 (Doorbuster deal)
JCPenney – 30% off LOL and Jojo Siwa Dolls ($4.99-48.99) and 30% off Hatchimals toys
Best Buy – Hatchimals CollEGGtibles Season 2 Egg Carton (12 pieces) for $9.99, LOL Pearl Surprise is 25% off (was $29.99)
Meijer – 50% off select LOL Surprise sets and Hatchimal Hatchibuddies (now $4.99)
Pokemon
Target – 50% off tins of Pokemon cards
Star Wars
Target – extendable light saber for only $3.99 (save $4)
Barbie and other dolls
Target – 50% off a bundle including car, Barbie, Ken and closet (now $29.99)
Walmart – $5 for select Barbies and other dolls
Kohls – $4.99 for select Barbies and other dolls, Horse riding set for $19.99
JCPenney – 50% off Disney Princess dolls ($7.50) or 9pc doll set ($55) and 30% Barbie dolls
Best Buy – 50% off Barbie Townhouse and 65% off Barbie DreamHorse
Meijer – 50% off select Barbies and Disney Shimmer Dolls
RC Vehicles
Target – Bright R/C is 50% off – Showcase sports car for 34.99 or Charger Buggy for 14.99
Walmart – Bright R/C 1:12 Car or 1:15 Truck for $15 or 1:6 Truck for $48
Kohl's – Black series RC 360 Rally Car Thunder Tumbler for $9.99; Bright and Maisto 1:15 vehicles for $19.99; 28-in R/C Off-Road Fighter for $49.99
JCPenney – Black Series wall climbing car for $19.99, select other Black Series cars for $9.99
Macy's – 50% off RC cars (Doorbuster deal)
Meijer – Bright Monster Jam Grave Digger R/C for $47.99
Hot Wheels
Walmart – Ultimate Hot Wheels Garage for $75 and 50-pack die-cut cars for $25
Kohls – $4.99 for select Hot Wheels; Hot Wheels Auto-Lift Expressway and 5 die-cut cars for $24.99
JCPenney – 30% off Hot Wheels toys
Best Buy – Hot Wheels Mega Metropolis Track Set for $34.99
Meijer – Select Hot Wheels and Matchbox sets are 50% (now 7.49-9.99)
Shopkins
Walmart – 18 piece set Shoppie and Truck, $20
LEGO
Target – Save $18 on select Lego kits
Walmart – 900 piece Classic Lego or 120 piece Duplo for $20
Kohls – Save 30% off select Lego sets (Doorbuster deal)
JCPenney – Select Lego sets available for $20.99
Best Buy – Save 20% on select LEGO sets
Meijer – 50% off Mega Blox 100 pieces (now $9.99)
Nerf
Target – $24.99 for Nerf Modulus Tri-Strike, $19.99 for Dart Zone Ballistix Ops Velocity Blaster, $9.99 for X-Shot Blaster 4-pack
Walmart – Nerf Doominator for $20
Kohl's – Nerf N-Strike Alpha Trooper for $17.99 and Nerf Rival for $19.99 (Doorbuster deal)
JCPenney – Nerf N-Strike Mega Twinshock for $19.99 ad 30% off other Nerf toys
Best Buy – 50% off Nerf Rival Stormtrooper Blaster
Meijer – select Nerf Blasters are 50% off (now $5.49-29.99)
Sport/Outdoors
Target – $49 on select kids' bikes (normally $79) and Ping-pong table for $70 at Target (save $70); $18 for Razor or Jetson Jupiter foldable kick scooters or $89 on electric scooters, plus online only, get a KidCraft Hampton playset for $649 (save $200) or Coastal Cottage playhouse for $299 (save $100)
Walmart – $36 on select kids' bikes, $25 on 36 in. mini trampoline with handrail, 12V Electric scooter for $59 and select kick scooter for $15, select sports balls for $9
Kohl's – Jetson Ion electric scooter, Phantom electric go-kart, or Nitro balancing scooter for $199 plus get $60 in Kohl's cash; Hover 1 Chrome self-balancing scooter for $179 plus get $45 Kohl's Cash; Huffy 6V electric motorcycle ride-on for $69.99 plus get $15 Kohl's Cash; Jetson Jupiter light-up kick scooter for $19.99
Best Buy – Hover-1 Helix self-balancing scooter for $129.99
Meijer – 50% off sports balls (now $9.99) and mini basketball hoop ($14.99); 40-50% off select kids bikes (64.99-69.99); Jump Pro 12' Trampoline with Enclosure for $179.99; Voyager Air Wheel Hoverboard ($99)
Dick's – Tournament indoor tennis table for $299, Portable basketball hoop for $169.98, In-ground glass basketball hoop for $899.98, 14' Trampoline with enclosure for $159.98
Books
Target – $5 on select kids books
Meijer – $5 and more for select kids books
Art/Crafts
Target – Make your own slime or spa creations kits for 50% off (now 19.99), select art supplies for $15 (50% off)
Walmart – 30ct Sharpie markers or Crayola 65-piece marker with box for $10
Kohl's – Disney's Minnie Mouse or Crayola giant art tubs for $17.99
Meijer – 50% off CraZart Activity sets (now $4.99-14.99), My First Easel (now 14.99); Crayola Crayon Melter and Color Chemistry lab set ($12.49), Sharpie 21ct permanent marker (now $9.99) and select Play-Doh sets (now 2.49-17.49), Crayola giant coloring pages (now 2.49), Retro Super Spirograph (now 17.49)
Board Games
Target – Select games are 50% off (normally $7-29.99) plus up to 30% off select strategy games such as Settlers of Catan and Ticket to Ride.
Walmart – Select games start at $5 (including Connect Four, Clue and Sorry) and $10 (including Monopoly, Operation and Life)
Kohls – Save 50% on select board games (Doorbuster deal)
JCPenney – 30% off board games
Meijer – Board games from $4 or Buy One Get One
Video Games –
Best Buy – Select videos games for $19.99-29.99
Meijer – Select video games, from $19.99; some are BOGO
Movies
Target – $4-10 on select movies, normally priced $7-19.99, including Disney movies
Walmart – $1.96 – 9.96 on select movies
Best Buy – select movies from $3.99 and up
Meijer – select movies from $2 and up
Other Tech Toys
Meijer – LeapFrog and VTech toys are 40% off
Robots
Target – Get the JIMU Robot AstroBot Cosmos series for $149 plus a $50 Target gift card, or the Anki Cozmo Robot for $139
Best Buy – Anki Cozmo Robot for $139.99 and Anki Vector Robo for $199.99
Computers
Target – You and the kids can build your own computer and learn to code while saving $50 on the Kano Computer Kit
Music
Target – Singing Machine Kids' Pedestal Karaoke Machine is a doorbuster, only $49.99 (save $30)
Walmart- Karaoke Singing Machine for $39
Kohls – iLive Bluetooth Karaoke Machine for $69.99 plus get $15 Kohls Cash
JCPenney – Tzumi Portable Karaoke microphone for $9.99; The Singing Machine Groove mini karaoke machine for $29.99
Best Buy – eKids Portable karaoke system for $49.99
Drones
Walmart – Sharper Images Streaming Drone for $48
Kohl's – Sharper Images Streaming Drone for $79.99 plus get $15 Kohls Cash; Braha S900 life-streaming drone for $29.99
JCPenney – Eagle 3 wifi camera drone for $29.99
Best Buy – Ryze Tech Tello Boost Combo Quadcopter for $99
Macy's – 60% off Protocol drones (Doorbuster deals)
What items will we be following?
Imaginext DC Super Friend Batman Batbot Xtreme – This is a two foot tall toy for Batman fans.It has multiple projectile launchers, voice changer, extendable wings, punching fists and a hidden Batcycle.
Hatchimals – Toys 'R Us has the Hatchimals Colleggtibles Egg Carton (12-Pack) on its list of the hot toys and the Surprise – Puppadee on its top 20 list of toys.Walmart will also have a Hatchimals Surprise exclusive for the holiday season with details to be released in October.Amazon expects the top toy from this brand will be the Glittering Garden.
Paw Patrol – Expect popular toys from this tv show to include the Paw Patrol My Size Lookout Tower and the Sea Patroller.
Cars 3 – The top toys from this movie will include the Cars 3 Ultimate Florida Speedway and the Sphero Ultimate Lightning McQueen Vehicle.
Mickey and Minnie Mouse – Toys from these characters are still popular.On Toys 'R Us top holiday toys list is the Disney Mickey Mouse Clubhouse Roadster Racers Garage and Minnie's Walk & Play Puppy, and the Minnie Mouse Garden Fun Activity Gym. On Walmart's top toy list is the Mickey and the Roadster Racers Transforming Hot Rod Mickey.
Star Wars – With the Last Jedi expected in theaters right before Christmas, Star Wars toys could be big this year.Items to watch out for include the littleBits Star Wars Droid Investor Kit, Star Wars Luke Skywalker's Landspeeder, and the Star Wars App-Enabled Droid R2-D2.
Baby Alive Sweet Tears Baby Dolls – Kids will enjoy nurturing these sick babies back to health with lots of love.Available options include blonde and brunette hair as well as purple, pink and blue outfits.
Barbie – This popular fashion doll continues to be a favorite with children.Popular toys from this line for 2017 will include the Barbie DreamHorse and Doll, the Barbie DreamCamper, and the Pink Passport Cruise Ship Playset.
PJ Masks – The top options from this brand will include the PJ Masks Nighttime Adventures Die Cast Spiral Playset, as well as the Cat Boy Car.
Soggy Doggy – This is the showering, shaking, wet doggy board game that is hilarious and exciting for both kids and adults.Move around the board taking turns bathing the pup but don't get caught wet when he shakes himself dry!
We will be keeping an eye out for toys such as the Fingerlings, Num Noms Nail Polish Maker, FurReals Friends Roarin' Tyler The Playful Tiger, Fisher-Price Zoom 'n Crawl Monster, L.O.L. Surprise Fizz Factory, Mayka Toy Block Tape, and the .
Kids love to bring to life popular movies and TV shows with toys. Options for these boys and girls will include the Shimmer & Shine Magical Light-Up Genie Palace, Disney Junior Doc McStuffins Baby All in One Nursery, Shopkins Happy Places Grand Mansion Playset, the Hot Wheels Super Ultimate Garage Playset, the Melissa and Doug Deluxe Star Diner Restaurant, and the WWE Superstars Ultimate Entrance 2-in-1 Playset.
Other popular items will include ride on toys for kids such as the Frozen Sleigh, Huffy Electric Green Machine Tike and the previously mentioned Star War's Landspeeder.
Electronics will also be popular with kids.Among the popular video game systems will be the Nintendo Switch and the Super Nintendo Classic.Drones were a popular item in 2016 and advancements will likely make them big again in 2017.
Toy Deals at Kohls: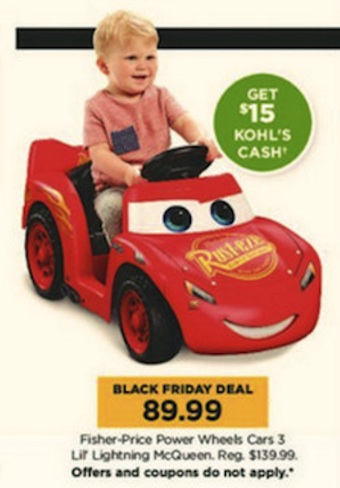 Find Deals at:
Where to Look for Black Friday Toy Deals:
Target - As one of the nation's top toy retailers, they role out the savings on the Target Black Friday ad every year. From BOGO deals on top toy manufacturers to 50% off savings on some of the leading toys, this is one of our favorite places to shop for kids gifts. You can get board games and lots more through their Buy Online Pick Up in Store, direct shipping or even by combing the shelves.
Walmart - With their everyday low prices and a huge selection of toys spread across the Walmart Black Friday ad, this is one of the top toy retailers during the holiday shopping season. If you are willing to fight the crowd for low prices on your children's toys, be sure to see what Walmart is offering in November.
Amazon - Amazon is one of the top toy retailers as toy shopping moves online, with dolls, action figures, games and puzzles, trains and more available delivered in two days with Amazon Prime from its warehouses. The Amazon Black Friday deals in November have hundreds (if not thousands) of products for children of all ages on sale ahead of the Christmas gift shopping season.
Kohls - This department store chain might not be known for their toy department, but our search for deals on kitchen appliances once took us here to see a corner of the store stacked with Black Friday toys. In 2020 they had a full page of the Kohls Black Friday ad with toys. With their Kohls Cash rewards and big Thanksgiving weekend savings, there's plenty of reasons to look here for that big christmas gift for your child!
GameStop - This video game meme stock is better known as the largest specialty retailer for video games in the country, with Nintendo Switch, Sony PS5 and Microsoft Xbox consoles and games filling the shelves. With studies indicating more than 150 million people in the United States play video games, it is becoming a more popular pasttime then ever. The GameStop Black Friday ad usually has some of the best deals on that new game console you have been craving, so take a look.
Kid's Clothing: Carters and the Children's Place - They might not have lots of children's toys, but they can be an essential part of Black Friday shopping for kids. Stock the drawers and closets in your kids rooms with clothing from these children's retailers.
Last Major Update: