Black Friday 2018 Toy Deals
On Black Friday 2018, parents around the country will be shopping for deals on the hottest children's toys of the season. If your boy or girl has their heart set on a popular item for Christmas this year, then Thanksgiving Weekend is a great time to get it. If you wait longer, there is a risk that it will sell out and you never know if or when the store will get in a new shipment. Retailers typically roll out some of their biggest savings of the xmas season over the Thanksgiving holiday weekend. They know that consumers are ready to shell out billions of dollars to buy discounted Christmas gifts
We will bring you info about the biggest and best deals and discounts here when the savings are announced online or in an advertisement for Black Friday 2018. We are committed to helping you find the best shopping deals of the year from Amazon Prime Day to Thanksgiving Weekend. So get ready to save in 2018, 2019, 2020 and beyond!
Until then, we hope you enjoy learning about what was available over Thanksgiving weekend in 2017:
What items will we be following?
Imaginext DC Super Friend Batman Batbot Xtreme – This is a two foot tall toy for Batman fans. It has multiple projectile launchers, voice changer, extendable wings, punching fists and a hidden Batcycle.
Hatchimals – Toys 'R Us has the Hatchimals Colleggtibles Egg Carton (12-Pack) on its list of the hot toys and the Surprise – Puppadee on its top 20 list of toys. Walmart will also have a Hatchimals Surprise exclusive for the holiday season with details to be released in October. Amazon expects the top toy from this brand will be the Glittering Garden.
Paw Patrol – Expect popular toys from this tv show to include the Paw Patrol My Size Lookout Tower and the Sea Patroller.
Cars 3 – The top toys from this movie will include the Cars 3 Ultimate Florida Speedway and the Sphero Ultimate Lightning McQueen Vehicle.
Mickey and Minnie Mouse – Toys from these characters are still popular. On Toys 'R Us top holiday toys list is the Disney Mickey Mouse Clubhouse Roadster Racers Garage and Minnie's Walk & Play Puppy, and the Minnie Mouse Garden Fun Activity Gym. On Walmart's top toy list is the Mickey and the Roadster Racers Transforming Hot Rod Mickey.
Star Wars – With the Last Jedi expected in theaters right before Christmas, Star Wars toys could be big this year. Items to watch out for include the littleBits Star Wars Droid Investor Kit, Star Wars Luke Skywalker's Landspeeder, and the Star Wars App-Enabled Droid R2-D2.
Baby Alive Sweet Tears Baby Dolls – Kids will enjoy nurturing these sick babies back to health with lots of love. Available options include blonde and brunette hair as well as purple, pink and blue outfits.
Barbie – This popular fashion doll continues to be a favorite with children. Popular toys from this line for 2017 will include the Barbie DreamHorse and Doll, the Barbie DreamCamper, and the Pink Passport Cruise Ship Playset.
PJ Masks – The top options from this brand will include the PJ Masks Nighttime Adventures Die Cast Spiral Playset, as well as the Cat Boy Car.
Soggy Doggy – This is the showering, shaking, wet doggy board game that is hilarious and exciting for both kids and adults. Move around the board taking turns bathing the pup but don't get caught wet when he shakes himself dry!
We will be keeping an eye out for toys such as the Fingerlings, Num Noms Nail Polish Maker, FurReals Friends Roarin' Tyler The Playful Tiger, Fisher-Price Zoom 'n Crawl Monster, L.O.L. Surprise Fizz Factory, Mayka Toy Block Tape, and the .
Kids love to bring to life popular movies and TV shows with toys. Options for these boys and girls will include the Shimmer & Shine Magical Light-Up Genie Palace, Disney Junior Doc McStuffins Baby All in One Nursery, Shopkins Happy Places Grand Mansion Playset, the Hot Wheels Super Ultimate Garage Playset, the Melissa and Doug Deluxe Star Diner Restaurant, and the WWE Superstars Ultimate Entrance 2-in-1 Playset.
Other popular items will include ride on toys for kids such as the Frozen Sleigh, Huffy Electric Green Machine Tike and the previously mentioned Star War's Landspeeder.
Electronics will also be popular with kids. Among the popular video game systems will be the Nintendo Switch and the Super Nintendo Classic. Drones were a popular item in 2016 and advancements will likely make them big again in 2017.
Toy Deals at Kohls: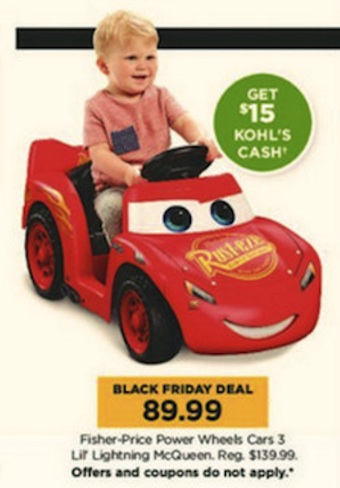 Find Deals at: