Pixel 4 Black Friday Deals 2022 & Cyber Monday + Google Pixel 3, 3a, 4 XL Deals Too!
Find the best deals on the Google Pixel 4 and 4 XL during Black Friday 2022. We also will be tracking here any sales or online deals on the older models such as the Pixel 3 and Pixel 3 XL between Thanksgiving Day and Cyber Monday 2022.
2019 Black Friday Deals:
Find deals on the Google Pixel at: Amazon, AT&T, Best Buy, Sprint, Verizon, and Walmart.
Google Pixel 4 or 4 XL – Free $300 Gift Card @ Target
Google Pixel 3a (unlocked) – Save $100 @ Best Buy
Are you ready for the Pixel 4 Black Friday deals?
The expectations are the Pixel 4 and Pixel 4 XL will be out in time for Black Friday 2019. It is expected to come at a premium price to the Pixel 3 and the iPhone 11 – although the Black Friday sales incentives are currently unknown. The leaks have indicated it has more than one camera lens – probably for selfie mode, macro shots, night mode and more. Other features that have been teased include 3D face unlock and Motion Sense (Soli radar) gestures. The announcement date is October 15th.
We are still digesting all of the features announced. But generally, they will start shipping on October 24th and come in three colors: white, black, and a limited-edition orange option. The Pixel 4 and Pixel 4 XL will be sold for every major US carrier with prices starting at $799, and the Pixel 4 XL starting at $100 more. Both phones come with Qualcomm's Snapdragon 855 processor, 6 GB RAM, and either 64 or 128GB storage. The Pixel 4 XL has a 6.3-inch Quad HD display, while the 5.7-inch Pixel 4's screen is 1080p. Both feature a 90Hz max refresh rate.
Best Buy has a great deal already on the pre-order of the Pixel 4 and XL version right now (mid-October) for a single phone. It is offering a $150 gift card with preorder for activation during checkout on Verizon, AT&T or Sprint. If you want to purchase an unlocked Pixel 4 (no activation required), then they are offering a $100 Best Buy gift card. Verizon is offering buy one get one free deals on the Pixel 4 during pre-order (paid out as a monthly credit over 24 months for a Pixel 4 64GB or $800 off any other Pixel 4). If you switch to Verizon on Unlimited, you will also receive a $200 Prepaid Mastercard. This could set the stage for another deal of these magnitudes (or better) during the Thanksgiving weekend as well.
But don't forget the Pixel 3 and 3a phones are going to also have some of their best deals of the year in November.CNET has already called out the Pixel 3 as the phone that you want for the best deal, and it isn't even Black Friday pricing yet!
2018 Deals: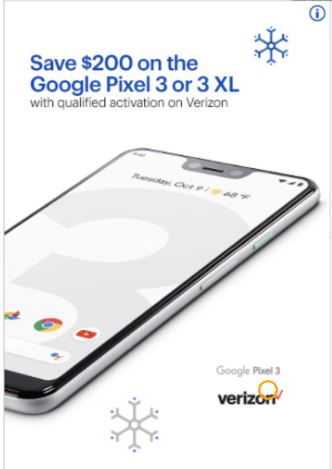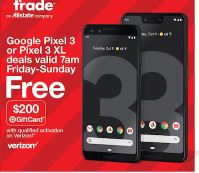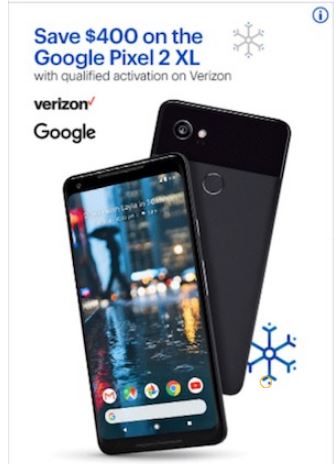 2018 Info:
Funtober is tracking all the latest information on the release, sales deals and offers on the Google Pixel 3 and Pixel 3 XL from launch on October 9th, including the period between Thanksgiving Day through Cyber Monday 2019. There will also be deals on the Pixel 2 from last year. We are dedicated to bring you the latest information and find you the best online and in store deals. While the official specs of the Pixel 3 & 3XL haven't been released, there have been plenty of leaks to create a tidal wave of credible details.
While Verizon is the only US carrier that's going to stock the Google Pixel and Pixel 3 XL this year, that's not the only way to get a great deal on a Pixel 3 for Black Friday 2018.Other carriers support the Pixel so you can buy an unlocked version directly from Google. The unlocked version will work with any of the major carriers. The Pixel can also be purchased at Target and Best Buy. Here are the deals that have been release so far.
Verizon – The Verizon Black Friday deal is buy one Pixel 3 get another Pixel 3 free. If you opt for the Pixel 3 XL they will take $800 off the price. All of the credits and discounts come in the form of 24 monthly bill credits. Verizon's deal also requires that you activate a new line.
Best Buy (Verizon) – Starting November 22nd at 5pm through the 24th Best Buy is chopping $200 off the price of the Pixel 3 or the 3 XL.This deal does require in store activation of the line with Verizon.
Target (Verizon) -From November 23rd through the 25th Target will give you a $200 Target Gift card when you purchase either Pixel model at full price.This deal is limited to 2 per customer and also requires that you activate the phone with Verizon.
Google (Unlocked) now -21st – The unlocked Pixel 3 and Pixel 3 XL will work with any major carrier, just insert you sim card when you receive it. From now through November 21st Google is offering buy one get one half off on either Pixel 3 or Pixel 3 XL.
Google (Unlocked) 22nd -25th – Google mixes things up a bit and cuts $150 off the price of the Pixel 3, which normally retails for $800. During the same time period Google is cutting $200 off of the Pixel 3 XL's normal $900 retail price.These offers run from November 22nd through the 25th.
Google (Unlocked) 26th only – For Cyber Monday only the Google Store will give you a Google Hub Home, valued at $149, plus $50 in store credit when you purchase either the Pixel 3 or the Pixel 3 XL.
Deal, bundles, offers and price cuts on the Pixel 3 and Pixel 3 XL are a plenty this Black Friday and Cyber Monday.Keep in mind the primary differences between the Pixel 3 and Pixel 3 XL are the screen size and the XL has a screen notch, other than that they are very similar.Check back for late release Black Friday and cyber Monday deals on the Google Pixel 3 and Pixel 3 XL.
Here's what we heard about Google's new phone so far:
There are three rumored Pixel 3 models set for launch, The Pixel 3, 3 XL and a more mysterious high end version set to be pitted against the iPhone XS and the Galaxy Note 9.There has not been many details about the flagship pixel, simply that it exists. It makes sense that they would release all the details of the Pixel 3 and 3 XL and then drop a new higher spec model during the announcement.It was and is a great way to keep people buzzing about your products.There is also rumors about a mid-range Pixel being developed to compete with lowered tiered phones.There are also some rumors about Pixel Buds and a Pixel Watch churning in the rumor mill.
Specific to the Pixel 3 and 3 XL it will features an Octacore Qualcomm CPU or the Snapdragon 845. It will feature the recently launched Android Pie system straight out of the box. The battery specs are at 2,915 mAh, which is lower than most of the competition. So expect the upgrade model to have a bigger battery. They will be available in black and white.The 3 XL will have the hotly debate notchto make space for dual rear facing cameras, while its small sibling allegedly will not have either.
There is also rumors whirling around a Google Pixel Stand wireless charging system.The phone stands up vertically in the charger and becomes s smart screen. It will also have some short cuts up on the screen, such as Google Assistant and music apps.I think this is big plus because you can see notifications without touching the phone.
There are a lot of one off rumors about the AI and user interface tricks.The UI allows one push screen shot captures and to draft emails by viewing a business card.There are some more interesting features that have been rumored such as being able to recognize restraint names and make reservations while you drafting an email.
The Pixel 2 and 2 XL are among the best smart phones on the market and if the rumors are true the Pixel 3 and 3XL will follow suit. We are tracking all the latest information on the Pixel 3 launch, pricing and forthcoming sales, deals and Black Friday 2018 offers.Keep your eyes out for a super-premium Pixel phone offering, Pixel Buds and a Pixel Watch. Since Amazon and a number of other tech products companies have announced a slew of products we expect Google to announce all of these products on October 9th.Check back for the latest information on in store and online deals, sales and offers on all of Google Pixel products for Black Friday 2018.
Last Major Update:
Where to Look for Black Friday Phone Deals:
Best Buy - As the nation's leading specialty retailer for consumer electronics, the Best Buy Black Friday ad usually has some great sales on cell phones.
Walmart - In 2020, Walmart split the Walmart Black Friday deals into three ads and the biggest cell phone ads ran as a week long deal in the second Black Friday ad.
Verizon - This mobile cell phone carrier and telecommunications company became famous for its slogan: Can you hear me now? But the Verizon Black Friday deals are probably another reason that they have gained traction among cell phone users. They will have great deals on the Apple iPhone, Samsung Galaxy smart phones, and many others (such as LG, Moto, OnePlus and the Google Pixel).
T-Mobile - This top telecommunications company operating as a subsidiary of Deutsche Telekom is one of the major wireless operators in the United States. They acquired Sprint in 2020 after a two year long period following the deal announcement. The Sprint stores are becoming T-Mobile stores, and Sprint customers can go to a T-Mobile store for service as well. The T-Mobile Black Friday sale has historically offered great discounts on iOS and Android phones, including the Apple iPhone and Samsung Galaxy phones. Other sales in 2020 included LG phones, the OnePlus 8T and the 5G Google Pixel 4a.
AT&T - One of the nation's top cell phone carriers with substantial coverage around the country. In 2020 they had big deals on the Apple iPhone and offered a Samsung Galaxy S20 FE 5G for free with eligible trade-in. There were also AT&T Black Friday deals on tablets, smart watches, bluetooth speakers, headphones and other accessories.
Amazon - The nation's top retailer usually has some of the best discounts on older cell phones over the Thanksgiving weekend. It's always worth checking out the Amazon Black Friday deals before you make a purchase over Thanksgiving Weekend.
Last Major Update: