Beats Headphones Black Friday Deals 2023 & Cyber Monday Deals
Find the best deals on Beats during Black Friday 2023. If you are looking for a sale on the Studio3, Solo3, Powerbeats Pro or other headphones, Funtober is tracking the best online sales and print ads from Thanksgiving Day to Cyber Monday 2023 on all Beats By Dr. Dre headphones.
2022 Deals:
Find more Black Friday deals right now at Amazon.com.
Past Deals
Beats stormed on the premium sound market in a big way in 2008 and they have come a long way. Beats was purchased by Apple in 2014, which brought on a slew of new integration, models and tech Whether it is for a holiday gift, treat for yourself or finally going wireless you cannot go wrong with the premium sound of Beats.
2020 Black Friday Deals on Beats Headphones
Kohl's has Beats Solo Pro Wireless Headphones for $229.99 (plus earn $60 Kohl's Cash) on Thanksgiving (online from 12:01am) and in stores Black Friday (beginning at 5am).
Kohl's has Powerbeats High-Performance Wireless Headphones for $129.99 (plus earn $30 Kohl's Cash) on Thanksgiving (online from 12:01am) and in stores Black Friday (beginning at 5am).
Kohl's will have Powerbeats Pro Totally Wireless headphones for $199.99 (plus earn $60 Kohl's Cash) on Thanksgiving (online beginning at 12:01am) and in stores on Black Friday (beginning at 5am).
Target Black Friday Headphones Deals
Select Beats Headphones – Save up to 50% off
Powerbeats Pro (Black) – $159.99
Beats Studio3 Wireless Over-Ear Noise Canceling Headphones – $174.99 (save 50%)
Here are some basics on the Beats lineup to make sure you pick the model that suits your needs this Black Friday.
Over the ear studio style headphones:
Beats Studio 3 Wireless Headphones: The Beats Studio # is a significant upgrade form the previous model.It features Active Noise Cancelling and Apple W1 wireless chip. The sturdily built Studio line are foldable and stow away in a compact included case. The padded over the ear design is comfortable and does rub or cause any discomfort. The battery lasts up to 22hrs with noise cancelling enable and an amazing 40 hrs. with the noise cancelling turned off. The Apple W1 chip is the shining star of this device. Simply turn them on and they automatically synch with your Apple device. The sync is a bit more complicated with non-Apple devices. Just like so many other devices that are platform centric, the Beats Studio 3 is designed by Apple for Apple and functions best with Apple.
Beats Solo 3: The Beats Solo 3 biggest improvement is the addition of the Apple W1 wireless chip.As the battle against external devices heats up wireless is the way to go.In addition to the W1 chip the Beats Solo 3 boasts extended battery life and rapid charging. The fast charge brings 3 hours of play time for only 5 minutes of charge.The power button has an LED battery life indicator. With 40 hours of play time the Beats Solo 3 should provide plenty of listening time. The Beats Solo 3 ears pads are well padded and comfortable, but are not replaceable, which was a complaint on previous generations. The Beats Solo 3 are available in Matte Black, Satin Silver, Gloss White, Gold, PRODUCT (RED), Satin Gold, Glass Black, Rose Gold, Silver and Defiant Black-Red.
Beats PRO (Wired): The Beats PRO is heavy duty aluminum frame design and leather covered ear covers make it tougher.The Beats PRO has a flip up design so you can swing the ear cover up for feedback from the band or for the call to dinner. The Beats PRO are foldable and come with a stow away pouch. The bass, mid and high range sound quality is excellent and perfect for in studio use. The detachable anti-tangle cable drives a lot of power, but does come unconnected fairly easily.
Beats EP ("Enter Premium"): The Beats EP is a wired entry level premium headphone. The reinforced stainless steel frame is strong and durable. The Beats EP provide premium sound quality at a very reasonable price.. The headphone wire has a built in remote so you can take calls and control music. The beats EP are foldable and come with a carrying pouch.
In ear headphones:
Beats X: The wireless Beats X are a go anywhere wireless headphones. Featuring 8 hours of play time and fast charging. Only 5 minutes of charging will get you 2 hours of playback The Beats X have the Apple W1 chip for seamless integration with all of iOS devices.The headphones are wired together and have a remote, so you can control your music and take calls on the fly.The Betas X comes with several different ear tip sizes to make sure you get the perfect fit.
Powerbeats 3 Wireless: The Powerbeats 3 feature 12 hours of battery life and built sturdy to provide concert sound during any type of workout. They contain the W1 chip for seamless integration with all you Apple devices. Simply turn them on and they sync to your device.The 5 minute fast charge provides an hour of playback. The Powerbeats 3 are rain, sweat and water resistant. There is a cable clip and adjustable ear hook make sure you get eh perfect fit, so your Powerbeats 3 will not slip off. The side remote allows you to take calls and control your music.
Urbeats 3 – Urbeats with Lightening connector: The Urbeats are Beats entry level wired headphones. They feature fine-tuned acoustics and a great listening experience. They are tangle free with magnetic earbuds for storage. They're available in black and a combo black and red.They come with a variety of ear tips to get the fit just right. The built in remote talk allows you to take calls, operate a digital assistant and control your music. There two version, one with a standard headphone jack and the other with Apple's Lightening connector.
2019 Black Friday Deals:
Best Buy, Kohls and Walmart are the place to look for price discounts over Thanksgiving 2019 on Beats headphones like the Studio 3, Solo 3 and Powerbeats Pro:
Beats Studio3 – $199.99 @ Best Buy (save $150)
Beats Studio3 – $279.99 @ Target (save $70)
Beats Studio3 – $279.99 @ Kohls (save $70 + $75 Kohl's Cash)
Beats Solo3 – $129 @ Walmart (save $70)
Powerbeats Pro – $199.99 @ Kohls (save $50 + $60 Kohl's Cash)
Powerbeats Pro – $199.99 @ Best Buy (save $50)
BeatsX Wireless Earphones – $79.99 @ Kohls (save $40 + $15 Kohl's Cash)
Powerbeats Wireless – $89.99 @ Best Buy (save $110)
Powerbeats3 – $80 @ Walmart (save $30)
New for 2019: Powerbeats Pro
The Powerbeats Pro are designed for athletic fitness use with over-the-ear hooks and rubber ear tips to isolate noise. Cnet has called it one of its best sport headphones for 2019. The Powerbeats Pro earbuds began shipping in May in black and are now available in ivory, moss (green) and navy as well. The regular price is $249.95 but despite the fact that the additional color lineup just started in August you are already beginning to see some sales. Amazon and Best Buy have already begun in October to offer them at $50 off for a low price of $199.95. This suggests that there could be some great sales on them in November. You will sometimes see references to Apple's Powerbeats Pro device. This is because Beats Electronics has been owned by Apple since 2014. They are not referring to the AirPods, which are their "other" wireless earbuds.
2018 Deals: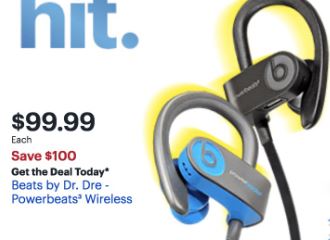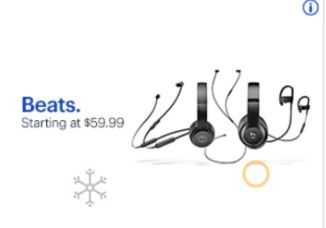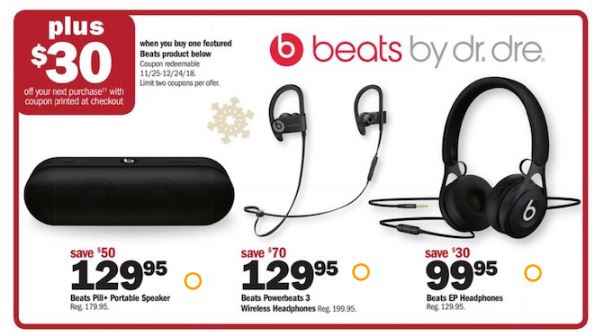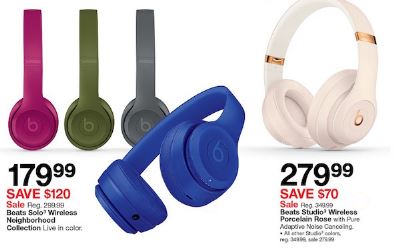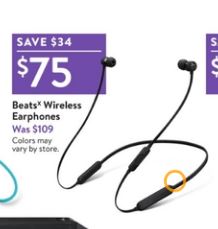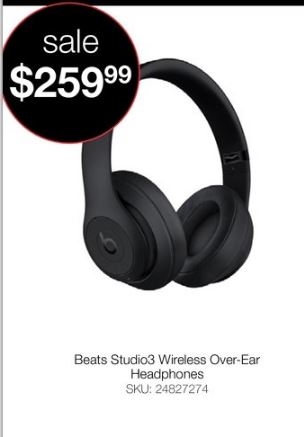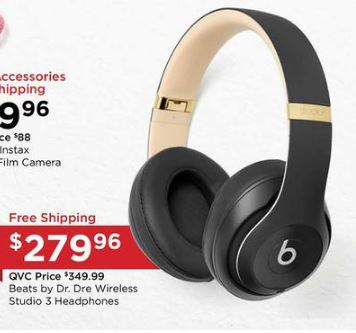 No matter if you're looking for the Beats PRO, Urbeats 3 or anything in-between we are tracking down all the best sales deals and offers to make sure you get the best price on your Beats for Black Friday 2019.The headphone market is heating up with new offering and more brand centric offerings, so pricing on headphones across the board will be excellent this Black Friday.Apple has taken a solid step forward in adding the W1 chip to all the Beats wireless offerings, so pay particular attention for bundle offers with Beats and other Apple products. Check back for updated sales, deals, and pricing information on the entire Beats line up as Black Friday 2019 gets closer.
Last Major Update: