Moto Z3 & G6 Black Friday Deals 2022 & Cyber Monday Deals
Find the best deals on the Moto Z3 and Z3 Play and Moto G6 during Black Friday 2022. We are reviewing online, print and in store ads to find the best sales, deals and offers on the Motorola Moto Z3 and the Z3 Play from Thanksgiving Day to Cyber Monday 2022.
Both phones are excellent mid-range options that offer a lot of value for the price.The Moto Z series big upside is that clip on mods (see more below) allow for upgrades to specific features you want to enhance, such as a projector, an additional battery, an enhanced camera and much more. We will bring you the best prices on both the Moto Z3 and the Z3 from now, until Black Friday 2018 and through the launch of 5G early next year.
The Moto Z3 and the Z3 Play are not exactly twins, but certainly stunt doubles. The exteriors are nearly identical, but the internals vary a little bit. The 6.1" gorilla glass screen and aluminum frame are the same. Both share the AMOL HD+ screens.Both have 12 MP dual rear cameras and a single 8 MP front facing camera. The Z3 and Z3 play share a lot of other features too, such GPS, Bluetooth 5.0, a side mounted finger print scanner, usb-c charging, same 3000mAh batter and Deep Indigo exterior coloring.
The Moto Z3 and Z3 Play separate under the hood. First and probably most important is they have different processors. The Z3 has the Qualcomm Snapdragon 835, which is a bit faster than the Z3 Play's Qualcomm Snapdragon 636. The Snapdragon 636 was the heart of the Z2 which was price about $100 than both of these models.The next big difference is the Z3 starts out with as has a lot more additional storage.The Z3 starts with 64GB and the micro SD is expandable to 2TB, that's a warehouse full of storage.The Z3 Play comes with 32 or 64 GB of internal and is expandable to only 512 GB. Both phones have 6GB of RAM.
The last difference is the availability of 5G.The Moto Z3 is the first phone that is scheduled to be 5G capable.It will require the purchase of a separate 5G Mod, the price of which has not been announced yet.Also, 5G is scheduled to be rolled out city by city early next year. So it's hard to determine how much this option will be worth.
The primary down side of the Z3 is that it is a Verizon exclusive. Which is not really a surprise because they are the first carrier scheduled to move towards 5G.So if you aren't with Verizon then the Z3 Play is your only option.There has been no mention of if the other Moto Z series will be 5G capable with the Mod.
The Moto Z3 is currently price at $480 and the 64GB Z3 Play comes in a little cheaper at $454.99. An unlocked 32GB Moto Z Play comes in even cheaper at $275.
Here is a list of the most popular Moto Z series mods you may want to consider:
Hasselblad True Zoom is priced at $154.45. It features, 10X optical zoom, Xenon flash for low light and enhanced controls for more camera like shooting experience.
Moto 360 Camera is currently priced at $148.00.It features, 360 degree 4K video, 3D sound for excellent playback, built in easy editing, share with Google photos and much more.
Polaroid Insta-Share Printer is currently priced at $149.99.This allows you to print photos instantly.It uses the extremely popular and readily available Polaroid PIF300 Instant used in the Fuji Instax Mini.
Moto Gamepad is currently priced at in the mid-$70 range. It features buttons, deal joysticks and a built in battery to enhance your mobile gaming experience.
There are three speaker Mods and I am sure more to come:
Moto Smart Speaker with Amazon Alexa is currently priced at $94.This Mod adds complete Alexa integration into your Moto device. All the support Alexa provides at home on the go, with a powerful speaker.
JBL SoundBoost is currently priced at $62.00.Provides mobile powerful JBL sound quality on the go.The speaker mod features a built in battery for an additional 10 hr. of battery life.
Moto Insta-Share Projector is currently priced at $144.88.Allows you to project and share photos and videos just about anywhere on up to a 70" display. It has a small built in battery for an additional hour of phone usage.
There are tons of Mods that add significant amounts of battery capacity.They are cheap and made by a lot of different manufacturers. These will be great Black Friday sale and Moto phone bundle items.
2018 Deals: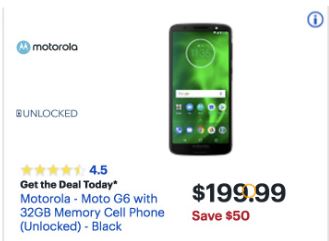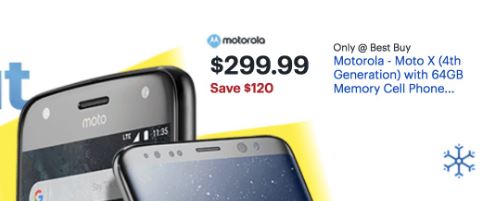 Whether you are looking for a Moto Mod, a new Moto Z3 or the Z3 Play we are tracking all the best sales and deal on all of the bets Moto products for Black Friday 2019.With the Z3 and Z3 play being so similar they will likely have identical discounts for Black Friday.We expect some serious deals on the Mods because there are so coming out and the competition is stiff. Check back as Black Friday 2018 close in for the best, sales and deals.Also, keep an eye out for great bundle deals on the Moto Z phones and Mods they are literally are made for it.Motorola typically announces their deals some time Black Friday week.
Last Major Update:
Where to Look for Black Friday Phone Deals:
Best Buy - As the nation's leading specialty retailer for consumer electronics, the Best Buy Black Friday ad usually has some great sales on cell phones.
Walmart - In 2020, Walmart split the Walmart Black Friday deals into three ads and the biggest cell phone ads ran as a week long deal in the second Black Friday ad.
Verizon - This mobile cell phone carrier and telecommunications company became famous for its slogan: Can you hear me now? But the Verizon Black Friday deals are probably another reason that they have gained traction among cell phone users. They will have great deals on the Apple iPhone, Samsung Galaxy smart phones, and many others (such as LG, Moto, OnePlus and the Google Pixel).
T-Mobile - This top telecommunications company operating as a subsidiary of Deutsche Telekom is one of the major wireless operators in the United States. They acquired Sprint in 2020 after a two year long period following the deal announcement. The Sprint stores are becoming T-Mobile stores, and Sprint customers can go to a T-Mobile store for service as well. The T-Mobile Black Friday sale has historically offered great discounts on iOS and Android phones, including the Apple iPhone and Samsung Galaxy phones. Other sales in 2020 included LG phones, the OnePlus 8T and the 5G Google Pixel 4a.
AT&T - One of the nation's top cell phone carriers with substantial coverage around the country. In 2020 they had big deals on the Apple iPhone and offered a Samsung Galaxy S20 FE 5G for free with eligible trade-in. There were also AT&T Black Friday deals on tablets, smart watches, bluetooth speakers, headphones and other accessories.
Amazon - The nation's top retailer usually has some of the best discounts on older cell phones over the Thanksgiving weekend. It's always worth checking out the Amazon Black Friday deals before you make a purchase over Thanksgiving Weekend.
Last Major Update: