Playstation Black Friday Deals 2022 – PS4, VR & Cyber Monday Deals
Find deals and bundles on the Sony Playstation 4, Pro and PSVR video game consoles for Black Friday 2022. We will bring you the biggest sales on the PS4 and PSVR from Thanksgiving Day to Cyber Monday 2022 including offerings by major retailers such as Amazon, Gamestop, Black Friday, Walmart and more!
2019 Black Friday Deals:
PS4 Bundle – save $100 @ Best Buy
Sony PS 4 1TB Playstation Bundle – $199.99 @ Best Buy (save $100)
PS4 1TB Bundle (including The Last of Us Remastered + downloads of God of War & Horizon Zero Dawn) – $199 @ Walmart
PS4 Bundle, DualShock 4 Controller + 3 free games – $199.99 @ Target (save $100)
PS4 Slim 1TB Fortnite Neo Versa Bundle – $199.99 @ Kohls (+$60 Kohl's Cash)
PSVR Astro Bot Rescue Mission and Moss Bundle – $199.99 @ Kohls (save $100 + $60 Kohl's Cash)
PSVR Bundle – $199.99 @ Target (save $100)
More Information:
Walmart Ad Shows Black Friday Nintendo Switch, Xbox One and PS4 Deals in 2019 (LEAK)
A screenshot of the Walmart Black Friday ad for 2019 purports to show huge deals on the Nintendo Switch Lite, Nintendo Switch, PS4 Slim, PS4 Pro and Xbox One S Digital bundle. The leak has not been confirmed and the source is not necessarily credible, but it will be a huge Black Friday deal if it is true. Here is what the screenshot indicates the savings that will be available at Walmart: PS4 1TB Slim – $149 (save $150) and PS4 Pro 1TB – $299 (save $100). The PS4 slim will be $50 cheaper that it could be found at Walmart last year during Black Friday, although we will have to wait to determine whether it is indeed a much better deal as the console last year was bundled with the Spiderman game. The PS4 Pro was not discounted last year at Walmart but has been available in October 2019 there at a price of $362. This means that you are going to get about 20% more off if you can wait until the end of November to buy. Learn more.
BEST DEAL WE SAW ADVERTISED IN 2018
Click here to get a $50 gift card with purchase of any Nintendo Switch, Xbox One or Playstation 4 system at GameStop. This is on top of their deals, like the $299 Nintendo Switch. Terms and Conditions: Starts Wednesday at 9 PM. Excludes Playstation 4 Spider-Man Bundle and Xbox One S 1TB Minecraft Bundle. Limit One per Customer.
Last Major Update:
The rumors are that the PS5 will be released by the end of 2019. If those rumors are true, Sony and retailers may offer some of the biggest price discounts ever in order to move inventory on the PS4, Playstation 4 Pro and PlayStation VR while they can ahead of next years huge announcement.
Be sure to check the bundles offered by different retailers as you may get the console plus an extra controller or a popular video game at around the same price as other retailers are offering the full system.
There is going to be a lot of price competition on video games this year in order to generate sales as the Nintendo Switch is going to get bigger discounts and both the Xbox One and the PS4 have been on the market for a while.
PS4 DEALS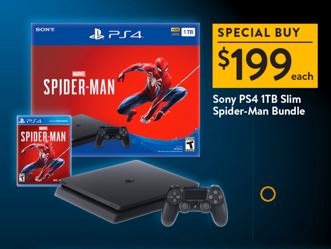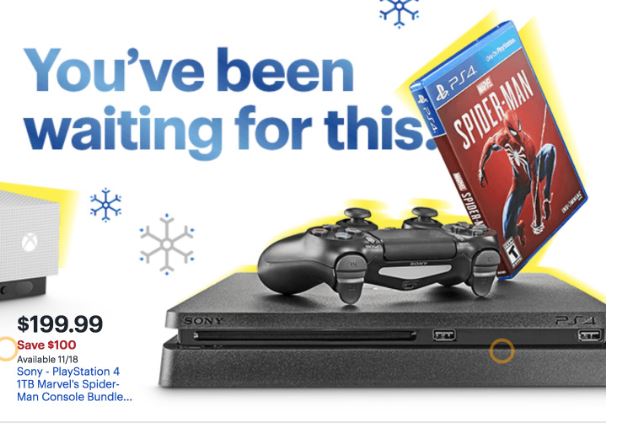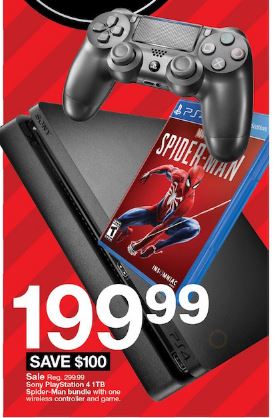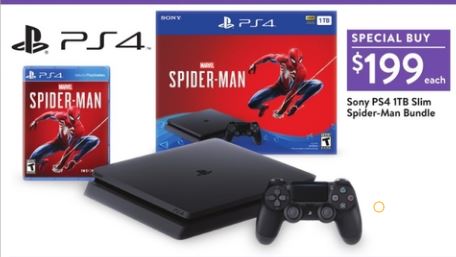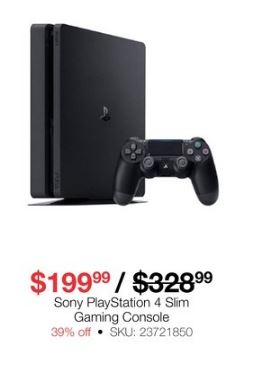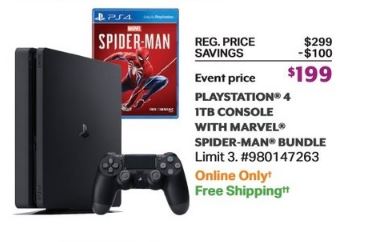 PSVR DEALS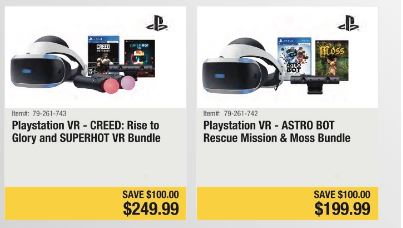 About the Systems:
The PS4 Pro is a super-charged system for faster, more powerful 4K gaming. It has double the power of the standard PlayStation and HDR for intensely vibrant colors. Every PS4 game is playable on PS4 Pro at a minimum of 1080p with an HD TV. Some have PS4 Pro features built-in, while others get a boost to enhance their performance and graphics. Life-like realism, curves become smoother, corners are sharper and visual elements come to life.
The PlayStation VR includes the system, headset, and camera required for PS VR games. Available separately to play the more than 200 games available for this virtual reality system.
How much will a PS4 be on Thanksgiving Day or Black Friday during 2018?
The Sony PS4 got to as low as $189.99 last year with most stores offering it at $199.99. Given that they didn't participate in Amazon Prime Day with discounts on this system and the regular price is still holding around $299 in October, we aren't expecting any bigger price drop this year. Instead, we think they will offer discounts on some of the newer versions of this system offered at higher price points (see below).
Playstation 4 Pro
This PS4 for owners of 4K televisions saw only one store discount last year to $349.99 ($50 savings off the regular price of $399.99). Expect that it could be as low as $299 this year, particularly if Sony decides to push it to encourage its video game enthusiasts to upgrade their system.
PSVR
The PlayStation VR bundle was regularly priced last year at $399.99 and saw a $100 discount over Thanksgiving weekend for a final low price of $299.99. Amazon also had a bigger bundle with headset, camera, Skyrim and two PlayStation Move controllers for $349.99 ($100 off the regular price of $449.99).
The price has been dropping on this system over the past year so there may be some great deals on the headset and camera to encourage the pruchase of compatible VR games this year as Sony looks to prepare its fans for the PS5.
Controllers
The DualShock 4 controller was priced last year at $39.99 (a $20 savings off the regular price of $59.99).
Video Game Titles
Last year there were a number of multiplatform hits on sale as well as a few PS4 exclusives such as Horizon: Zero Dawn and Yakuza O. Depending on the title, games ranged in price from $15 to $34.99 (half off or more from regular prices ranging from $39.99 to $59.99).
GameStop Deals
The nation's most popular retailer of video games will undoubtedly have sales on both these console systems as well as the video game titles. Stop back soon to see what they have to offer during Black Friday 2018.
PS4 Black Friday Deals:
We will post all of the discounts and sales on the PS4, Playstation VR and Playstation 4 Pro here for Thanksgiving Day and the rest of the Thanksgiving weekend.
PS4 Cyber Monday Deals:
We will post all of the online sales and price drops for these Sony Playstation products here which are available on the Monday after Thanksgiving.
Last Major Update:
Other Sony Black Friday 2020 Deals
Last Major Update:
Current Sales on Amazon:
Sale
Bestseller No. 1
Sale
Bestseller No. 2