HexBug Black Friday 2020 – BattleBots, VEX Balancing Boxer, Robotic Deals
Find the best deals on HexBug BattleBots, VEX Balancing Boxers and other robotics during Black Friday 2020. Funtober will collect all of the biggest online sales and price discounts available in print ads between Thanksgiving Day and Cyber Monday 2020.
2020 Black Friday deals
Here are the Hexbug deals that we found for 2018: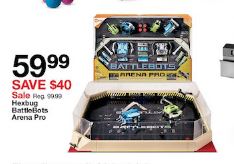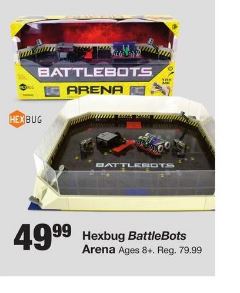 Hexbug BattleBots Arena Pro – $59.99 (save $40)
Here are a few other Hexbug robotics toys that we will be following for sales and deals over Thanksgiving weekend in 2019:
BattleBots Arena: The Arena was a finalist for the Toy of the Year. Use the remote control to destroy your opponent and push your bot to victory!
nano Bugs: The Hexbug nano Space Cosmic Command and Discovery Station allow children to unleash their imagination and create adventures for their nanos.
Mechanical Bugs: Battle Bugs include the Tarantula, Spider, Fire Ant, Scarab and more.
Battle Ground: Robots that fight with light.
VEX Robotics: Balancing Boxer Bots and other robotics including the Explorers Mobile Lab, Gatling Rapid Fire, Z-360, Trebuchet, Offroad Truck, Tombstone, Minotaur and more.
Robotic Soccer Arena: Control the robotic athletes in this model real-life soccer stadium.
HexBug Black Friday Deals: Check above for all of the sales that we have found happening during Thanksgiving 2019.
HexBug Cyber Monday Deals: We will post the online discounts for the Monday after Thanksgiving when they are announced (usually either late Sunday or early Monday morning!).
Last Major Update:
Last Major Update: