HexBug Black Friday Deals 2023 – BattleBots, VEX Balancing Boxer, Robotic Deals
Find the best deals on HexBug BattleBots, VEX Balancing Boxers and other robotics during Black Friday 2023. Funtober will collect all of the biggest online sales and price discounts available in print ads between Thanksgiving Day and Cyber Monday 2023.
2022 Deals:
Find more Black Friday deals right now at Amazon.com.
Past Deals:
2020 Black Friday deals
Here are the Hexbug deals that we found for 2018: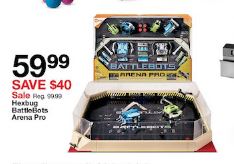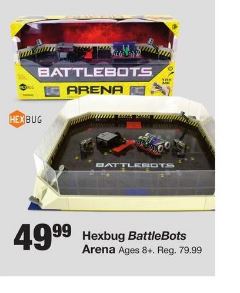 Hexbug BattleBots Arena Pro – $59.99 (save $40)
Here are a few other Hexbug robotics toys that we will be following for sales and deals over Thanksgiving weekend in 2019:
BattleBots Arena: The Arena was a finalist for the Toy of the Year. Use the remote control to destroy your opponent and push your bot to victory!
nano Bugs: The Hexbug nano Space Cosmic Command and Discovery Station allow children to unleash their imagination and create adventures for their nanos.
Mechanical Bugs: Battle Bugs include the Tarantula, Spider, Fire Ant, Scarab and more.
Battle Ground: Robots that fight with light.
VEX Robotics: Balancing Boxer Bots and other robotics including the Explorers Mobile Lab, Gatling Rapid Fire, Z-360, Trebuchet, Offroad Truck, Tombstone, Minotaur and more.
Robotic Soccer Arena: Control the robotic athletes in this model real-life soccer stadium.
HexBug Black Friday Deals: Check above for all of the sales that we have found happening during Thanksgiving 2019.
HexBug Cyber Monday Deals: We will post the online discounts for the Monday after Thanksgiving when they are announced (usually either late Sunday or early Monday morning!).
Last Major Update:
Where to Look for Black Friday Toy Deals:
Target - As one of the nation's top toy retailers, they role out the savings on the Target Black Friday ad every year. From BOGO deals on top toy manufacturers to 50% off savings on some of the leading toys, this is one of our favorite places to shop for kids gifts. You can get board games and lots more through their Buy Online Pick Up in Store, direct shipping or even by combing the shelves.
Walmart - With their everyday low prices and a huge selection of toys spread across the Walmart Black Friday ad, this is one of the top toy retailers during the holiday shopping season. If you are willing to fight the crowd for low prices on your children's toys, be sure to see what Walmart is offering in November.
Amazon - Amazon is one of the top toy retailers as toy shopping moves online, with dolls, action figures, games and puzzles, trains and more available delivered in two days with Amazon Prime from its warehouses. The Amazon Black Friday deals in November have hundreds (if not thousands) of products for children of all ages on sale ahead of the Christmas gift shopping season.
Kohls - This department store chain might not be known for their toy department, but our search for deals on kitchen appliances once took us here to see a corner of the store stacked with Black Friday toys. In 2020 they had a full page of the Kohls Black Friday ad with toys. With their Kohls Cash rewards and big Thanksgiving weekend savings, there's plenty of reasons to look here for that big christmas gift for your child!
GameStop - This video game meme stock is better known as the largest specialty retailer for video games in the country, with Nintendo Switch, Sony PS5 and Microsoft Xbox consoles and games filling the shelves. With studies indicating more than 150 million people in the United States play video games, it is becoming a more popular pasttime then ever. The GameStop Black Friday ad usually has some of the best deals on that new game console you have been craving, so take a look.
Kid's Clothing: Carters and the Children's Place - They might not have lots of children's toys, but they can be an essential part of Black Friday shopping for kids. Stock the drawers and closets in your kids rooms with clothing from these children's retailers.
Last Major Update: