Amazon Echo Dot Black Friday 2022 and Cyber Monday Deals
Find the best Black Friday 2022 deals on the Amazon Echo Dot from Amazon and its smart home line of products here at Funtober this Thanksgiving. From before Thanksgiving Day to Cyber Monday, we expect Amazon will be offering price discounts and a big sale on the old and new Echo Dots.
2022 Deals:
Amazon Black Friday Deals Starting Thursday November 28, 2019:
Echo Dot with clock – $35 (save $25)
Echo Dot – $22 (save $28)
Echo (3rd Gen) – $60 (save $40)
Echo Auto – $30 (save $20)
Current Sales on Amazon:
2018 Deals: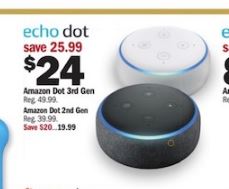 2018 Information:
The newly re-designed Amazon Echo Dot adds some new functionality and options over the 2nd Gen.The 3rd Gen Echo Dot features a better speaker system, enhanced voice recognition and much more.As with all Amazon products this will be a big Black Friday 2018 seller and there will be some great deals. We are tracking the best prices and deals on the Amazon Echo DOT 3rd Gen this Black Friday. Amazon is already offering some pre-release deals and bundles. Before we talk price let's get into the specifics of what has been upgraded.
The newly redesigned Amazon Echo DOT is currently available for pre-order for $49.99.The 3rd Gen Echo DOT features a newly designed speaker system with much better sound quality. A newly designed exterior with more rounded edges and three exterior finish options, which include black, grey and sandstone. Its Amazons bets selling voice controlled device and comes at a reasonable price point.
The new Amazon Echo DOT 3rd gen has a larger speaker driver and is up to 70 percent louder than the previous generation.Additional the 3rd Gen DOT now comes with a line-out jack to attach to your favorite speaker.
In addition to those new features the DOT 3rd Gen maintains all of the great functionality of the Gen 2. This includes voice control through Alexa, smart home product integration, streaming music, setting alarms, announcements, order products and much more.Amazon is constantly adding functionality to the DOT. Most recently added location based routines, which currently allows it to turn on your lights on when you get home, but the functionality will be expanding rapidly.They also added some family friendly features, such as whisper mode, which has Alexa respond in very low volume so baby can stay sleeping.They also offer the Echo Dot Kid edition with some super bright case offerings.Amazon is pushing hard into the smart home market and the Echo DOT is a key to their smart home strategy.The functionality continues to grow with 3rd party skills development.Alexa skills are very similar to apps on a phone.The skills add additional functionality which is growing every day.
Since the release of the first Echo device in 2014 Amazon has had a strong foothold on the smart home market.Thing shifted a bit in the 2nd quarter of 2018 when the Google Home Mini out sold the Echo for the first time.Amazons surprise announcement about a wide offering of smart home geared products including the release of Echo 3rd Gen is clearly a response to take back the market leading position.What all this means for Black Friday 2018 shoppers is there will be excellent deals on a slew of Amazon smart home products.
Amazon has historically offered some pre-Black Friday sales early in November to catch early shoppers.As they have in the past we expect Amazon to offer some great deals on the Echo DOT 3rd again this year.Since there is so much fierce competition in the smart home products market in addition to the Echo DOT being the entry level product we expect Amazon to offer even steeper discounts and better deals for Black Friday 2018. Pay particular attention to the bundle deals that Amazon offers. The purchase of a smart home hub like an Echo Dot is a great opportunity for Amazon to tack on a free or discounted smart home product.
The Echo DOT 3rd Gen is scheduled to release October 11, 2019.It is currently available for pre-order for $49.99.Amazon is also offering a bundle with an Amazon Smart Plug for $64.98.That's $10 saving off both items retail prices.
2019 Black Friday Deals:
We expect there will be additional savings available on these devices over Thanksgiving weekend. Stop back soon to see the best deals, bundles and sale on all the Amazon product offering this Black Friday 2019.
Last Major Update: