Baby Black Friday Deals 2023 & Cyber Monday Deals – Strollers, Car Seats, Baby Monitors & more
Find great deals on baby products during Black Friday 2023 and Cyber Monday. We will be scouring the online and print advertisements for the biggest discounts at buybuy Baby, Amazon and more. If you are looking to buy a car seat, stroller, baby monitor, nursery furniture, or even diapers at a big discount over Thanksgiving weekend, stop back in November at Funtober to see what retail stores and websites have planned for 2022. Keep an eye out for our choices for our own little one, born earlier this fall!
Shop today's deals on Amazon
2022 Deals:
Find more Black Friday deals right now at Amazon.com.
Past Deals
Here are a few of the items that we will be tracking baby deals on this year:
Car Seats: In order to travel safely with your child in the car, you will need a car seat to keep them safe. From rear-facing seats for infants, to forward facing seats for preschoolers, and flexible car seats to adapt to your child's weight and height, there are a lot of options on the market. We will bring you the best deals on them over Thanksgiving weekend here at Funtober.
Strollers: Let your baby ride in style with a great discount on a new stroller over Thanksgiving weekend. From UPPAbaby at the top of the market to less expensive options, Black Friday is a good time to find a deal on the best stroller for your needs, including double strollers, jogging strollers and more.
Carriers: Bond with baby while enjoying a free hand or two, with a wide selection of carriers this Black Friday, including soft-structured carriers, ring slings, wraps, and more.
Playards and other Play-zones: Let your child play safely in an indoor play yard, bouncer, swing or jumper, or on a playmat or baby gym.
Baby Monitors: Have peace of mind as your baby sleeps in the crib that all is well with an audio or video baby monitor. With options ranging from separate display monitors to internet enabled devices viewable from your smart phone, there are sure to be some great sales over Black Friday.
Aden and Anais – A good swaddling blanket is essential to raising your little one, from when they need to be swaddled through the toddler years. Aden and Anais is one of our favorite blanket companies, and they're having a Black Friday sale! We'll add to this page with other great blankets soon!
Nursery Furniture: Whether you are decorating your first nursery or looking to upgrade the baby's bedroom with a new piece of furniture, Black Friday usually offers a number of sales on cribs, baby mattresses, dressers, changing tables and more to enable you to get the perfect nursery.
Diapers: With experts estimating that a baby uses between 2,500 and 3,000 diapers a year, there's little chance that diapers acquired during a Black Friday deal go to waste. You may even want to stock up on different sizes given your child's projected growth. We've also checked out deals on cloth diapers, wipes, ointments, changing pads, diaper pails, diaper bags, and more!
There are still a few more weeks before the Black Friday sales start and a few more days before the ads for the biggest retailers and websites are posted online.
Target Deals: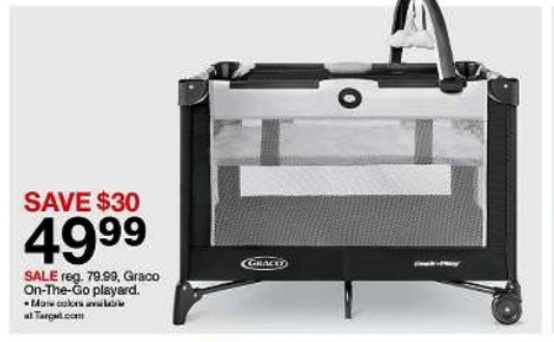 Stocking up for a new member of the family? Don't forget to set up a Baby Registry with your favorite retailers, including Amazon, Target, and Walmart.