Paper Shredder Black Friday 2020 Deals
We expect to find the best deals, discount and prices on paper shredders for Black Friday 2019. As the threat of identity theft increased having a personal paper shredder has become a must have security device. No matter how big or small your paper shredding needs there are some great deals to be had on paper shredders.
We are searching online and in store ads to find the best deals and sales on paper shredders this Black Friday. We are dedicated to saving you money by finding the best shopping deals from Thanksgiving Day to Cyber Monday 2019.
Primary Paper Shedder Purchasing Considerations:
There are six primary factors to consider when purchasing a paper shredder, price, cutting ability, security level, run time, safety features, and noise level. Price is the obvious factor, determine your budget and needs and see if you can get what you need or if you may need to adjust expectations or the budget. The cutting ability focuses on how many sheets of paper do you need to cut at one time, typically shredders can cut from one to 16 pages at a time.Some of the higher end paper shredders can shred cds, DVDs and credit cards. The security level is determined by how small and fine the pieces of paper are shred. Lower security level shredders cut the paper into strips and can more easily be put back together.Most house hold and small business paper shredders should be level P4, which is cross cut. This means the shredded paper will be in small confetti sized pieces. While not impossible to put back together, it certainly would be a very time consuming undertaking. Paper Shredders all have certain amounts of run time, which is the amount of time the shredder can actively be shredding paper before it needs to cool down.Unless you are shredding large volumes of paper, this should not be much of an issue.Most shredders have some basic safety features, such as an automatic foreign object shut off.This might be something to consider if you have little one running around. Many shredders come with a decibel rating, so that you can determine approximately how loud it is during operation.
Here is what are tracking so far:
Amazon Basics 6-Sheet Cross-Cut Paper and Credit Card Shredder – This paper shredder can handle 6 pieces of paper at a time, including paper clips and staples.It can also shred credit cards one at a time. It features 2 minute continuous run time with a 30 min cool down period. It has 3.8 gallon waste bin.This is a great light duty option at only $29.99.
bonsaii DocShred C560-D 6-Sheet High-Security Micro-Cut Shredder – If you want the security of micro cut shredding for your office our home this is a great light duty option. Shreds six pieces of paper simultaneously. Features a manual reverse for paper jams and thermal protection to ensure the motor does not over heat. A 4 gallon waste bin.Currently priced at $35.99
Fellowes Powershred 60Cs 10-Sheet Cross-Cut Paper and Credit Card Shredder with SafeSense Technology – Shreds 10 papers at a time. Can be run continuously for six minutes before cool down. Shreds staples, paper clips and credit cards. Features and automatic stop when fingers touch the paper opening. Currently priced at $78.63.
Aurora AU1200XD Compact Desktop-Style Basket Shredder -Shreds 12 pieces of paper at a time. Shreds cd, dvd,s and credit cards. It also features and auto-reverse anti-jam technology and a 5 minute continuous run time. The waste basket is 1.8 gallons, which makes this is a great desk top option.Currently priced at $84.97.
There are a lot of excellent paper shredders from Amazon, Fellowes, Bonsaii, Aurora and Dahle. We are tracking the best sales deals and offers on the bestselling brands and models of paper shredders to make sure you get the best deal over Thanksgiving weekend whether it is Black Friday or online during Cyber Monday 2019.
Last Years Deals: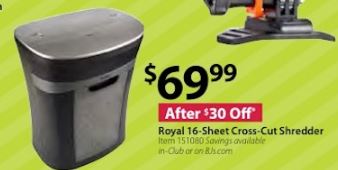 Last Major Update:
Current Sales on Amazon: