Coravin Black Friday Deals 2022 & Cyber Monday Deals for the Wine System
Find the best deals on the Coravin Wine System during Black Friday 2022. Funtober will collect and post all of the online deals and price discounts available in print ad sales between Thanksgiving Day and Cyber Monday 2022.
Coravin is a wine preservation system that is designed to make the last glass just as amazing as the first. The wine system enables you to drink any wine, any time, without ever pulling the cork.
2022 Deals:
Find more Black Friday deals right now at Amazon.com.
Past Deals:
2020 Black Friday Deals:
Bed Bath & Beyond has Coravin Model Three for $199.
Bed Bath & Beyond has Coravin Model Five for $299.
2019 Cyber Monday Deals
Coravin Standard Needle, $19.11 @ Amazon (regular $26.07) but with $5.52 shipping
2019 Black Friday Deals:
Coravin Wine Preservation – Save 30% @ Best Buy
Coravin Wine Preservation – Save 30% @ Bed Bath & Beyond
There is currently a Black Friday sale with a $105 price discount (30% off) on the Model Two Plus Pack Wine Preservation System from Coravin on Amazon. It is regularly priced at $349.95. There are a few other sales as well. The Wine Preservation System Aerator has a $28 price discount giving it a sale price of $41.60. A 2-pack of the capsules for the wine preservation system are $12.56 (save $7). You can also save $20 on the three needle kit as well!
Here are the products that we will be following over the holiday weekend:
Model Eleven – The first automatic and Bluetooth connected system.
Model Two Elite: Also known as the Wine Journey, features high-end colors and chrome accents.
Coravin Black Friday Deals:
We will be tracking here at Funtober all of the sales over the Thanksgiving weekend. Stop back on Wednesday or Thursday to see everything that we have found.
Coravin Cyber Monday Deals:
Funtober will post all of the online sales on the wine preservation system available on the Monday after Thanksgiving.
About Coravin: The company is privately held and located in Burlington, MA. The company is focused on transforming the way wine is served by providing the ability to enjoy wine sealed by a cork without removing it. It was founded by a medical device inventor with a passion for wine and technology.
Last Year: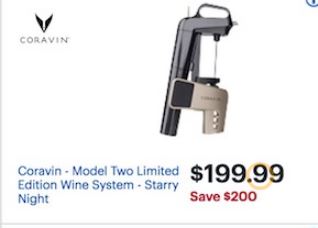 Last Major Update: