Perfectly Posh Pink Week 2020
Perfectly Posh is a naturally-based pampering company offering 10 whole days of deals (Pink Week 2019), starting the Monday before Thanksgiving. Snag soaps and lotions, face masks and moisturizing lip colors, and more, all made in the US with the best ingredients for your skin to enjoy, all at great discounts! Plus you earn rewards points (Perks) on every purchase, which you can use on free products, and almost every item is eligible for the Buy 5, Get 1 Free promotion.
Check back daily to see what is offered each day! We will be adding the newest deals for 2019 at the top of this page to avoid confusion, so today's deal will always be at the top of the page.
Pink Week 2019
Day 5: Nov 29, 2019
Happy Black Friday! Ready to save 50% on one of my favorite Posh lines? Today's deal is all about the BOGO! Buy any Skin Stick, get another for free! (/a> This applies for The Healer, Happy Dance, So Perky, Very Sleepy, and Bee Yourself – or go jumbo and throw two Giant Healers or two Cann I Be Skin sticks, and one of them will come up free as well! Fine print: Does not work with mix and match on the Giant Healer or Cann I Be, either with each other or another skin stick, but the $15 Skin Sticks are mix and match. Limited time only with limited quantities on each Skin Stick. Begins 11/29/19 at 8am (MT) through 11:59pm(MT). Not eligible for Buy 5 Get 1 Free, perks, or Host Half-Off.Plus free shipping on orders of $50+ continues! See below for terms (in bold).
Day 4: Nov 28, 2019
Get a Boxed Set! Limited quantities, only 500 of each boxed set available! Get a hand creme and a So Soapy in your pick of the following scents: Lady Limoncello (new to the So Soapy line!), Brazilian Bombshell, Beach Blanket, and Sassyooma! Lady Limoncello So Soapy bars will also be available to purchase separately. Offer valid 11/28/19 at 8am(MT) to 11:59pm(MT). Eligible for Buy 5 Get 1 but not available with Perks or Host Half-Off.
Day 3: Nov 27, 2019
Enjoy a brand new product today! Square Up Sugar Cube Scrubs are a cross between our normal sugar scrubs and a Snarky bar, in a delicious peppermint scent that is perfect for winter! It's a natural exfoliating blend of sugar, salt, and loofah, plus peppermint to invigorate, caffeine to tighten, and coconut oil to moisturize. Exfoliate dry, dull, uneven, dead skin away to reveal the soft, radiant, younger looking skin below! Plus free shipping continues! See below for terms (in bold).
Day 2: Nov 26, 2019
Get a free woolen beanie with all orders over $50! Pamper yourself and your favorites while keeping your head warm in the coming winter storms! It's an adorable pink knit with a pom on the top, so you can be stylish and cozy. PLUS free shipping is still going strong, so get free shipping and the beanie for your $50+ order! Just as with the free shipping (below), $50 subtotal must be met after all Perks, Buy 5 Get 1, Host Half-Off and before tax etc.
Day 1: Nov 25, 2019
A new skin stick, perfect for cold and flu season! One Hot Toddy TM Skin Stick is an on-the-go shea butter stick that helps supports your body's natural defenses with a blend of powerful and protective essential oils, such as cinnamon, clove, frankincense, and cardamom! Whenever you're feeling under the weather, or if you need a warm pick-me-up, rub this stick all over your throat, chest, and the bottoms of your feet! PLUS
Enjoy FREE shipping on all orders over $50 all week long! To qualify for free shipping, orders must be $50 before tax and after Buy 5 Get 1 Free, Perks, and/or Host Half-Off have been applied. Free shipping ends 11/30 at 11:59PM (MT). US Territories do not qualify for free shipping.
Posh Products, Fall 2019
Hand Creams
Posh's line of hand creams feature apricot kernel oil for a rich and moisturizing experience without any of the greasy feeling you're used to! Currently available in 10 scents, including Mad for Lav, a new Splurge item (available while supplies last) with lavender oil.
Chunks and So Soapy
Chunks and So Soapy are Posh's line of luxurious soaps, featuring ingredients like RSPO sustainably sourced palm oil from Guatemala, shea butter, coconut oil, and other moisturizing ingredients for a bath experience you'll remember, enjoy, and look forward to every day. There are currently 6 Chunk scents, and 5 So Soapy scents.
Snarky Bars
Snarky bars are an exfoliating experience unlike any other. With eco-friendly sugar scrubby beads in a shea butter base, these hand-pored bars are an amazing way to get rid of rough, cracked, chapped skin while moisturizing it into healing. There are currently two Snarky bars available for purchase, and the Glow Hard or Glow Home snarky from Halloween glows in the dark, thanks to luminescent zinc sulfide! We also have scrubs and body polishes in four scents as well!
Face Masks
Face masks are all the rage in facial pampering! Posh's masks help exfoliate, cleanse, moisturize, detoxify, and more. My favorite is Cackle Spackle, a rinse-off charcoal mask with a delightful tingle, featuring kaolin clay, peppermint, charcoal and more (but without the pain or skin damage of a peel-off mask!). Pick up a mask for each area of your skin or to use throughout the week, and don't forget to pick up a face wash and moisturizer as well, for balanced skin!
Face Washes and Moisturizers
Keeping skin clean and moisturized is the key to an even skin tone, balanced oils, and fighting dryness. Posh has several face washes, from the gentle wash of Bright Young Thang to the gentle daily exfoliation of BFF (Best Face Forever), and Bromance for men (although plenty of fellas use Bright Young Thang or BFF too, and love it!). Follow up each wash or mask with a moisturizer, such as Moisturize 911 or Give Him Gel. And all the face products in the Look Naturals line are free from artificial fragrances, using essential oils for their delicious scents.
Skin Sticks
Skin sticks are one of my favorite Posh products, because they're just so darn amazing! Portable essential oils in a skin-friendly shea butter and beeswax base make it easy to handle mood and skin ailments (like Healer on dry skin, or helping scrapes and other small skin irritations heal by keeping they hydrated). I've had many a headache that Perk stick helped disappear right quick, and parents and insomniacs swear by So Sleepy's calming lavender to get little ones and those who struggle to relax to sleep. A newer skin stick is the CBD skin stick, with 100mg of Full-Spectrum CBD (cannabinoid) per stick, to help de-stress, relax, detox skin, ease tension, and more on the go. Posh also sells bottles of full-spectrum CBD drops, perfect for topical applications mixed with your favorite skin care products or directly.
These are a few of my favorite Posh things, and I'm so glad I've had the last three+ years to pamper myself with this naturally-based goodness. I hope that this Pink Week (Black Friday) you find some great deals to pamper yourself! "Me time" is so important, especially around the holidays! If you want to learn more about our products, or want to connect, please feel free to reach out on Facebook to my VIP group, Beautifully Posh with Jayne. I also carry stock on hand, including our bath bombs (Fizi) with magnesium-rich salts from the Great Salt Lake in a ton of amazing scents, and retired/exclusive product!
Pink Week 2018
Day 1: Nov 19, 2018
Skin Sticks (portable essential oil sticks) are Buy 1 Get 1 Free (limit 5 free per cart) PLUS all orders of $49 or more get to pick a freebie – Holly Jolly soap (scent: pomegranate, pine & clove) or exclusive sneak-peek Sassyooma Jelly shower gel (scent: citrus; limited quantity, not available again until January 2019 in new catalog release).
2017 Deals
Here are the deals that ran during Pink Week 2017:
BONUS – runs Nov 23 2017 7pm MT – Nov 26 11:59pm MT
Get free shipping with all orders over $25, and the first 3,000 customers to place an order over $50 will receive a free Nice Ice glimmery skin stick as well! This deal ends Sunday at 11:59pm MT, so you can take advantage of it on all Black Friday deals! Woohoo!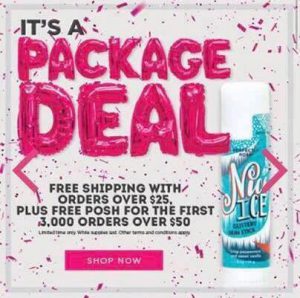 Day 5: Friday, Nov 24, 2017 – Deals Deals Deals
There are three waves of amazing deals today, and with free shipping on all orders over $25, it's easy to take advantage of all of them! The deals are on top Posh products from all different product lines! There are limited quantities of any given product for the deal price, so get it now before the deal is gone! These deals do end at 11:59pm MT (or before) so do not miss out! These deals plus free shipping this low do not come around every day!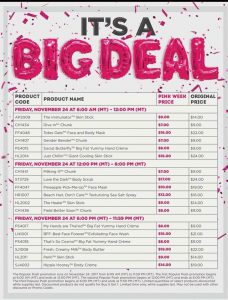 Day 4: Thursday, Nov 23, 2017 – Free gift with purchase
Today, when you buy a Vial tin, get a free Preach Peach lip oil! Vial is Posh's new long-wear lip color, and is the only green-chemistry certified lip color on the market. The three piece tin contains the (necessary) primer and your choice of two colors or a color and optional top gloss, including the Decked Out top coat. When purchased as a tin, you enjoy a savings of $5, and today only you also get a free lip oil in a deliciously fresh Peach scent, a $15 value. This deal ends today (11/23) at 11:59pm MT, so grab it now and enjoy perfectly moisturized and beautifully colored lips.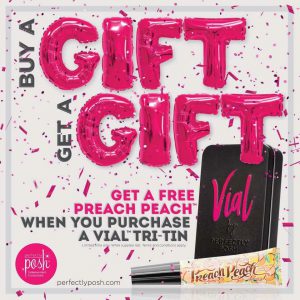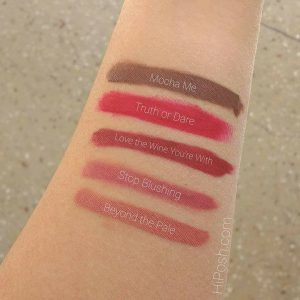 Day 3 – Wednesday, Nov 22, 2017 – Stocking Stuffers (part 2)
Another day, another set of great deals on some of our favorite products, including a brand new lip gloss, Kissletoe (peppermint and a little shimmer). Purchases over $50 continue to receive a free IndiGo Girl body butter with their purchase (a $22 value).These sales end at 11:59 pm MT on 11/22, so don't miss out!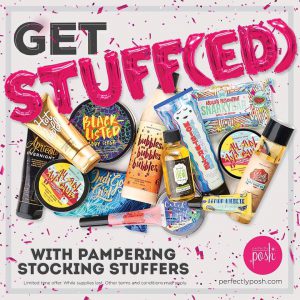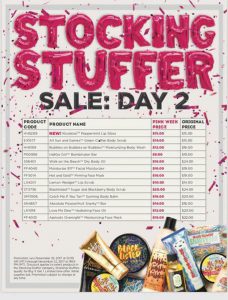 Day 2 – Tuesday, Nov 21, 2017 – Stocking Stuffers (part 1)
Enjoy a sale on select stocking-stuffer sized items, including a brand new Big Fat Yummy hand creme, Warm Welcome (davana, bergamot, orange and spice in Posh's classic non-greasy formula of apricot kernal oil and other moisturizing ingredients). Purchases over $50 continue to receive a free IndiGo Girl body butter with their purchase (a $22 value). These sales end at 11:59 pm MT on 11/21, so don't miss out!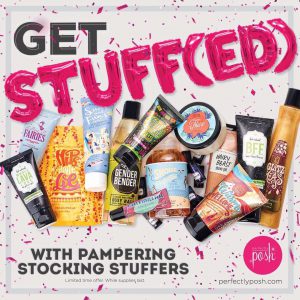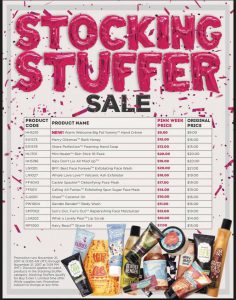 Day 1 – Monday Nov 20, 2017 – Free gift with purchase
Receive a free IndiGo Girl body butter with any purchase over $50! This is an incredible value of $22.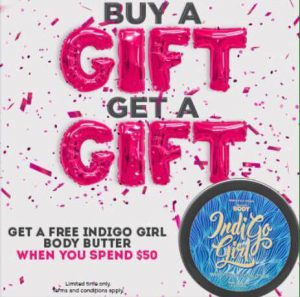 About Perfectly Posh
Perfectly Posh is a pampering company founded in 2011 with its headquarters in Salt Lake City, Utah. It focuses on products that pamper from head to toe while using wholesome, naturally based ingredients like shea butter, essential oils, fruit extracts, and more, because "You Deserve It.". The names, scents, and packaging are all fun, and encourage you to take some "me time," whether you have 30-seconds for some hand creme or an afternoon for a home spa experience. They do not use parabens, sulfates, soy or gluten fillers, paraffins, or petroleum by-products. They do not perform animal testing and offer a wide variety of vegan items (except those products that contain milk, yogurt, honey, or beeswax). They use certified sustainable palm oil and rosemary. Almost everything is under $25, with a rewards program (Perks) where you earn 10% to use later, and a Buy 5 Get 1 Free program that helps you get 6 products for the price of 5 and includes almost everything (notable exceptions being the lowest priced items, lip balms, and some retired items).
If you have any questions, please contact Funtober COO/Posh Independent Consultant Jayne at [email protected], or on Facebook.
Health, Beauty & Cosmetics Deals
Ahava
Aveda
Bare Minerals
Bath & Body Works
Benefit Cosmetics
Clinique
elf Cosmetics
Estee Lauder
Elizabeth Arden
Honest Company
Kiehls
L'Occitane
La Mer
Make Up For Ever
NYX Cosmetics
Olay
Origins
Perfumania
Posh
Planet Beauty
Sephora
Sigma Beauty
Smashbox
The Body Shop
Ulta
Urban Decay
CVS
GNC
Rite Aid
Vitamin Shoppe
Vitamin World
Walgreens
Last Major Update: