Sony Bravia, 4K TV Black Friday 2019 & Cyber Monday Deals
Find the best deals on a Sony Bravia 4K HD TV for Black Friday 2019. From Thanksgiving Day to Cyber Monday 2018, We will post the best sales and price discounts on Sony TVs over Thanksgiving weekend. We search all of the top retailers including Amazon, Best Buy, the Sony website and more so that you can save big at the start of the holiday shopping season.
Sony is Japanese multinational corporation with its headquarters in Tokyo and a diverse manufacturing business in consumer electronics products. The company employs more than 100,000 people worldwide.
Click Here to Save 15% or More on Sony 2018 4K Ultra HD TVs at Amazon during Black Friday 2018
Sony XBR85X850F 85-Inch 4K Ultra HD Smart LED TV – $2998 (save $1000)
Sony XBR75X850F 75-Inch 4K Ultra HD Smart LED TV – $1798 (save $500)
Sony XBR65X850F 65-Inch 4K Ultra HD Smart LED TV – $998 (save $400)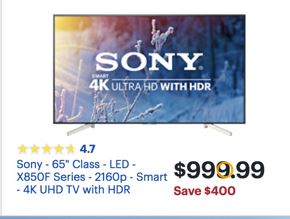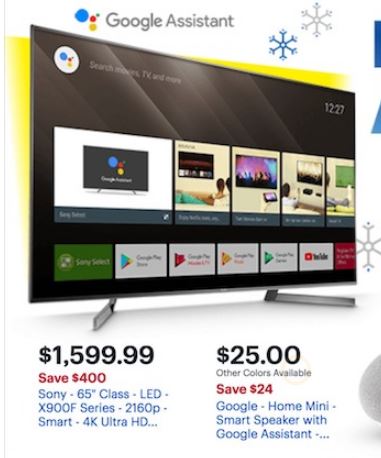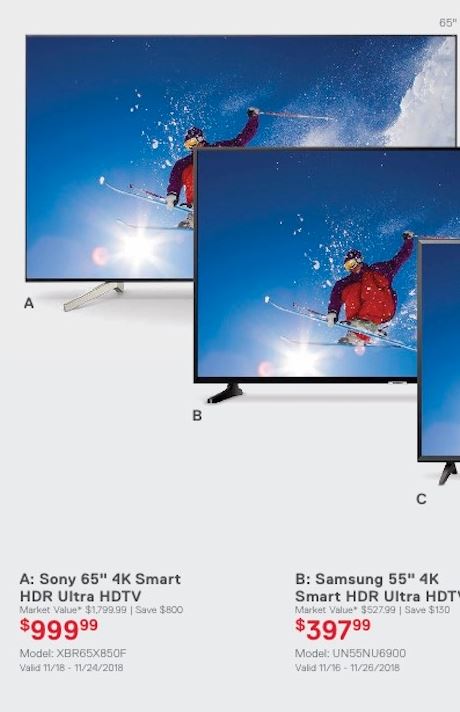 Bravia is a brand of Sony TVs. It stands for "Best Resolution Audio Visual Integrated Architecture". All high definition, flat panel LCD TVs from Sony have had the brand label since 2005. The Sony OLED televisions are sold under the Bravia name.
Here are some of the retail stores and online websites that offered deals on Sony televisions for Black Friday and Cyber Monday in 2017:
Best Buy: This is one of the nation's largest electronics retailers and offers sales with large savings on multiple tv manufacturers every year.
Sony 75″ LED 4K Smart TV – $1999.99 (save $800)
Sony 70″ 4K TV – $1199.99 (save $600).
Sony 60″ 4K Ultra HD TV – $599.99 (save $400)
Amazon: This early Black Friday deal from the nation's largest online retailer gave consumers 25% off an excellent TV.
Sony 65″ XBR65X900E 4K Ultra HD TV – $1498 ($500 off)
Other Amazon TV deals included sales on:
KD60X69OE 60 Inch 4K Ultra HD
KD70X690E 70-Inch 4K Ultra HD Smart LED TV
XBR55X900E 55-Inch 4K Ultra HD Smart LED TV
XBR65X850E 65-Inch 4K Ultra HD Smart LED TV
XBR65X900E 65-Inch 4K Ultra HD Smart LED TV
Sony Bravia Black Friday 2019:
We will start seeing deals announced or leaked in early November. We will post them here when they are available. At the moment, there have not been any notworthy announcements.
Sony Bravia Cyber Monday Deals:
We would love to be able to bring you the online price discounts on Sony televisions early but most websites wait until Sunday evening or Monday morning in order to start posting them online. We will gather them here as soon as they are available.
Stop Back Soon!
We will bring you Sony TV Black Friday deals as soon as they are released or leaked. We hope you will stop back in a few months and see the first of those postings!
Last Major Update: