Samsung Soundbar Black Friday Deals 2022 & Cyber Monday Deals
Find the best deals on Samsung Sound Bars for Black Friday between Thanksgiving Day and Cyber Monday 2022.
2022 Deals:
Find more Black Friday deals right now at Amazon.com.
Past Deals:
Samsung Black Friday Soundbar Deals for 2020:
Best Buy Samsung Soundbar Deals:
Samsung HW-Q70T 3.1.2ch Soundbar with Dolby Atmos / DTS:X (2020) – Save $300
Samsung HW-Q60T 5.1ch Soundbar with 3D Surround Sound and Acoustic Beam (2020) – Save $220
Samsung – 2.1 Ch 290W Sound Bar With Wireless Subwoofer Dolby Audio – Save $130
Samsung HW-T650 3.1ch Soundbar with 3D Surround Sound (2020) – Save $120
Samsung HW-T450 2.1ch Soundbar – Save $30
Samsung.com Soundbar Black Friday Deals:
Get up to $400 off select Q Series Soundbars
Get 45% off the T-Series Soundbar
Save $400 on the HW-Q950T Soundbar or save $200 on the HW-Q900T Soundbar.
Save $190 on the HW-T650T.
We are tracking the best in store and online sales, deals and offers on all of the Samsung SoundBars to hunt down the best prices for Black Friday 2020. No matter what your budget or how particular of an audiophile you are Samsung has a SoundBar to fit your requirements. From as little as a $150 to $1700 for a full surround in theater experience Samsung offers a lot of SoundBar options. As Black Friday approaches we will bring you the most up-to-date offers, sales and pricing on all of the Samsung SoundBars.
The Best Buy Black Friday deal has a number of big sales on Samsung soundbars. The 2.1 Channel 290W Soundbar System with a 6.5″ wireless subwoofer in black will be 50% off of its regular price of $279.99 for a sale price of $139.99. The 3.1 Channel 340W Soundbar system with wireless subwoofer in charcoal has a sale price of $209.99 for savings of $190 off the regular price of $399.99. The 5.1 Channel 360W soundbar system with 6.5″ wireless subwoofer. If you are open to other soundbar deals, they have savings on Vizo, Bose, JBL, Sony, LG and Polk Audio as well. If you are looking for a sound bar system with a Black Friday deal, check out the Best Buy deals.
Here's what we are tracking so far:
At the top end of the offerings is the Samsung HW-N950 SoundBar with Dolby Atmos currently priced at $1697. Featuring Harmon Kardon speakers for superb sound quality and in theater sound. The seven channel 17 speaker system integrates seamlessly with Samsung televisions. The Dolby Atmos technology and 17 speakers were designed to engulf the viewer in the listening experience. The HW-N950 integrates with Alexa for music playback. Your smartphone can be used as a remote to control your HW-N950 SoundBar system. The HW-N950 provides the absolute best that Samsung and Harman Kardon have to offer in sound quality.If the price stag is a little too steep keep your eye out for older system which come in a several hundred dollars cheaper.
One of the most popular models is the more moderately priced Samsung HW-N450 SoundBar. It's a 320 watts of sound with a wireless woofer. The HW-N450 integrates seamlessly with most Samsung televisions, so simply plug and play. It also supports Bluetooth streaming music.The system is expandable, so you can upgrade your listening experience to your budge and preference at your convenience.
The most affordable of Samsung's offerings is the Samsung 2.1 Channel 200 Watt SoundBar currently priced at $199, which includes a wireless active subwoofer. This device supports Bluetooth connectivity so all you need to do is plug the device into the electric socket and everything else connects wirelessly. If you have a more particular ear the SoundBar can be connected via HDMI cable.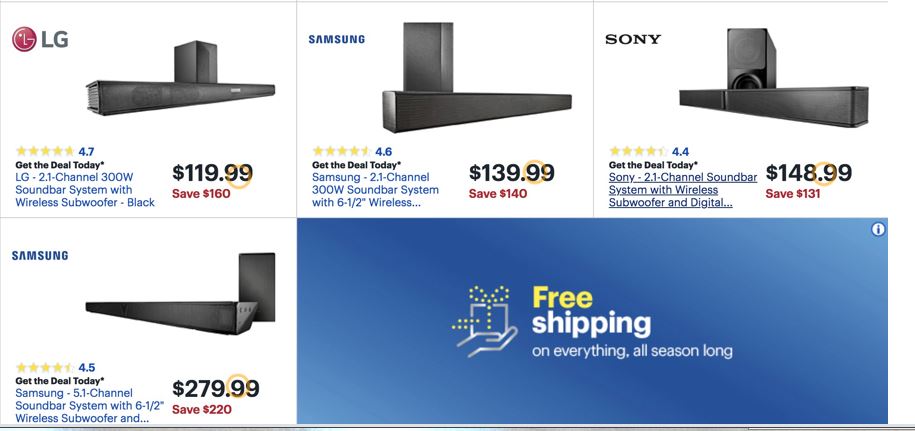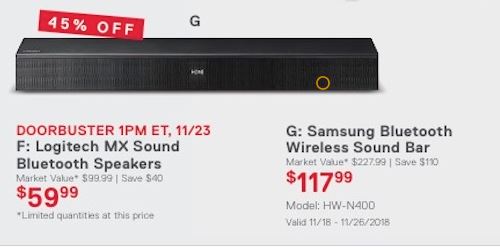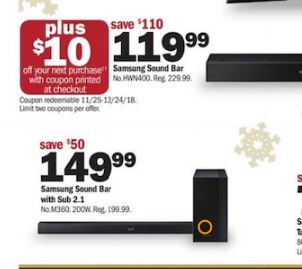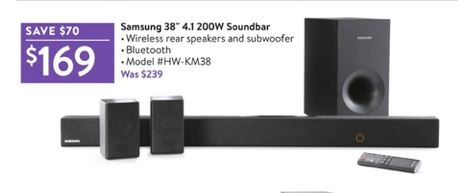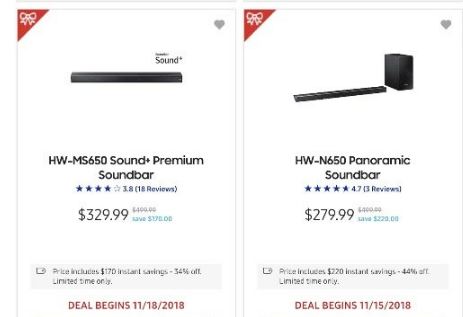 Samsung offers 15 different SoundBar offerings with different features and offerings.No matte which Samsung SoundBar you are looking for we are searching out the best online and in store sales, deals, prices and offers for Black Friday 2019. If you're looking to save big keep your eyes out for last year's models because there are some steeply discounted stock still floating around. We expect retailers to blow out older models of Samsung SoundBar stock leading up to Black Friday 2019. So if you are looking to save big and don't need or want the latest and greatest we suggest buying sooner rather than later.Check back for updated deal and pricing information as Black Friday 2019 closes in.
Last Major Update: