JBL Black Friday Deals 2023 – Pulse, Charge, Flip Speaker Deals
Find the best deals on JBL speakers during Black Friday 2023. If you are looking to buy a JBL Bluetooth speakers we are searching out all the best in store and online sales, deals and offers on the JBL Xtreme 3, Charge 3 and Flip 3 to make sure you get the best price from Thanksgiving Day to Cyber Monday 2023. No matter what your acoustic needs JBL has a Bluetooth speaker to fit the bill.
2019 Black Friday Deals:
JBL Charge 4 – $99.99 @ Kohls (save $80 + $30 Kohl's Cash)
JBL Charge 4 – $99.99 @ Best Buy (save $80)
JBL Flip 4 – $59.99 @ Best Buy (save $40)
JBL Flip 3 – $50 @ Walmart
JBL Boombox – $379.99 @ Best Buy (save $120)
JBL Clip 3 – $29.99 @ Best Buy (save $40)
Popular 2019 JBL products:
JBL Charge 4 – This is a Portable Bluetooth Speaker with full-spectrum sound and a built-in power bank. It has two JBL bass radiators and a proprietary driver. It lets you bring the party with you anywhere you want to go. It is regularly priced at $179.95 with discounts on various websites taking it down to around $120-ish.
JBL Flip 5 – This is a lightweight, portable waterproof speaker that gives you bold sound on every adventure. The Flip 5 gives you more than 12 hours of playtime on its batteries. It is also has an IPX7 waterproof design so it can be taken up to three feet deep. You can even pair it with two JBL PartyBoost compatible speakers. It is regularly priced at $119.95
JBL Reflect Flow – The Reflect Flow are true wireless sport headphones designed for the active lifestyle. They also give you hands-free stereo calls as well as access to your voice assistant at the touch of a button. They are regularly priced at $149.95.
JBL Pulse 4 – Get a dazzling LED light show in 360 degrees for 12 hours, rain or shine, with this portable bluetooth speaker. It is regularly priced at $249.95.
JBL PartyBox 300 – It is a powerful party speaker with vivid light effects and the sound quality JBL is known for. It lets you stream your playlist via a USB stick or Bluetooth, as well as plug in your Mic or Guitar. It has a rechargeable battery as well as 12V DC input. Regular price is $499.95.
Here is what we are tracking so far over Thanksgiving weekend:
The JBL Xtreme 2 is currently priced as low as $299.This is JBL wireless Bluetooth jumbo offering.This is the largest portable Bluetooth speaker that JBL offers. The Xtreme 2 features better drivers than the previous generation for a richer sound and harder hitting bass.The Xtreme is also fully waterproof.While head to the Xtreme 3 brings more bass and better sound than its direct competitor the UE MEGABOOM, all that extra sound comes in a bigger and much heavier package.The Bluetooth speaker provides 15 hours of playback and can be connected to up to two devices. The Xtreme 2 also features some active echo cancellation, to keep that reverb to a minimum.They are available in three color, forest green, ocean blue and midnight black. If you're trying to fill the pool area with music, then the JBL Xtreme 2 is the way to go.
The JBL Charge 4 comes in at a more affordable $150. While smaller than its larger sibling the Charge 4 is no slouch. Featuring improved sound and the integration of voice assistances over the previous generation. This Bluetooth speaker is now fully water proof and contains a 7500 mAh power bank.This way you can charge your devices on the go via the usb port. A full charge will get you 20 hours of playback. The JBL Charge Bluetooth speaker has all eh function a consumer would expect at this price point.The form is a bit bulky weighing in at 1.7 lbs., its portable, but will take up lot of real-estate in your bag.The Charge 4 has a tough and intuitive exterior design. All the buttons are raised for easy operation by feel alone. The sound quality is good and it provides solid base for a small portable Bluetooth speaker. There are several different color options including special edition camo, just keep in mind some of the colors might cost you a few extra bucks. The Charge 4 is an excellent portable multifunction option for to bring the party wherever you go.
The JBL Flip 4 is currently priced at $89.It's the smallest of JBL portable Bluetooth speaker options. Weighing in at just over a pound, it brings a lot of punch for its super lightweight class.The sound is significantly improved over the 3rd generation flip.Better overall sound quality, more bass and louder it's a significant upgrade, The playback time also increased to 12 hours, which is 10 % more than the previous Flip. The Flip 4 stacks up well against the pricier UE Boom 2.The Flip seems to have less bass and a more solid midrange sound.The Flip 4 is available in 6 colors.
2018 Deals:
JBL has been provided premium sound for decades and the 2018 offerings of the Xtreme 3, Charge 3 and the Flip raise the bar even higher.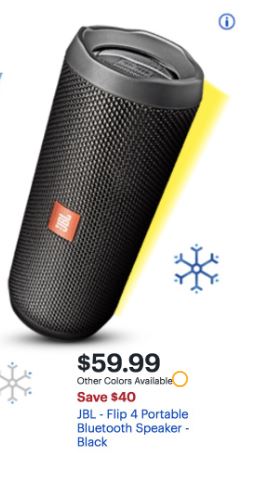 There is a lot of competition in the portable Bluetooth speakers market so we expect significant discounts and offers for Black Friday 2019.If you don't mind passing up on some of the upgrades or just want to save a few bucks, there are still some of the Xtreme, Charge 3 and Flip 3's available priced well below the 2018 models. We are digging through announcements about in store and online sales, deals and offers on all of the JBL portable Bluetooth speakers to find the best prices, offers and bundles this Black Friday. Whether you want the Xtreme 2 or the more portable Flip 4 JBL can bring the sound to any party. Check back for the lasts deals, sales and pricing information as Black Friday 2019 gets closer.
Last Major Update: