LG G7 ThinQ Black Friday Deals 2022 & Cyber Monday Deals
We are watching all the announcements online, in store and in print to search out the best sales, deals and offers on the LG G7 ThinQ for Black Friday 2022 and Cyber Monday 2022.The name may be a mouthful, but this is a straight forward often over looked smart phone manufacture looking to gain market share.The G7 was designed to be a simple not flashy smart phone. Which all translates into a well packaged Black Friday deal waiting to happen.
Here is what the LG G7 ThinQ has to offer:
A 6.1" super bright display with enough juice to be visible in bright sunlight. LG has an integrated Google Assistant button on the top left side of the phone with voice recognition, so they aren't jamming their assistant down your throat like most of the competitors. The dual rear camera features machine learning integrated AI that can sort objects and recognize low light situations and adjust into Bright Mode as necessary.The 8MP front facing camera is a hug upgrade from previous models. The LG 7 has the same Qualcomm Snapdragon 845 as all the other big dogs do. The G7 is available with 4GB of RAM and 64G of storage or 6GB of RAM and 128GB of internal storage.The G7 does have a headphone jack and boom box speakers for a great listening experience.
Available in a wide selection of colors including; Raspberry Rose (T-Mobile only), New Aurora Black, and New Platinum Grey.
The LG G7 ThinQ is good at everything, but does not stand out at anything. It lacks the cutting edge features of the Galaxy S9 or the iPhone X.It not a stand out phone, but will definitely be a big hit because it really is straight forward to use and has all the features you would expect for the money. The G7's only weak spots are the original list$750 and AT&T will only be carrying the LG V35 ThinQ.So if you want to stay with AT&T you'll need to buy an unlocked G7.As for the price LG typically drops the price on its phones a few months post launch and the G7 is already popping up for $650.
2018 Deals: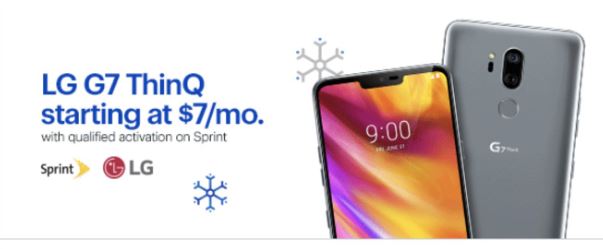 We expect the LG to offer some great deals and sales on the LG G7 ThinQ leading up to Black Friday 2019. A lot of review have referred to the G7 as the Toyota Corolla of phones.We think the G7 is a very safe play on LG's part and they are focused on volume sales, so the deals will be fantastic. We are watching for the best print, in store and online deals on the LG G7 ThinQ to make sure we find you the best price for Black Friday 2020.
Last Major Update:
Where to Look for Black Friday Phone Deals:
Best Buy - As the nation's leading specialty retailer for consumer electronics, the Best Buy Black Friday ad usually has some great sales on cell phones.
Walmart - In 2020, Walmart split the Walmart Black Friday deals into three ads and the biggest cell phone ads ran as a week long deal in the second Black Friday ad.
Verizon - This mobile cell phone carrier and telecommunications company became famous for its slogan: Can you hear me now? But the Verizon Black Friday deals are probably another reason that they have gained traction among cell phone users. They will have great deals on the Apple iPhone, Samsung Galaxy smart phones, and many others (such as LG, Moto, OnePlus and the Google Pixel).
T-Mobile - This top telecommunications company operating as a subsidiary of Deutsche Telekom is one of the major wireless operators in the United States. They acquired Sprint in 2020 after a two year long period following the deal announcement. The Sprint stores are becoming T-Mobile stores, and Sprint customers can go to a T-Mobile store for service as well. The T-Mobile Black Friday sale has historically offered great discounts on iOS and Android phones, including the Apple iPhone and Samsung Galaxy phones. Other sales in 2020 included LG phones, the OnePlus 8T and the 5G Google Pixel 4a.
AT&T - One of the nation's top cell phone carriers with substantial coverage around the country. In 2020 they had big deals on the Apple iPhone and offered a Samsung Galaxy S20 FE 5G for free with eligible trade-in. There were also AT&T Black Friday deals on tablets, smart watches, bluetooth speakers, headphones and other accessories.
Amazon - The nation's top retailer usually has some of the best discounts on older cell phones over the Thanksgiving weekend. It's always worth checking out the Amazon Black Friday deals before you make a purchase over Thanksgiving Weekend.
Last Major Update: