Best Black Friday Coffee Maker Deals for 2023
Find a great deal on a coffee maker this Black Friday 2023 or Cyber Monday. Black Friday often offers the opportunity for a great deal on kitchen appliances, including single and multi-cup coffee makers, espresso makers, latte machines, cappuccino makers, and the french press coffee maker.
The black friday deals on coffeemakers could be big this year as retailers and manufacturers know that so many people have switched to working from home and are no longer relying on the coffee at work or that they pick up on their morning commute to the office. Our household is making more coffee than ever at home and constantly buying coffee grounds at the grocery store.
2022 Deals:
Find more Black Friday deals right now at Amazon.com.
Past Deals
Here are some of the manufacturers known for their coffee maker options:
Ninja is a brand of coffee and tea makers that include cold brew, lattes, hot carafes of coffee and other hot/iced/frozen drinks. It is made by SharkNinja, which also produces Shark vacuum cleaners in addition to Ninja kitchen appliances.
Keurig is a beverage brewing system for home and office use including products like the Keurig K-Elite coffee maker, the K-Mini, K200 and K50. It is made by Keurig Dr Pepper, a combination of the two iconic beverage companies.
Hamilton Beach Black Friday Deals
Hamilton Beach is an American company that makes appliances and commercial restaurant equipment. The company was founded in 1910 in Racine, Wisconsin and has its current headquarters in Virginia. They make everything from air fryers and sandwich makers to toasters and waffle makers.
The company was started in 1971 to bring an electric food processor to the United States. Its headquarters is located in Stamford, Connecticut. The brand has been owned by Conair Corp. since 1989.
Mr. Coffee Black Friday Deals
Mr Coffee was founded fifty years ago by Vincent Marotta and his business partner, who codeveloped one of the first automatic drip coffee makers in the American market. It is now made and marketed by Newell Brands. Their products include coffee makers, espresso makers, single serve brewers & specialty brewers.
Black & Decker Black Friday Deals
This American manufacturer of power tools, home improvement products and technology also makes coffee makers. It was originally established in 1910 and merged with Stanley Works in 2010 to become Stanley Black & Decker. They make multi-cup and single serve coffeemakers including 1, 4, 5 and 12 cup machines.
Krups Black Friday Deals
Krups is a 150+ year old German kitchen appliance manufacturer named after its founder that makes coffee machines and espresso makers. This includes programmable multi-cup drip / filter coffee makers, super automatic espresso machines and coffee grinders.
Breville Black Friday Deals
Breville is a maker of a luxury drip coffee machine and espresso maker. It is an iconic Australian brand of small home appliances founded in Sydney in 1932.
Illy Coffee Machine Black Friday Deals
Illy is an Italian manufacturer of espresso machines and coffee makers. They were founded in 1933 and the company is run by the third generation of its family owners. Brands include the iperEspresso which uses a capsule system to prepare gourmet coffee, Italian espresso and cappuccino.
2020 Black Friday Deals on Coffee Makers
Kohl's has Ninja Specialty Coffee Maker CM401 for $99.99 (plus save an additional 15% off with coupon code GIVE, plus earn $15 Kohl's Cash) during the week of Nov 22, both in-store (beginning at 8am the 22nd; stores are closed on Thanksgiving) and online (beginning 12:01am on the 22nd).
Kohl's has Keurig K-Supreme Single-Serve Coffeemaker for $99.99 (plus get an extra 15% off with coupon "GIVE" and earn $15 Kohl's Cash, regularly $169.99) on Thanksgiving (online beginning at 12:01am) and in stores Black Friday (beginning at 5am).
Kohl's has Keurig K-Select Single Serve Coffee maker for $67.99 (using 15% off coupon "GIVE" and earn $15 Kohl's Cash, regularly $149.99) during the week of Nov 22, both in-store (beginning at 8am the 22nd; stores are closed on Thanksgiving) and online (beginning 12:01am on the 22nd).
Kohl's has 30% off KCups, 22-48 count in select styles, during the week of Nov 22, both in-store (beginning at 8am the 22nd; stores are closed on Thanksgiving) and online (beginning 12:01am on the 22nd).
Best Buy has Keurig K-Cafe Single-Serve Coffee Maker for $99.99 (save $100) as a "Cyber Deal" beginning Saturday November 28.
Drip Coffee Makers
The classic six, eight or twelve cup drip coffee brewing machines provide multiple cups of coffee at an affordable price.Whether you are simply looking for a new machine or need a new one with a timer so that you always wake up to a hot cup of coffee, there will almost certainly be a deal on a Black Friday coffee maker for you:
Single Cup Coffee Machines
A single serve coffee machine provides convenience and ease of use for the one cup coffee household.It also offers families or employees that like different kinds of coffee the opportunity to choose a different flavor of coffee than everyone else.Just place your cup in the coffeemaker, pop in the K-cup and press the button to have your cup of caffeine brewed up for the morning.
Espresso and Cappuccino Makers
If you cherish a good espresso, cappuccino or latte, then you'll need a premium coffee machine in order to save yourself the cost of a Starbucks every morning.Or buy the coffee lover in your life a machine for this Christmas!
French Press
If you are looking for a simple way to make a strong, delicious cup of coffee, and don't mind if it takes a little longer, then consider buying a french press instead.If you are looking to become a coffee snob, or you need a great, elegant christmas gift for a big coffee fan, consider these options at a discount from the regular price on Black Friday:
Coffee Grinders
If you want to make the perfect cup of coffee each morning, then you should be brewing from freshly ground coffee.If you buy pre-ground coffee beans, then you are probably losing some of the coffee's flavor.A coffee grinder can quickly pulverize the beans and maximize the flavor of your morning cup of joe.Coffee grinders range in price from affordable to expensive, but you might be able to find one at a substantial discount on Black Friday:
Best Buy Deals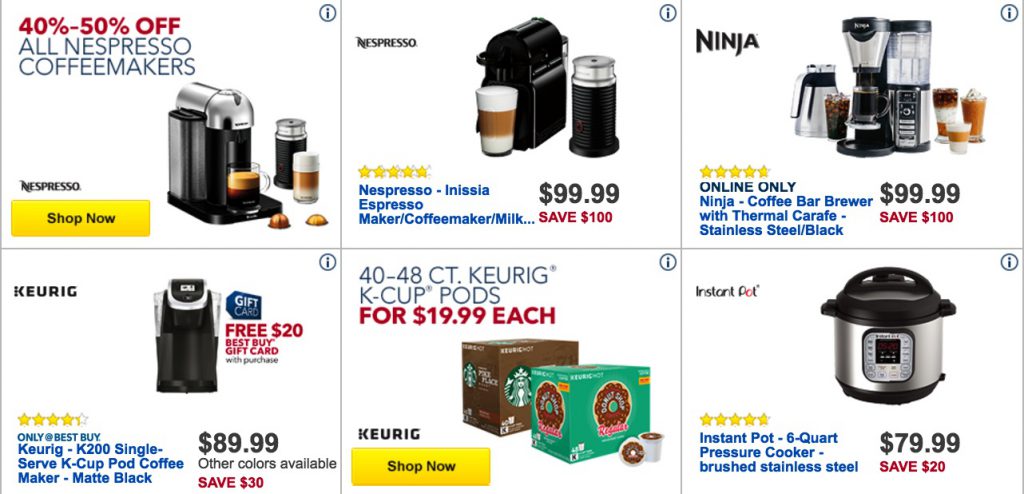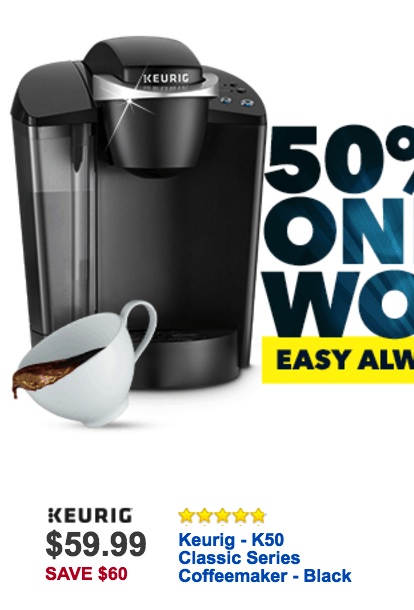 Staples: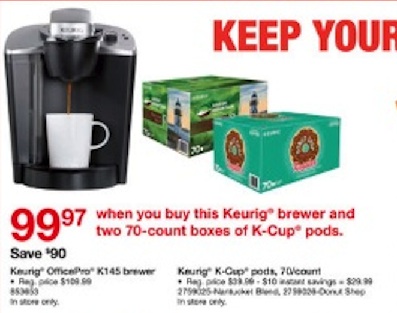 Macys: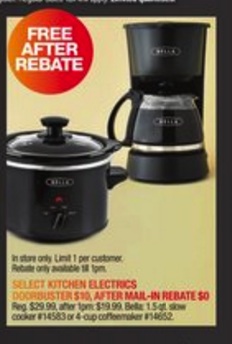 Target Deals: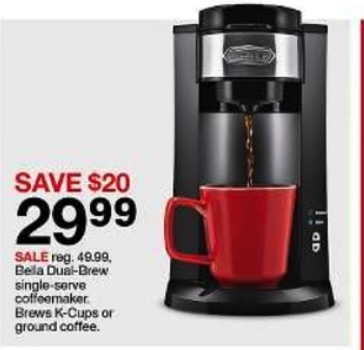 Bonton: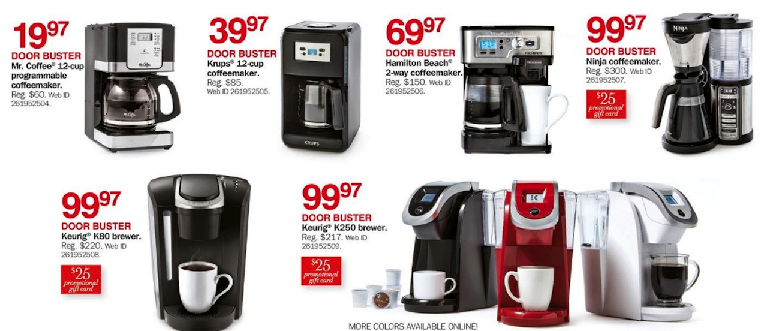 Bed Bath & Beyond

JC Penney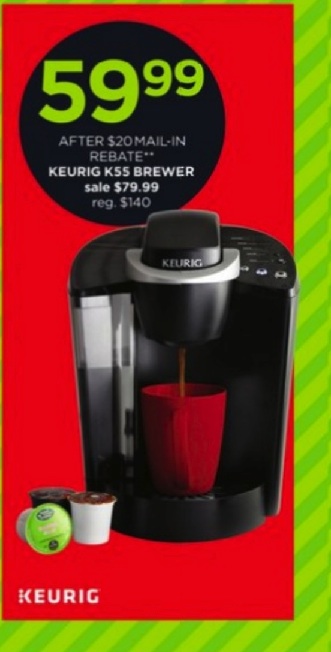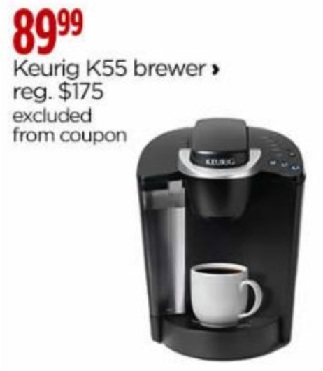 We hope you were able to find a coffee machine from these Black Friday deals. If we don't have any deals posted from this year, we should be posting them shortly!
Current Sales on Amazon: