Best Gaming Monitor Black Friday Deals, 2023 Store Ads & Cyber Monday Deals
Find the best Black Friday deals in 2021 on gaming monitors from Alienware, Dell, Samsung, HP, ASUS, Acer and LG between Thanksgiving and Cyber Monday 2023. We have searched dozens of ads for retailers and online websites in order to compile the below list of the best gaming monitor deals for Black Friday 2023.
2022 Deals:
Find more Black Friday deals right now at Amazon.com.
Past Deals:
2020 Deals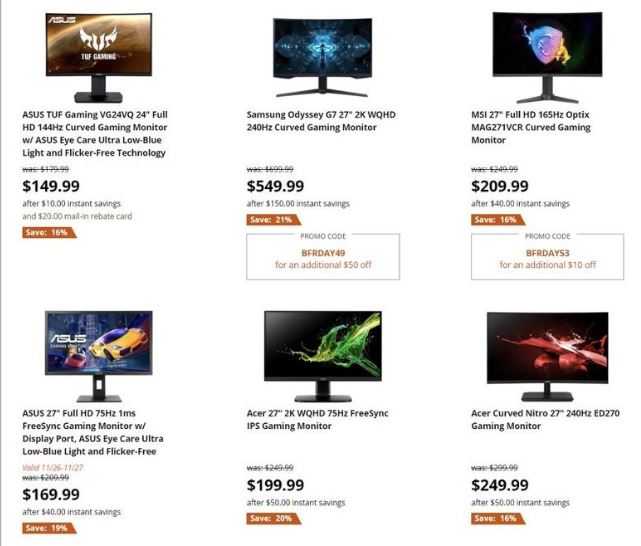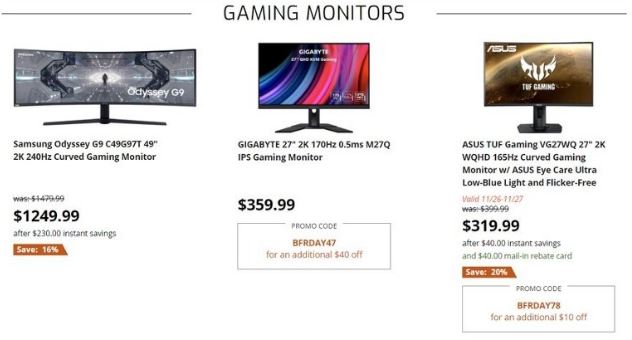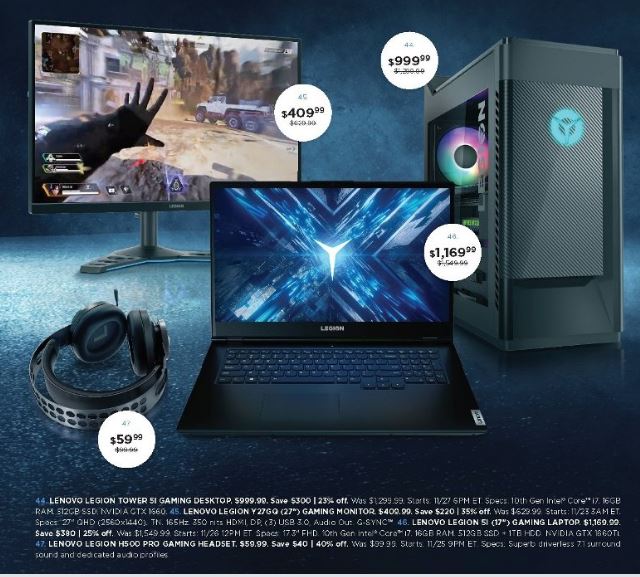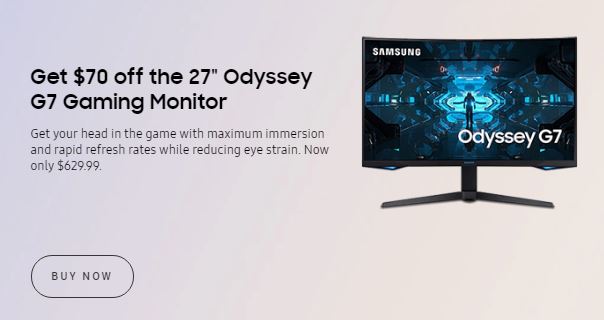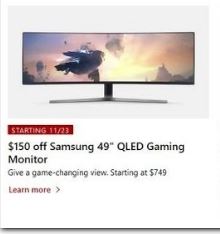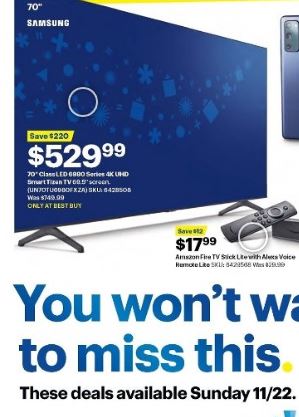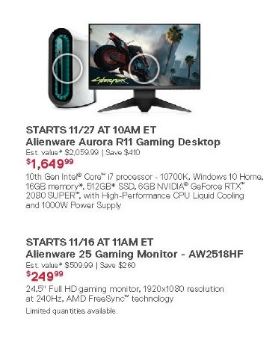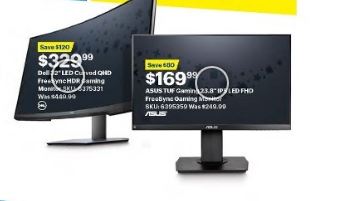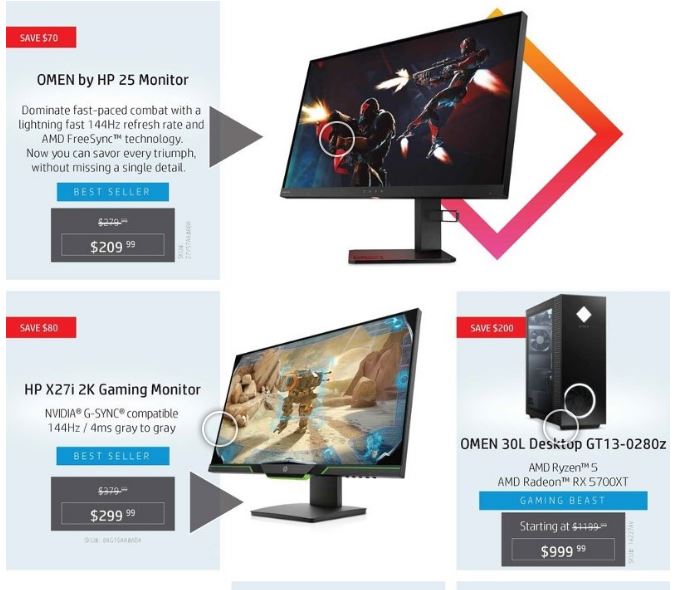 2019 Deals
Here is what we found last year for our list of gaming monitor Black Friday deals:
Click Here to Save on Samsung Monitors on Amazon
Amazon has one of the largest selections of gaming monitors around.They also are running extensive sales on electronics in the month of November running through Cyber Monday.We know that the right gaming monitor depends quite a bit on personal preference and the price that you are willing to spend.You should be able to find something that works for your preferences and budget on Amazon.Here are a few of their gaming monitors:
Dell
THANKSGIVING DAY AT 4 PM (Eastern): Alienware 34″ Curved Monitor – $699.99 (save $500) on Dell.com
Includes 34″ curved gaming monitor, AlienFZX lighting, WFHD 2560×1080 resolution, 160HZ refresh rate and NVIDIA G-Sync technology. Market Value identified at $1199.99
Click here to shop Dell for Black Friday gaming monitor deals.
Since Dell owns Alienware, they should obviously have some great Black Friday deals on gaming monitors.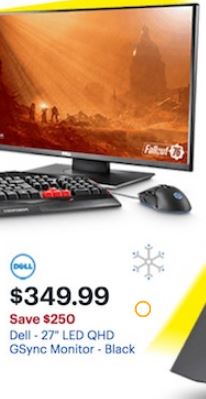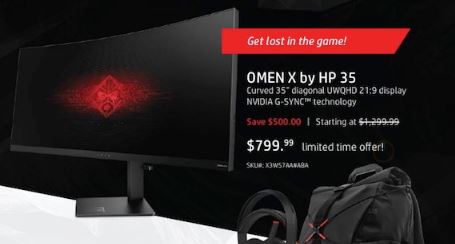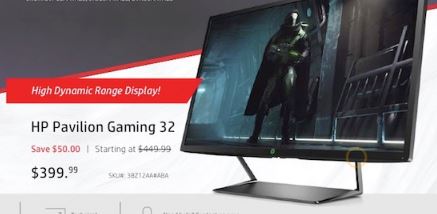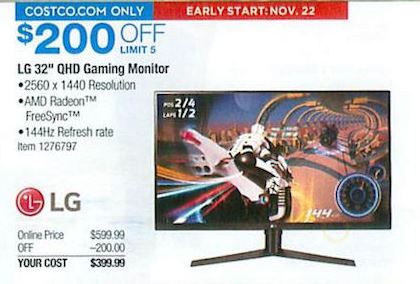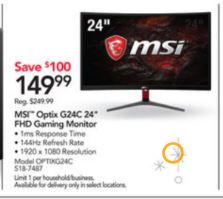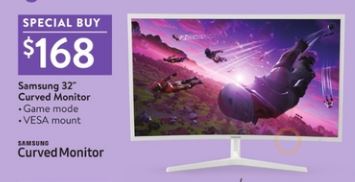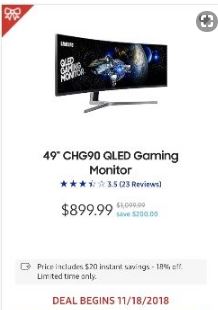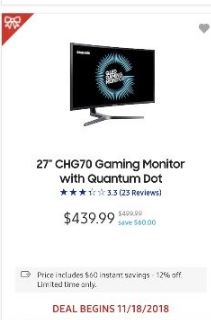 2017 Deals:
HP
SAVE $400 – HP Omen X 35″ Curve Display – $899.99
As one of the nation's top computer manufacturers, and in particular one with the Omen line of gaming computers, we are encouraged to see
Samsung
SAVE $300 – 49″ CHG90 QLED Gaming Monitor – $1199.99
Given their place among the top TV manufacturers, we're going to assume that they know how to make a monitor with the features that a gamer would need.
Newegg
SAVE $380 – ASUS ROG PG348Q Black 34″ – $919.99 (after $80 promo code discount)
SAVE $140 – Acer GN276HL Black 27″ Gaming Monitor – $189.99 (after $10 promo code discount)
SAVE $120 – Samsung C32H711 32″ WQHD Curved Gaming Monitor – $399.99 (after $20 promo code)
SAVE $100 – LG 29UM69G-B 29″ FreeSync IPS WFHD Ultrawide Gaming Monitor – $199.99 (after $30 promo code discount)
SAVE $70 – MSI Optix G27C2 27″ Curved FreeSync Widescreen Monitor – $229.99 (after $10 mail-in rebate and $20 promo code discount)
SAVE $50 – Pixio New PX277 27″ Gaming Monitor – $349.99
Click here to shop the Newegg monitor deals.
Their Black Friday ad has the largest number of gaming monitors on sale (since Amazon doesn't produce a single ad, we're excluding it for the purpose of the previous comment).Be sure to grab the promo code which is printed on the flyer if you are going to buy one of the computer monitors that requires a promo code to get an additional discount.
Best Buy
SAVE $110 – Asus 24″ LED FHD Monitor – $169.99
As the nation's leading electronics retail store, they should definitely have more high end monitor options for sale.But the percentage savings on this deal is pretty good so you can't complain too much.
Office Depot and Office Max
SAVE $100 – Dell 23.6″ FHD Gaming Monitor – $99.99
This option is sure to fit in anyone's budget.Given its low price, we would definitely check out reviews of it in order to ensure that you know what you are buying before you pull the trigger and acquire it.
More Black Friday and Cyber Monday
We are excited that we will have compiled a tremendous list of the best deals for Black Friday 2020 and Cyber Monday.We expect more deals and discounts to be posted or leaked as we approach Thanksgiving weekend, and in particular as electronics stores start announcing their Cyber Monday 2019 deals.If you don't find the deal that you are looking for, please stop back again as we will be adding them as we find them.
Last Major Update: