GTX 1060, 1070, and 1080 Black Friday 2022 Deals
Find the best Black Friday and Cyber Monday 2022 deals on the Nvidia GEFORCE graphics cards in the GTX 1080, GTX 1070 and GTX 1060 series. We search the online ads and print advertisements for the biggest Thanksgiving 2022 weekend sales and discounts and post them here on Funtober.
Click Here to Save on Computer components and accessories on Amazon for CYBER MONDAY.
Nvidia and their partners have reportedly been cutting prices on the GeForce 10 inventory in certain regions in order to clear excess inventory and get ready for the new graphics cards. If this is true, then it brings with it the possibility of great deals in the United States for Black Friday 2019.
2018 Deals: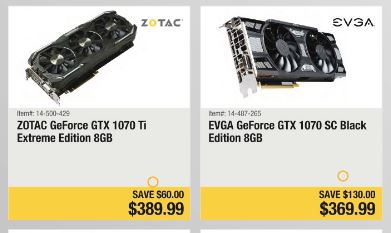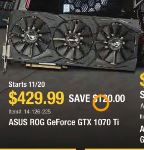 Here are the graphics cards that we will be tracking the deals on:
GTX 1080 Ti: It has been called the fastest gaming-grade video card, ready for 4K gaming at 60 frames per second. Eurogamer called it the most powerful consumer-level graphics card on the market.
GTX 1080
: Eurogamer has called it "Yesterday's GPU king" that is still a great performer, good for 4K and great for high frames per second 1440p.
GTX 1070 Ti and 1070
: Get ready for graphics intensive games with the incredible speed and power of NVIDIA Pascal.
GTX 1060
: A graphics card for high-definition gaming powered by the NVIDIA Pascal GPU architecture for brilliant performance in virtual reality.
Nvidia is an American technology company based in Santa Clara, California making graphics processing units (GPUs) for gaming and professional markets with the primary product line GeForce. Its top competitor is the Advanced Micro Devices (AMD) Radeon product line.
Black Friday 2019 Deals:
We are excited to be following the deals on these GPU cards for cryptocurrency miners and top line video gamers. Because of the new line of graphics cards, We should start seeing deal announcements sooner than usual as NVIDIA tries to kickstart sales and is willing to offer significant discounts to do so. On the other hand, if NVIDIA decides to wait on releasing the new cards, it could generate a lot of competition for the existing GTX 1080 and GTX 1070 products.
Cyber Monday 2019 Deals:
If the Black Friday sales aren't what NVIDIA hopes for, there could be some great discounts on the Monday after Thanksgiving on either their website or at electronics retailer websites as they try to clear inventory to generate momentum for the new GTX 11 series.
See You Soon
We are excited to bring you the best deals during Thanksgiving 2019 on the Pascal architecture GPU graphics cards from NVIDIA. We expect to see great GTX 1080 and GTX 1070 Black Friday deals start flowing in at the end of October or early November with the biggest sales announced in mid- to late-November.
Last Major Update: