Google Pixelbook Black Friday Deals 2022 + Pixelbook Go & Cyber Monday Deals
Find the best deals on a Google Pixelbook and Pixelbook Go during Black Friday 2022. Funtober will track all of the online sales and price discounts in print ads from Thanksgiving Day to Cyber Monday 2022.
The Google Pixelbook is a high performance chromebook. The laptop is made by Google running Chrome OS and Android Apps. It can be paired with cellular data from the Pixel when WiFi is out of range. It is also the first laptop to have Google Assistant built in – just say OK GOOGLE or press the Assistant key on the keyboard.
The Pixelbook Go is the new version released in 2019 which is being called a budget oriented and portable (but still powerful) Chromebook. It starts at just $649 (and goes up for additional configurations), with up to 12 hours of battery power, plus weighs in at just 2 pounds.
2018 Deals
Click Here for the Amazon Deals on the Pixelbook:
Google Pixelbook (i5, 8GB RAM, 256GB) – $899 (save $300)
Google Pixelbook (i7, 16GB RAM, 512 GB) – $1334.75 (save $315)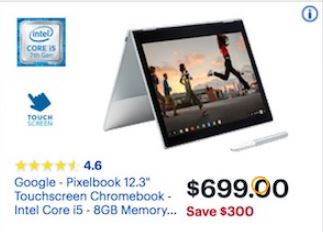 The laptop comes with a 7th Gen Intel Core i5 processor, 8GB RAM and 128GB storage with up to 10 hours of battery use. It has a super thin and lightweight design with 12.3″ 360 degree touchscreen display made of Corning Gorilla Glass.
Designed to function as a laptop, tablet, tent or in entertainment mode.
Chrome OS is designed to start up in less than 10 seconds, stay fast throughout the day, and not slow down over time.
Pixelbook Black Friday Deals:
Find the best deals on the Google Pixelbook here as we post the best available sales throughout the Thanksgiving Holiday weekend.
Pixelbook Cyber Monday Deals:
We will post all of the online sales happening during the Monday after Thanksgiving.
Last Major Update: