HP Spectre (x360, Folio) Black Friday Deals 2023 & Cyber Monday Laptop Deals
Find the best deals on HP Spectre x360 and the new Spectre Folio Laptop during Black Friday 2023. Funtober will search the online price discounts and leaked ads for sales on HP Spectre laptops from Thanksgiving Day to Cyber Monday 2023.
We will be closely following ads from the major electronics retailers including Amazon and Best Buy for Black Friday deals on these two HP products. HP is the top manufacturer of personal computers. The Spectre laptop has been HP's high end offering in the laptop computer, competing against the 15-inch MacBook Pro. It is price competitive with the Lenovo Yoga 920 or Microsoft Surface Book 2.The HP Spectre Folio has the possibility of being a popular Christmas gift this year due to its luxurious leather cover, while the x360 could see big price discounts as HP retailers look to clear their inventory ahead of the Folio.
Find the Black Friday deals on these Hewlett Packard products posted here:
HP Spectre X360: Extraordinarily thin with revolutionary power, according to HP. The x360 convertible laptop starts regularly priced at $1149 for the 13t Touch with an 8th Generation Intel Core i5 processor, 8 GB memory and 256GB SSD storage. The display is a 4K IPS WLED touchscreen complete with Gorilla Glass. Total weight of this 2-in-1 laptop is around 4.71 pounds.
HP Spectre Folio: It is the world's first leather laptop, with the ability to transform itself from a laptop to a tablet and down to a book (in other words, it's a convertible 2-in-1. Built from durable chrome-tanned leather. Up to 18 hours of battery life and more productivity with 8th Generation Intel Core processors. Full size, illuminated (backlit) keyboard.It will ship with three different options for its 13.3 inch touchscreen display: full HD (1-watt), regular full HD, and a 4K display. FInal weight is 3.2 pounds. It starts shipping at the end of October with regular price of the i5 configuration starting at $1300 and the Core i7 with LTE starting at $1500.
HP Spectre x2: This is a detachable 2-in-1 notebook tablet that was originally released into the market for sale in 2017. Wired called it a "Beast".
Black Friday 2018:
HP Spectre X360 15T Touch – $1429.99 (save $470)
HP Spectre X360 13T Touch- $839.99 (save $290)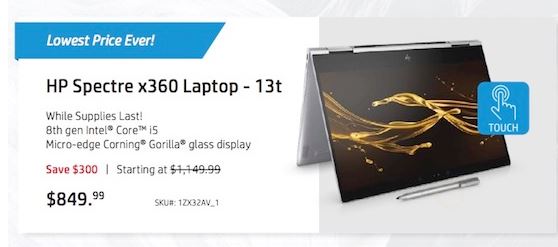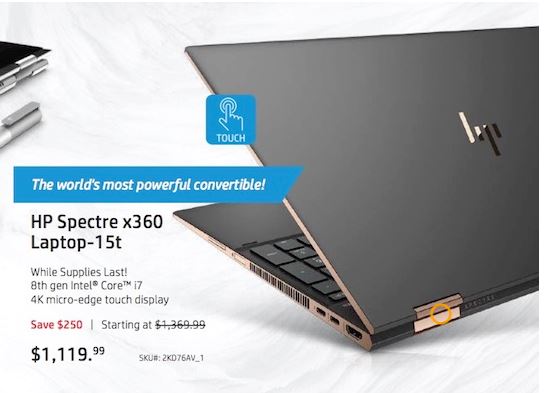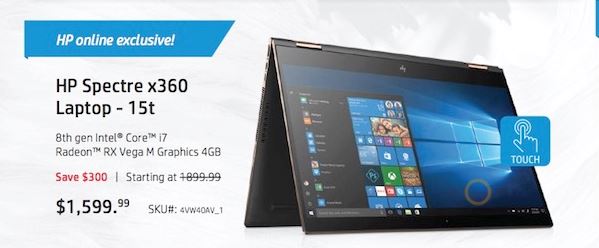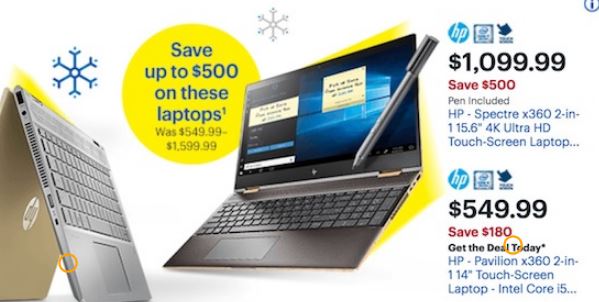 Spectre Black Friday 2019 Deals
We will post the biggest sales concerning the x360 and Folio on Thanksgiving Day and Black Friday here on Funtober.
Spectre Cyber Monday 2019 Deals
We will post the biggest online savings on the Monday after Thanksgiving for these HP 2-in-1 laptops.
Last Major Update: